Hack Removed:
Hack Name: Kirby's Epic Trail's - 325.1 KB - 51 downloads.
Length: 20 levels
Author: NakedLeafProductions - Submitted by: NakedLeafProductions
Description: This if the FIXED hack with no rom this time
STORY: One day kirby was palying around the house when all of a sudden he saw some black cloud beside the golden castle...
Kirby when over to check it out
Level 10-20
Difficulty rating: hard*
Custom...
Music
Sprites
Graphic...(later on in the game)
Hope you enjoys kirby epic trails
==========================================
My Short Review:
It's a pretty fun hack, level design is nice and so is some other stuff. However, you have quite a bit of errors to fix.
==========================================
Reasons: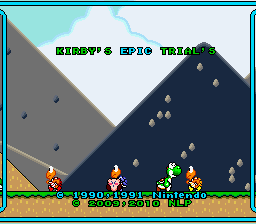 Kirby dies in the title screen, that is not good. Kirby should never be able to die in the title screen.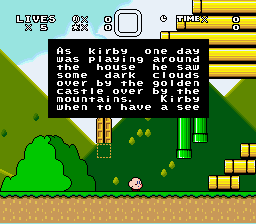 The 1st line should be "One day as Kirby" The last sentence should be "Kirby went to take a look."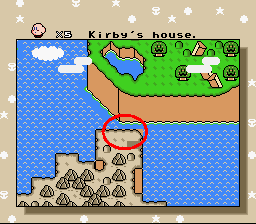 Wrong corner/edge tiles here, they should be water corner/edge tiles and not ledge corner tiles.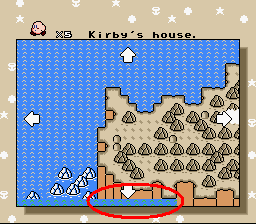 Cut-off here.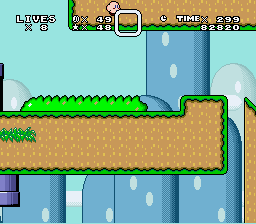 I can get inside this ledge here because the roof isn't blocked off.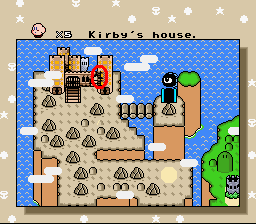 Wrong tile on the left of the tower as it doesn't look right. Also, what's with that random door on the right? It's just randomly there near a cliff.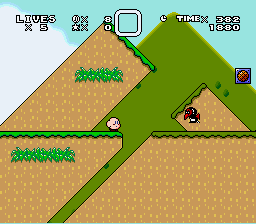 The tweeter has a bad palette.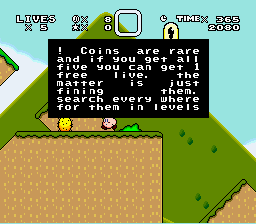 *The thing (You forgot to capitalize "the" since that's the 1st word after a new sentence.) (Also, "the matter" doesn't make sense, it should be "The thing") (Take out "just") (and "fining" should be "finding") (Capitalize "Search") (The last sentence should be "Search in every level for them.")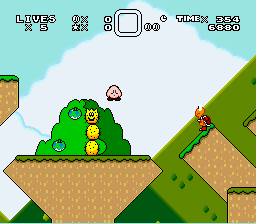 Those berry's have a kinda bad palette.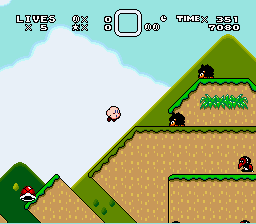 Bad spiny palette.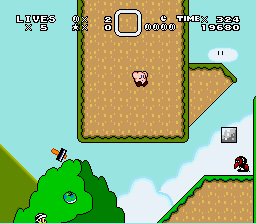 You need to block off the roof because the player can jump up in the ledge and get stuck. Use invisible cement blocks or ? blocks to block it off.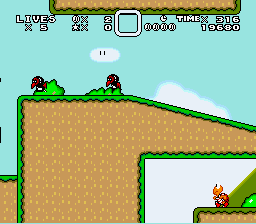 Same as the above screenshot except I can't get stuck.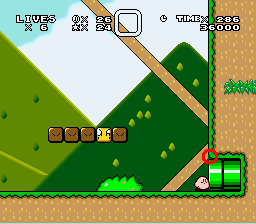 Bad corner tile because it creates cut-off at the end of that diagonal thingy.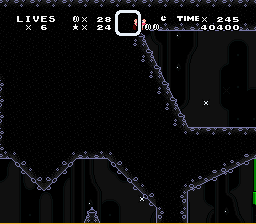 It's hard to see because of the status bar but the player can get inside of this corner and get killed because of it. Fix that.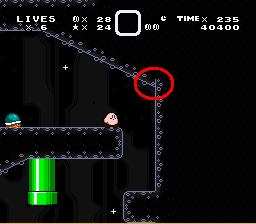 You forgot to add the corner here.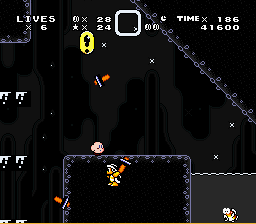 The hammer bro goes inside the ground here.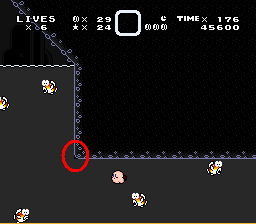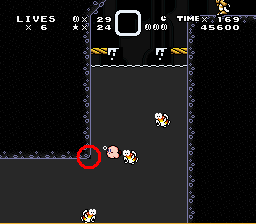 Wrong corner tiles, use Map16 to fix it.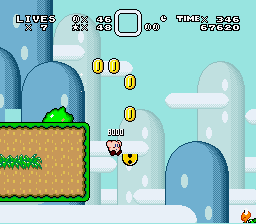 The ! coin gets cut-off because it's on the sub boundary line. To see the sub boundary line press F2 in Lunar Magic and it should be the line in the middle that's horizontal.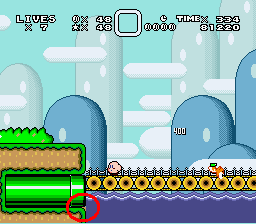 Bad corner tile. Use Map16 to put the right tile.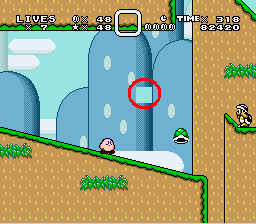 The background is missing a tile.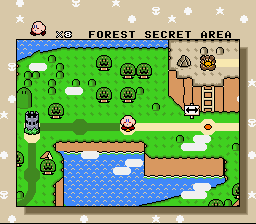 Change the name of the level since using SMW names aren't allowed.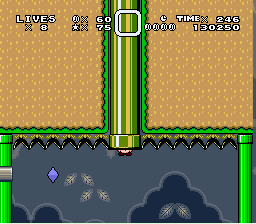 The pipe has a bad palette.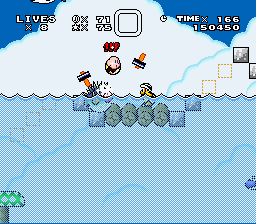 The ! coin is on the sub boundary line.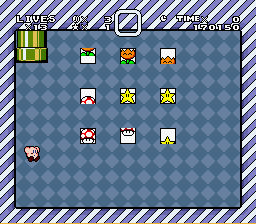 Bad pipe palette in the bonus game.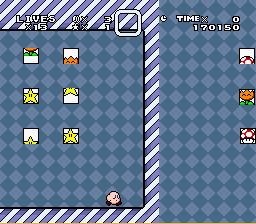 You also have some tiles or something past screen 0, take them out or this will happen.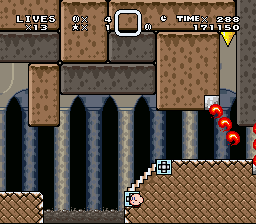 If you jump right you can inside here, block it off.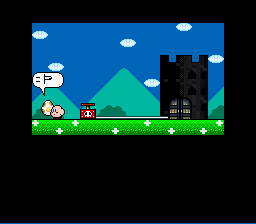 The castle has a odd palette, you must've messed with the original SMW palettes and forgotten to Enable custom palettes.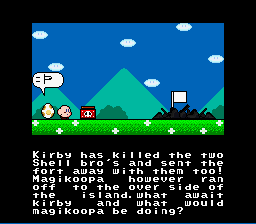 In the last sentence, "what" should be capitalized, and "await" should be "awaits"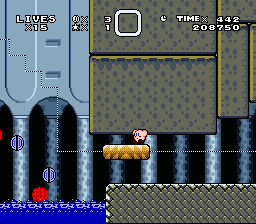 Move those blocks 1 tile higher so Kirby doesn't spaz out like that.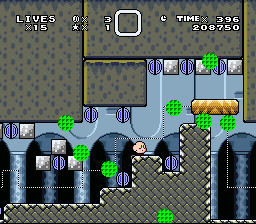 You should really take out some roto-discs out as it was really hard to get passed here without getting hurt.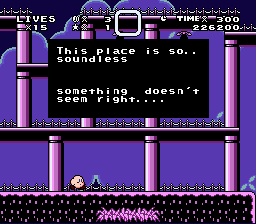 *Something. (It needed to be capitalized)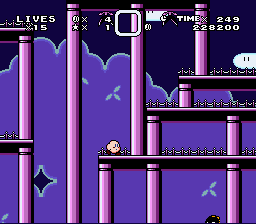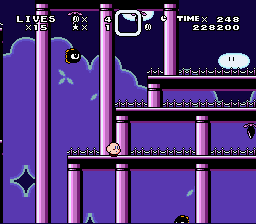 You have the wrong sprite header since on of the boo's appear out of nowhere.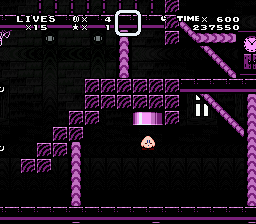 Kirby comes out of the pipe a bit too low as he comes out in mid-air.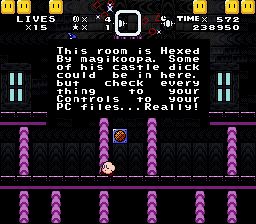 "Some of his castle dick can be in here." What? Lol, I think you made a typo in here. Also, "But" should be capitalized. What's up with the message box anyway? It doesn't make much sense.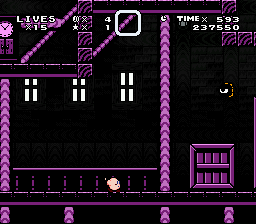 There's some weird tile above Kirby in his big form running frame, you probably forgot to delete some tile in GFX00.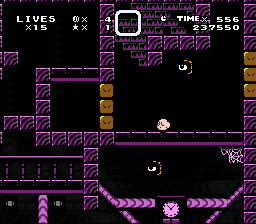 If I spin jump up here and I have no P-Switch I am stuck and I am forced to die, that is never good.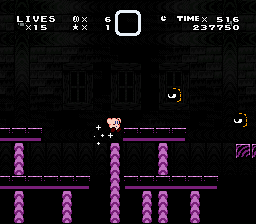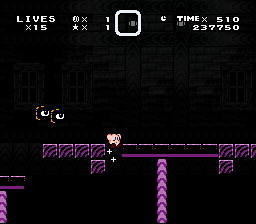 Why do these platform act like coins? Is it supposed to some type of platform that gets destroyed? If so they're not too good as I can just fall easily if I collect them. Use a custom block for this.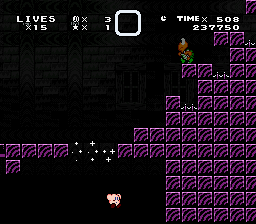 Also, having random things act like coins with no notification on which ones "break" is not cool as I can just die without knowing.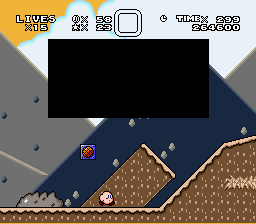 Empty message box.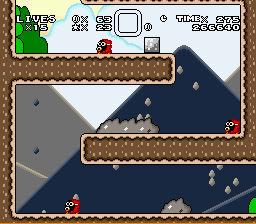 Bad initial settings here..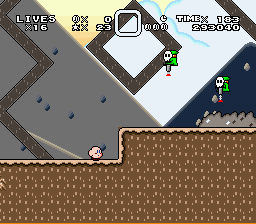 Bad corner tile, this must have happen because the corner edge tile is overlapping part of the ledge which makes this occur.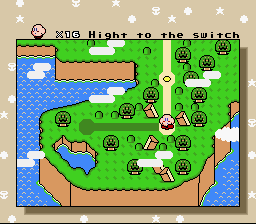 "Hight" should be "Height"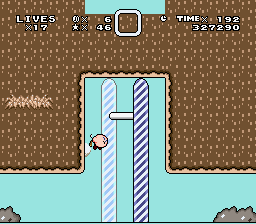 Cut-off at the top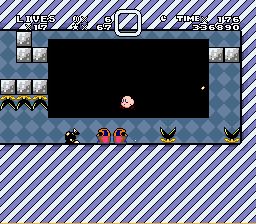 Slightly empty message box and glitched squished graphics.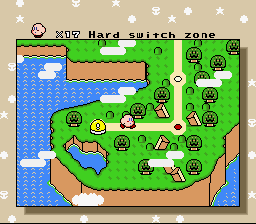 The switch doesn't get destroyed, make it so it does.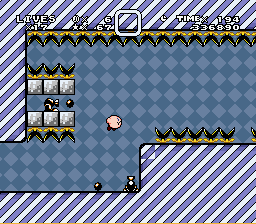 The corner pattern doesn't match with the ground.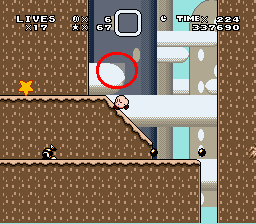 The conrer color of the cloud doesn't fit with the hill.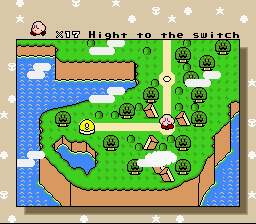 Make this level tile Kirby is standing on yellow because there is no secret exit here.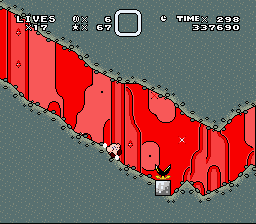 The background palette is kinda bad.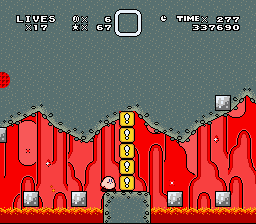 The yellow switch block makes cut-off in the ground.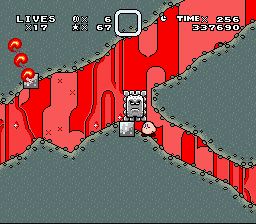 If I back here I am forced to take the hit because the thwomp won't move, move him.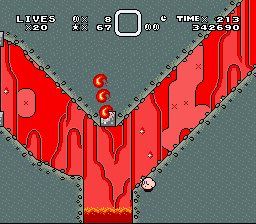 The player can go in these type of ledges. Fix it so it has a corner at the end or apply the slope fix patch.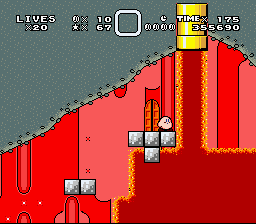 The pipe above is making cut-off to the ground.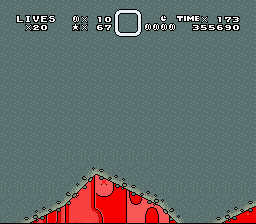 Bad initial settings.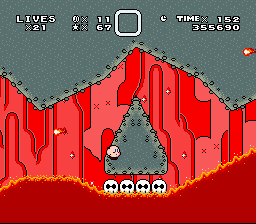 I can go inside here.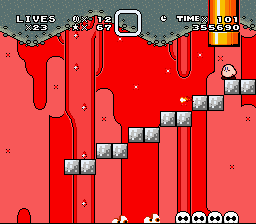 The ground is cut-off because of the pipe.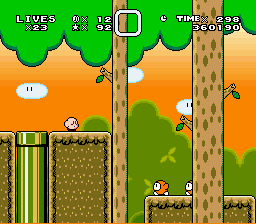 Bad pipe palette.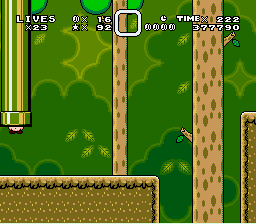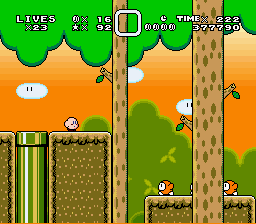 Why does this pipe lead back to the beginning of the level?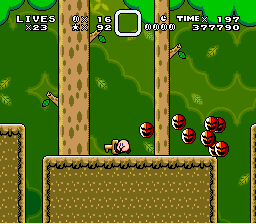 There's too many phanto's here, take some out.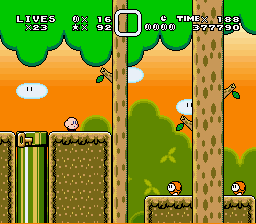 When I enter the pipe at the end I don't come out of the pipe and the key gets stuck. Also, I couldn't find the keyhole at all.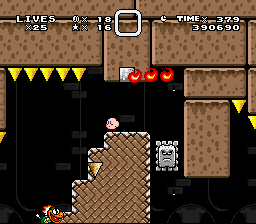 The falling spike gets stuck on the ground for some reason.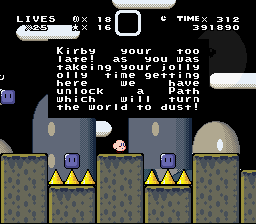 *As. "was" should be "were" take out "olly" and replace it with "old" *unlocked. *path.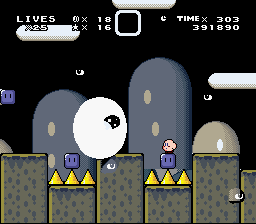 Picking up throw blocks this way is very annoying.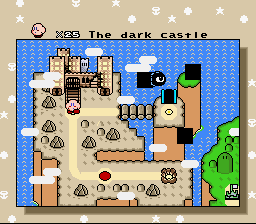 During this event, some random black tiles occur. Fix that.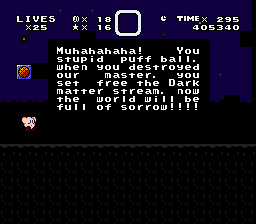 *When. *master, (should be a comma and not a period) *Now.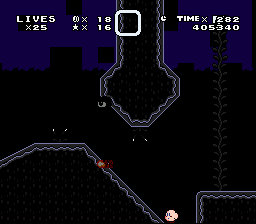 The blue outline on the ground doesn't look good with the ground. Also, one of the frames for the fireball is gllitched.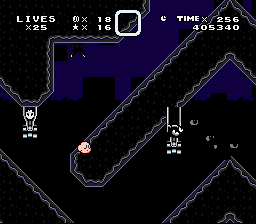 I can get in here. These corners are bad.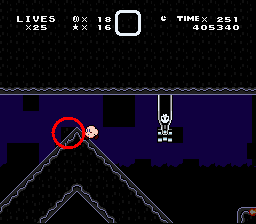 What's up with the random ground tile there?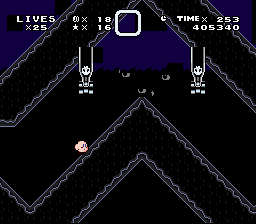 The top of the bullet bill cannon is cut-off.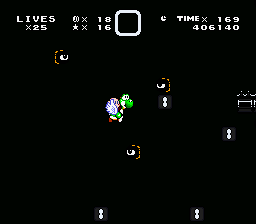 These blocks are a bad excuse to use as lava tiles, they also look glitched.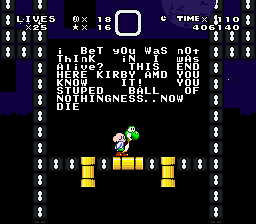 Bad grammar and sentence structure, I'm sure this was done on purpose but don't do it.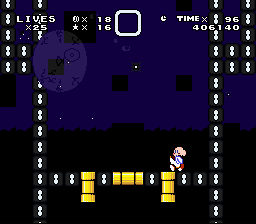 Yoshi's head gets cut-off when he turns, it's because of sprite limitations. Yoshi will also lose his wings when he eats a shell but he will regain it when he doesn't have one.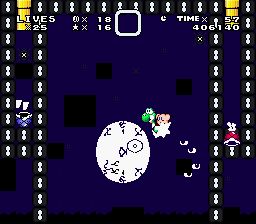 The shell on the left will sink in the lava and create glitched graphics, fix that.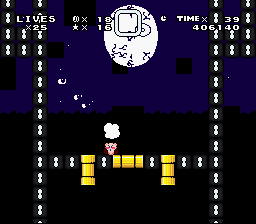 How come my Yoshi disappears when I kill zero?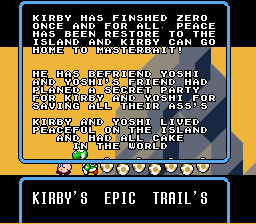 "Kirby can go home to masterbait" No, don't even put words like that there, or at least if you're gonna at least warn the player in the description that there's bad language in the credits.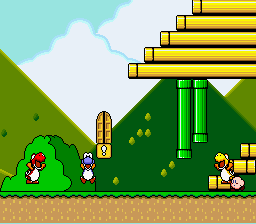 See, messing with Yoshi's house will screw up the ending.
==================================
Conclusion:
A lot of the errors I mentioned are easy to fix, fix those and this will most likely get accepted!