Removed
Hack Name: The Yoshi Trilogy Part 1 - Dawn of the Darkness (Demo 1) FIXED Demo - 255.5 KB - 55 downloads.
Length: 18 levels
Author: DarthYoshi492 - Submitted by: DarthYoshi492
Description: Mods, please delete the other version. (YTP1 - DOTD Demo 1) There is a major flaw in it. This one is fixed.
Vague Plot: Yoshi wakes up one morning in his house on Yoshi's Island, but everything seems... darker. He notices his girlfriend (Yes, Yoshi now has a girlfriend), the Stork, and all his other friends have gone missing, and when he goes out of the house he finds out that Yoshi's Island has been replaced with a huge, mysterious, new land! He then explores this new land to find answers...
I will not release the whole plot, you will find out the entire plot once the other parts are released...
Here's Why
Try and fix the palette for the words on the title screen.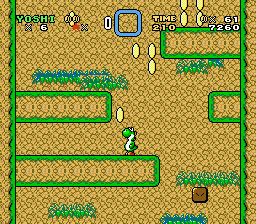 The way you have things now, the background is dirt. It's a nice idea and all, and I see what you were trying to do. However, since the BG scrolls, there are times when the bushes on the FG become cutoff. You're better off getting rid of every bush on Layer 1.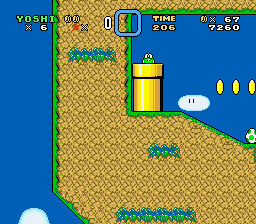 I spot a Yoshi Egg! Oh wait...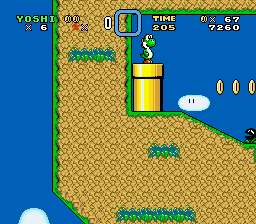 It's a muncher D: I don't know what caused this problem though...it's not serious though. I found it interesting though.
*purpose
The message box from the previous screenshot didn't appear this time. Get rid of some sprites.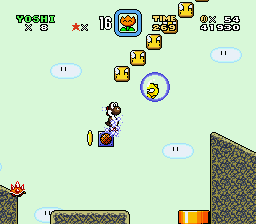 Glitched enemy in the bubble. That's a fish.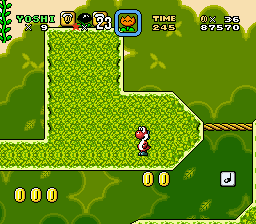 I was able to walk in here by entering the slope.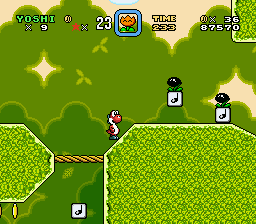 But on this side, the slope acts like a solid block...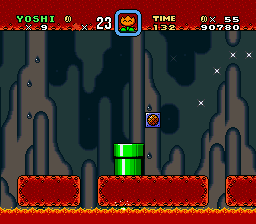 If the player is on the spot where the pipe appears, they die. You may want to move the pipe around to a place where the player can't die.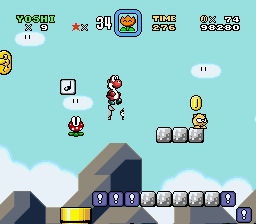 The "bounce" graphic for the note block is glitched.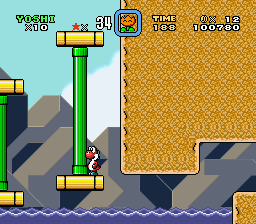 Well, what I originally was going to point out here is how it is impossible to get up, as when I went to the right, I found a ledge to high to jump. I figured I needed a trampoline, so I backtracked. When I realized I couldn't go back up, I went back to the ledge...and there was a trampoline. Get rid of some sprites in that area.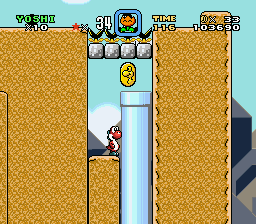 Ice blue pipe sticks out like a sore thumb.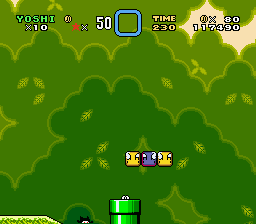 FG starting position is set a bit too high.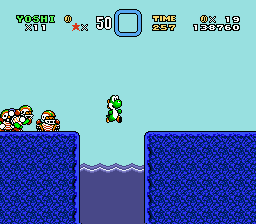 Slowdown due to a bunch of chucks.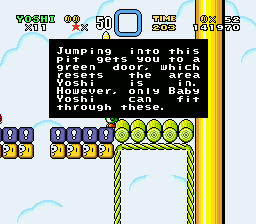 Why can't you just make the doors tall enough for big Yoshi to enter? The player shouldn't have to take a hit.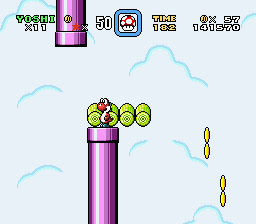 Unless I'm missing an easier way to pass this gap...it was incredibly hard to make it due to the pipes.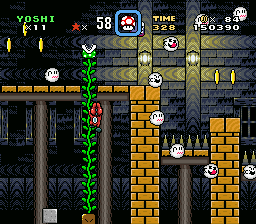 Vine creates cutoff in the wooden ledge.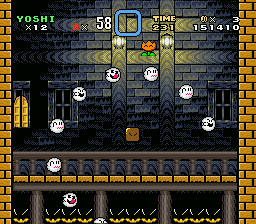 It is very easy to accidentally grab the coins below the door, forcing the player to die.
Well hi.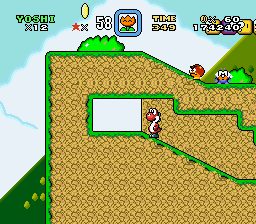 Correct me if I'm wrong, but when I walked over this alcove...there was a Dragon coin. But when I finally reached the little alcove...nothing.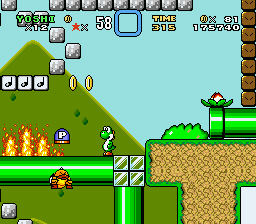 Er...my P-switch transported onto the fire...
...and violently shot back at me D: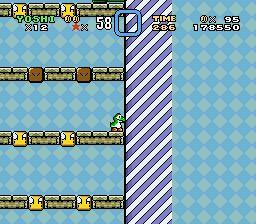 Mega cutoff.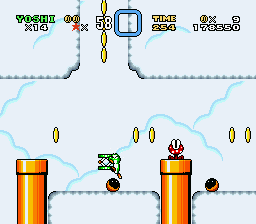 Those blobs don't look like they would kill you just by jumping on them...but they do. Also, the inside of the cloud FG has nothing in it...causing the BG to peek through.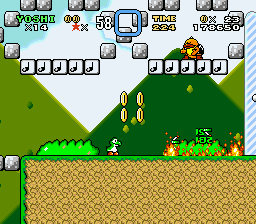 More fire glitchiness.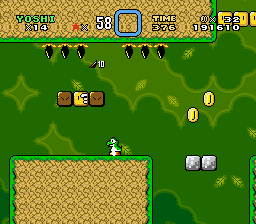 The munchers even corrupted the score graphics. I knew they were nothing but trouble.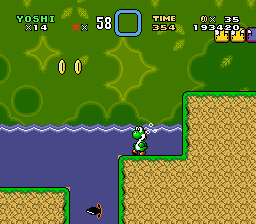 Cutoff.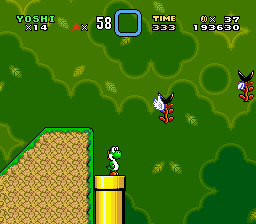 Er...you can do better than this. Either that, or just get rid of these sprites. The way they are made up looks very weird.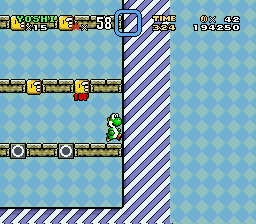 Mega Cutoff 64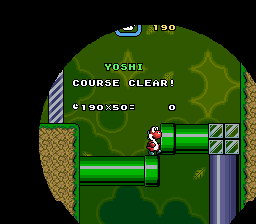 It's not very pleasing to have the player get stuck behind a solid object during the "course clear" animation.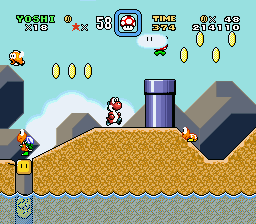 Why does the piranha go behind the cloud?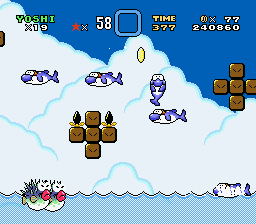 Slowdown here...mostly caused by the two fish down there. Just get rid of one.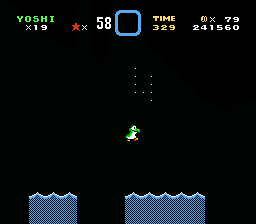 Put a screen exit at the end of the layer 3 section that leads to a new area with the goal. The water stays for a bit, then disappears completely when the screen fades back to normal.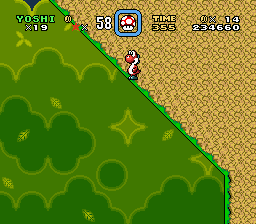 The player can bounce off a note block and end up here.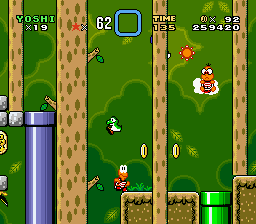 Sprite problems causes the Lakitu to appear in front of his cloud.
Incorrect graphics.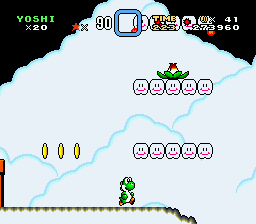 The FG cloud palette could use some work.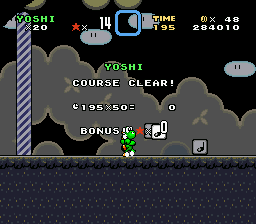 Why are there note blocks at the end?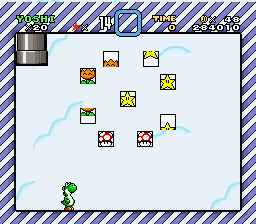 Cutoff at the top.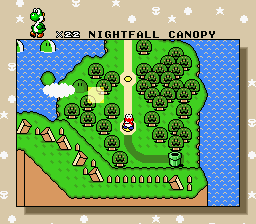 Glitchy event.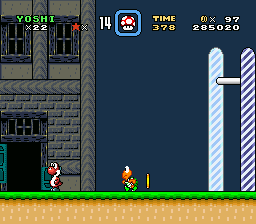 The door is cutoff halfway...I expect it has something to do with the Koopas. Just remove them.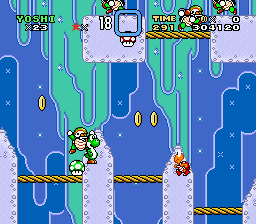 These slopes don't work too good. You can walk though every one of them.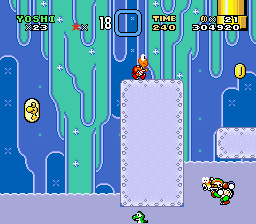 Incorrect corner tiles.
Floating water?
The black in the palette really makes the background ugly.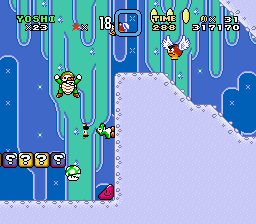 I spot some Mario.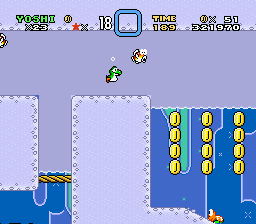 Incorrect corner tile.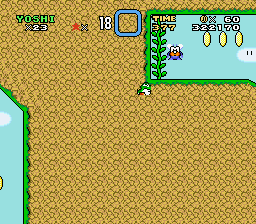 I like the idea of vines going up into hidden areas. It reminds me of something I was a part of a while back...but anyway, it's a great idea, but if you're not careful, things can mess up, like shown above.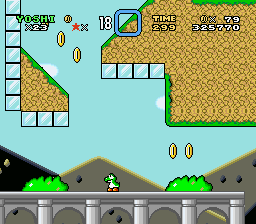 Glass boxes for edge tiles?
All I did was climb up a vine, and I died somewhere in the middle of the dirt. Why?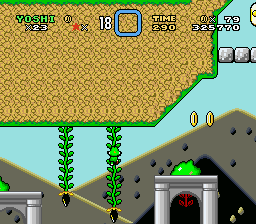 Piranha plant stem is poking out from the arch.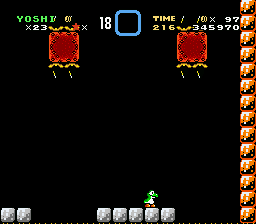 Well, I couldn't take a picture of it, as it appeared when I went back but...the goal sphere didn't appear. I died and tried again, and it was there. Originally, I had no clue what to do...but sure enough...it's another sprite memory problem.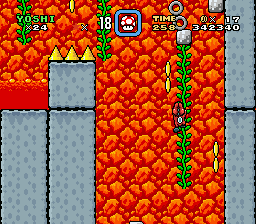 The background is incorrectly joined. There is a line that separates the "top" from the "bottom", and it is very easy to see.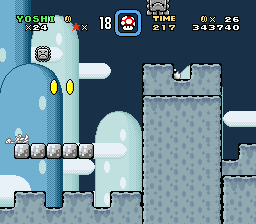 I would advise that you make the "blank" tiles darker or lighter compared to the "solid" tiles.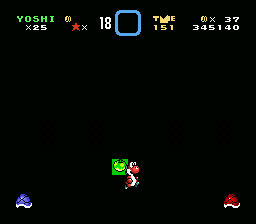 Berry doesn't fade. Get rid of it.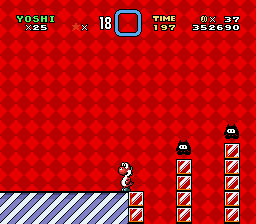 Cutoff.
------------------------------------------------------------------------------------
Phew...that was tiresome. Anyway, your hack isn't bad by any means...just needs some fixing up. Definitely fix up the graphical errors, and pay very close attention to how many sprites you use. Test your hack...and if you notice slowdown or some sprites not showing up...change the sprite memory settings, or just get rid of some sprites. There were three examples of this happening in your hack that required me to not only backtrack, but actually restart the level in one instance.