Removed: SMW: X Demo by Eaglejedi117
Why:
Warning: large amounts of screenshots!
What's with the garbage forming an X? Its positioning is bad, too, as it gets cut off when the file selection appears.
Why do I start on level 4?
Why is there an extra house placed randomly for no reason?
Why can I move off the level without activating any events?!
WHY?! WHY?! WHYYY?!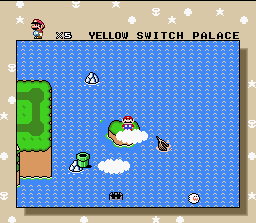 You didn't rename the Switch Palace, nor did you remove the level tiles of the original Chocolate Island level. Can't escape my eyes!
Don't put solid tiles on the bottom-most row of blocks and allow Mario to walk on them. Also, this whole level was a single blind fall amongst blocks shaped like Tetris blocks, some with Munchers on them. It's impossible to know beforehand where they are, so don't do that, okay? Leave warning signs somehow, like coins leading away from that point.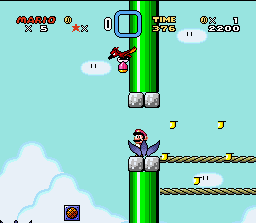 Explosion is glitched, Albatoss has a bad palette.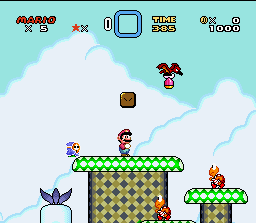 The Shy Guys have a bad palette, too, and before they're dropped, they look like Bombs...
The Porcupines (forgot what they're called in SMB2) have a very bad palette...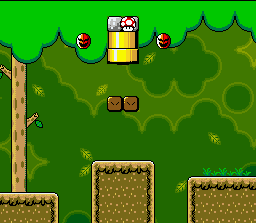 It's not easy to see, but behind those cement blocks, you can see Mario and Yoshi going up. Extend the size of the pipe a bit more. Also, might want to consider removing the cement blocks entirely, they create cutoff.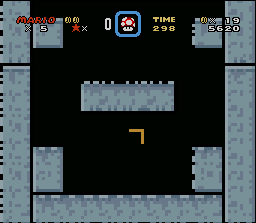 Screen starts too low, raise the FG init position.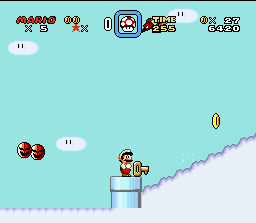 The explosions can be killed by fireballs somehow! Also, you're missing the cloud fringes.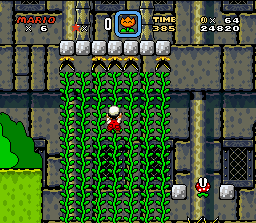 The tops of the vines are cutoff.
Why can I swim in this battle?
The pic isn't accurate to what happened, but if you land on a Bullet Bill during the level end sequence for bosses, you rise up infinitely... Well, I THINK it's infinitely...
But you can also land in the lava and die. ...Well. This is actually a problem in the original SMW, so... Dunno what you could do about it.
But I only played three levels! D: Where's the nine exits I was promised?! (Also, those white-outlined tiles look really bad there- why did you use them instead of the normal letter/number tiles?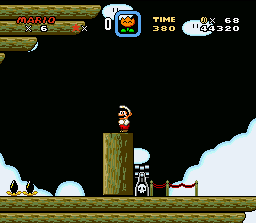 You appear to have a special autoscroll, yet you allow the screen to scroll vertically. This looks bad, it really does.
Garbage tiles at the very bottom.
Entrance is set too high.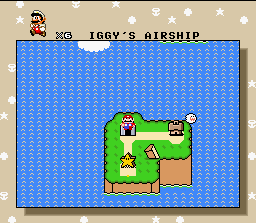 Oops, didn't take the pic at the right time... Uhh... Basically, what happened was, I cleared the level, and ghost events (they're glitches) appeared below the star. Fix it.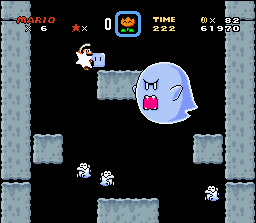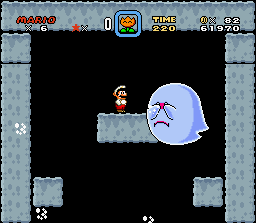 Why are sprites extremely floaty in here? There's no water, Mario can't swim. Yet, all sprites, except block bounces and Eeries, move slowly in here...
The Island with the star has a glitched tile to the right of it, at its top. Also, the other levels revealed themselves, but I can't reach them! FIX PLEASE!
All in all, this hack needs a LOT more work...