Phew. It's October 10th. As promised, the next Halloween (although it doesn't really
involve
Halloween) contest, so to speak, begins.
This is a completely different contest from anything we've had on this site before, but it's something I have wanted to try for a long time. It should appeal to those interested in drawing/art, even though it isn't exactly what I would call a "graphics" contest.
Basically, the point of this contest is to make a picture using
blocks and sprites
in Lunar Magic. I am sure that many of you have seen this done before (i.e. people making Mario out of turn blocks, notes blocks, etc.) It is definitely tricky, but it looks fantastic if it is done correctly.
Here are the rules for this contest.
---
1. You may
NOT
use custom graphics. You MAY, however, alter the palettes to whatever you like (i.e. you can have green ON/OFF blocks, black note blocks, etc.) Get as creative as you can.
2. The maximum size I would allow for the picture/scene would be
five screens in Lunar Magic
, but to be honest, I cannot see people needing more than a couple.
3. The BG can be whatever you want it to be (solid black, hills, water, etc). It will not be judged.
4. You may combine any tileset you wish. In fact, you may use ANY graphic you wish from the original SMW
as long as they are not custom, which I already stated.
4.
Please use level 105 to make your image.
5. When you are finished, please submit an
unlocked IPS file.
The judges will then open your ROM in Lunar Magic and judge the image like that.
6. The deadline is
OCTOBER 25TH
---
The following criteria will be judged:
CREATIVITY:
Did you attempt to make something extremely unique, witty, or just plain different?
NEATNESS:
Are we even able to tell what you drew, or is it just a sloppy mess?
USE OF BLOCKS:
Did you use a wide variety of blocks, or did you stick with one, boring type to make an image?
OVERALL:
How is it overall?
**BONUS POINTS if your image or scene is Halloween themed.
10 points for each, for a total of 40 points. 5 bonus points are available.
Supertails made a little example, but he will have to post it later since I cannot find the link. However, I have a very poor one I made years ago:
(obviously, you should actually make a
picture/scene
, and not words)
ST edit: here's my (pretty basic) example: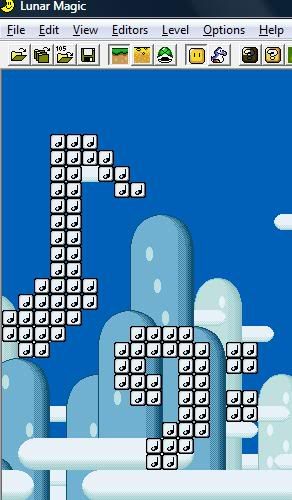 Okay. Drop your IPS files here when you are done, and keep all discussion to the OTHER thread. Thanks!
SUBMISSIONS
(41)