Introduction:
Well. After freezing my old one and setting aside the one I tried after that, I've decided to start a new hack.
It is going to be a traditional hack of Super Mario World, meaning: NO ExGFX, NO custom blocks or sprites, and NO custom music (but there may be hexedits). I want to focus on level design and such.
Story:
Mario and Peach were having a party in Peach's Castle, which happened to also be the home of the seven Magical Yoshi Eggs. Of course, Bowser, being the pain that he is, kidnapped Peach and stole the eggs.
Those eggs were what gave the town its power. With this, the town became weaker and weaker. Mario knew that he now didn't have the power to take on Bowser directly, so he went to get each egg first before rescuing Peach.
Worlds:
After much thought, I've came up with the number of worlds that this hack is going to have. I'm going to make the hack have 12 worlds. I know it may seem like a lot, but you only need to go through eight to beat the game...there are three pairs of worlds where you can take either path.
Each world will be an average size. One nice thing is that there is a fortress in every world, which lead to secrets or shortcuts. Also, each fortress has a secret exit; if you find the secret in all of the fortresses, you may get something good!

How this thread will work:
When I have an update, I will post it. I will also keep all updates in this first post so that people who want to see it quickly can.
OW Screens: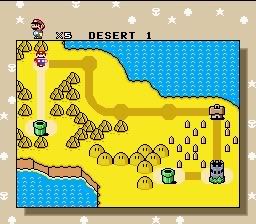 Desert OW pic before any paths are revealed. The Ghost House is actually going to be a pyramid, but I need to find good graphics for it first.
Level Screens:
Each world will have a message box at the beginning explaining what the world will be like. The first world is the Goomba Grassland. Notice my custom palette for the ground.
Use the Koopa Shell to hit the block!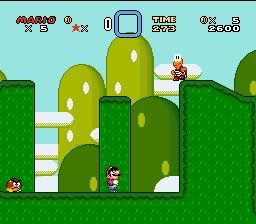 Huh. How to get up there?
Take the high path.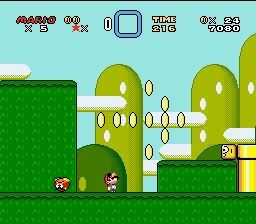 Hit the P-Switch (not shown) and it will tell you where to go in this case.
Yep. This game has actual bonus rooms!

They use switch palace graphics, but I put them in diamonds so that I could make more map16 pages out of them.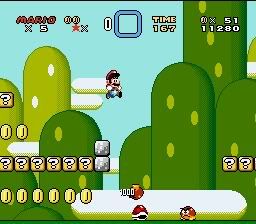 This is a sort-of Lost Levels-esque area where you kick a Koopa shell to hit eight consecutive enemies.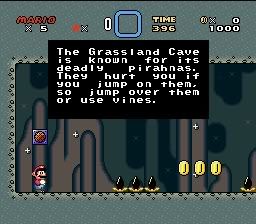 It's a cave! It has pirahna plants and vines, and it uses them both to create some nice setups.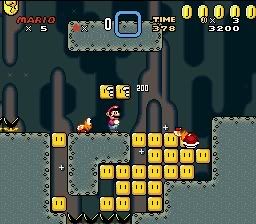 Use the Koopa shell...
To hit the vine!
Hit coin blocks below to continue!
This level is a nice, simple, easy level with lots of Koopa shell-kicking. At the start, Mario kicks a Koopa shell up a slope.
The Koopa Shell lands in a small below-ground-level ara.
Here, Mario knocks out some Goombas with a shell.
Knock that Koopa shell down the shaft to net some coins...
...And Mario can get a 1-up from that block if it rebounds.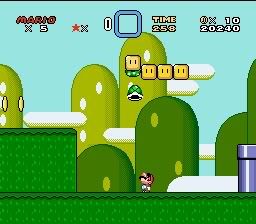 Throwing a Koopa Shell to hit a vine block.
There's some easy platforming at the end of this level as well.
Bouncing off of a Koopa to get a Yoshi Coin...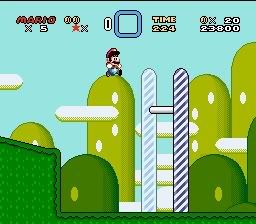 ...And proceeding to the goal.
Castle screen. Watch for Thwomps!
Watch for Thwomps...again!
Hopefully he'll escape before the Ball and Chain crushes him.
Some easy platforming.
The idea here is that you run past the Thwomps and that you can run off the ledge, and land on the lip at the bottom of the big platform.
Tricky traps...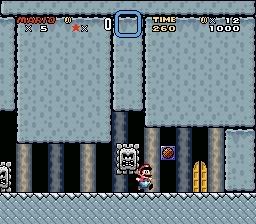 Run past the Thwomps!
There's a small climb at the end.
Desert pic! Featuring Pokeys and Monty Moles, which do belong in a desert-type environment after all. Note the hand-assembled BG.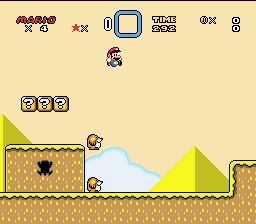 The Monty Moles are out to get Mario!
Jumping across pipes...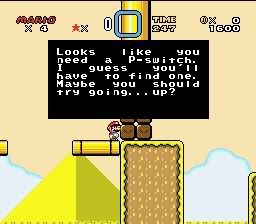 Mario's missing his P-switch. The desert will feature puzzles like this, small and big.
Jump to reveal the note block!
Yup, the desert has kill-on-contact quicksand!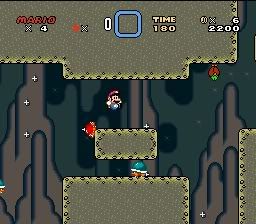 Underground area. Watch out for the Buzzy Beetles...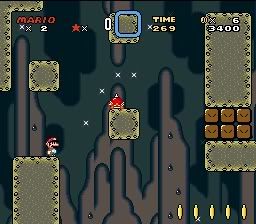 How to get back there under the ledge?
Go further to get a P-switch...
And bring it back to exit!
So, this level is sorta a little maze that Mario must find his way out of. It consists of an above-ground and an underground section, seperated by pipes that Mario must go through. Of course, he must bring things with him to get out.
Jumping over enemies.
There's the exit pipe, but Mario needs a P-switch to get to it.
Use the springboard to get items...and for maybe something else later.
Mario enters the pipe...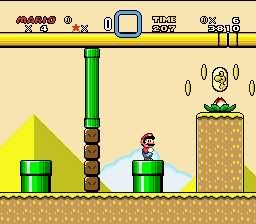 And it takes him to the other side of one of the pipe walls.
Ooh, tough!

I hope you remembered the springboard!
It's an oasis! Featuring mushroom platforms and fish!

Here coms a Porcu-puffer, out to get Mario...
Yay for line guided platforms!
Can Mario make it?
No, he can't.
The correct way is to stay ahead of the Porcupuffer so that Mario has time to take a quick dip.
What does that switch do?
It creates loads of coins!

Bounce off of the Koopas to get to the other side!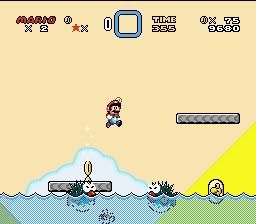 Uh oh...falling platforms. And now there's two Porcu-puffers!

Mario should bounce off of that Koopa, or else the Porcu-puffers will get him.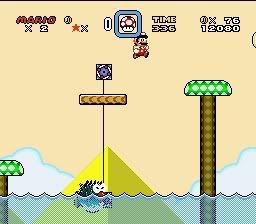 Almost there...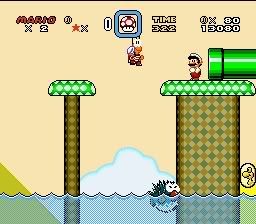 Yay! The end of the level!
A pyramid level! w00t!

Since the whole level is one huge puzzle, I'm not posting that many screens of it. D:
What's up there?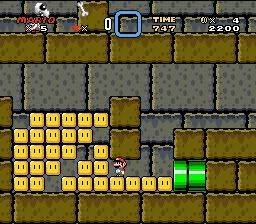 zOmG hOw 2 eNtEr t3h p1pE?!?!?!11
Get the Koopa Shell...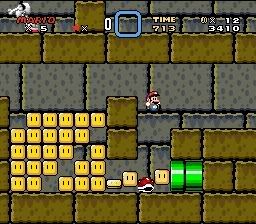 And use it to get rid of the blocking turn blocks!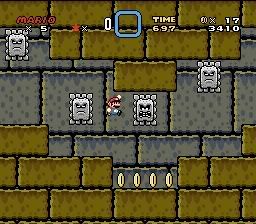 Watch for Thwomps!
The coin of fate...
Yay, climbing nets!
It splits in two paths, one leading to a powerup and the other going on.
Watch out for the spikes!
Jumping across the climbing nets...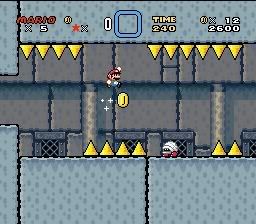 More spiky awesomeness!

Climbing nets + spiky awesomeness = this part.
Ooh, Thwomps!
Woohoo, layer 2 crushing walls of doom!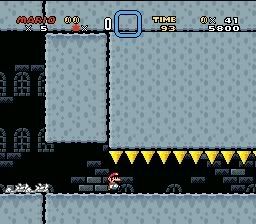 The last part is a sprint to avoid being crushed. I may tone down the difficulty here, though.
RUN!
The end. Wait for the boss door to come up here.
As you see, there is a line guided platform, and it will meet a certain end if it drops too far. This level takes that concept, and expands, expands, and expands on it.
Stay on to get the Yoshi coin...
...But don't stay on too long.
The level also has Grinders.
More reqired quickness.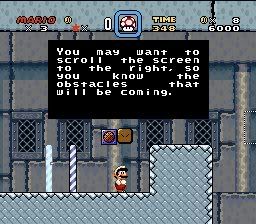 Grinder + quick-fall = tough obstacle.
Jumping through spikes...
More grinders.
Jump over the Grinder, on the platform, and through the spikes. Hard...
Avoid the grinder and the spikes simultaneously. Whoa!
At the last part, they fall immediately to give a "collapsing bridge" feel before the boss door.
A swamp level! w000000t!

Pirahna Plants and Buzzy Beetles hound this area.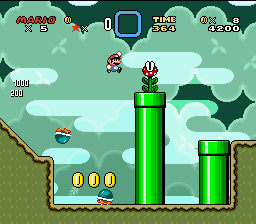 Jump, but avoid the pirahna!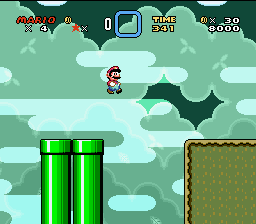 The first world was linear, but I'm trying to make the rest not linear at all. Here, either go right...
...or go down! Multi-path!
The pipe leads to an underground area.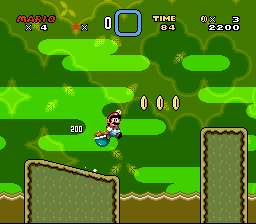 Note that the BG palette defines the mist palette, and since it's green, it looks like toxic air.

Where to go?
Use the Pirahna Plant to cross!
Videos:
<object width="425" height="355"><param name="movie" value="http://www.youtube.com/v/T6YIRwMaArk&rel=1"></param><param name="wmode" value="transparent"></param><embed src="http://www.youtube.com/v/T6YIRwMaArk&rel=1" type="application/x-shockwave-flash" wmode="transparent" width="425" height="355"></embed></object>
Video of Toxic Wetland 1.
So...what do you think? Please feel free to leave comments, suggestions, and constructive criticism.