Intro (tl;dr)
It's time to unveil my new (Slightly halloween themed) hack, Castlevania: Mario Edition.
Here's a brief intro to this future series.
-------------------
The 'Mario Edition Series'
This is an idea I had a while back, that i'm starting now. Basically the Mario Edition series are SNES platformers essentially ported into SMW. As a brief sumamry, you play through complete SNES game, with Mario's physics (With some adapted powerups/moves).
The first one I decided to do is Castlevania: Mario Edition. This is all the levels (In all their glory) from Castlevania: Dracula X 'ported' into SMW.
Other 'mario edition' games I've planned are Metroid, Megaman and DKC, but Castlevania is taking muuch longer than expected, so expect a short wait inbetween installments.
-------------------
Castlevania: Mario Edition
As mentioned, here you play through every level from Castlevania: Dracula X but as Mario. (This includes all of the branching paths). While this sounds boring, I have made strides to implement Castlevania style powerups/moves to enhance the feel and gameplay.
Implemented Changes
- Mario can no longer run, because if he could you'd probably blast through all of the levels in about 3 minutes.
- Mario can no longer jump on enemies.
- When collected, mario can use sub-weapons (Axe, cross boomerang, knife and pocket watch).
- Best of all, Mario can now wield the Vampire Killer whip by way of a main attack (to replace jumping on foes). This is incomplete, but I am able to show you an extremely buggy beta version.
- Some sprites have been implemented, which I will explain below.
-Every Castlevania: Dracula x tune will be ported, complete with samples. (I've only done about 3 so far).
- The status bar from Castlevania: Dracula X has been implemented, complete with heart counter and health bar. (Incomplete, see screenshots)
- In-progress Titlescreen
Future Changes
- Implement Layer 3 effects and HDMA (See screenshots)
- Complete sprites
- Fisnish porting soundtrack
- Perfect the whip attack, as right now it's buggy.
- Finish Titlescreen
- Complete world map (ongoing)
-------------------
Screenshots
There aren't many atm, because i'm still porting the vast tilesets.
The screenshots on the left are taken from the original game, and those on the right are from my hack for comparison.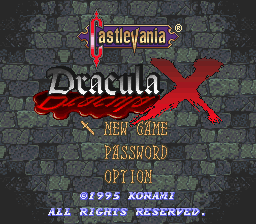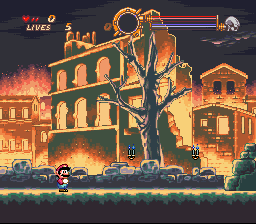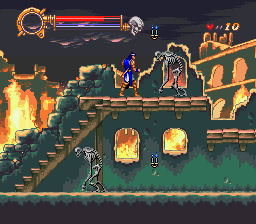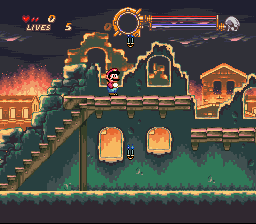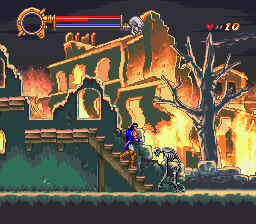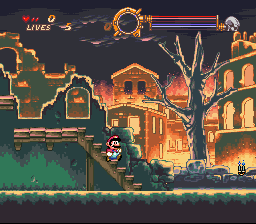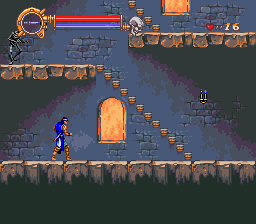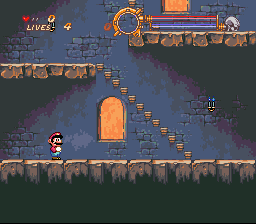 -------------------
Videos
A first glance...
<object width="425" height="344"><param name="movie" value="http://www.youtube.com/v/T8K0b10dgwY&hl=en&fs=1"></param><param name="allowFullScreen" value="true"></param><param name="allowscriptaccess" value="always"></param><embed src="http://www.youtube.com/v/T8K0b10dgwY&hl=en&fs=1" type="application/x-shockwave-flash" allowscriptaccess="always" allowfullscreen="true" width="425" height="344"></embed></object>
- The music is not perfect, i know that. (For one thing, there's no Castlevania samples yet. This is because whenever I use the sample tool thing it glitches up all of my ExGFX).
- The whip is kinda crappy (But it works, slightly).
- Still no HDMA or layer 3 or anything
-------------------
Finally...
Userbar:
Comments are much appreciated.
---