I really have no idea what to call this hack just yet. Perhaps "The Curse-Crushing Adventure"? Eh. Well, here's the story that I only just came up with:
In a land in a remote region of the Mushroom World, a strange, shadowy figure has arrived to take over. His demonic powers instill fear into the souls of all who know of him, and no one has been able to stop him. A magic amulet has been made to protect against his powers, but no one is brave enough to stand up to the figure. The people have no choice but to send the amulet off to Princess Peach of the Mushroom Kingdom in the hopes that she can find someone strong enough to stop this figure from ruling the entire planet.
And thus, Mario and Luigi are called to help. Armed with the amulet, they hope to defeat this evil before it's too late!
...yeah. Thought it up quickly. Maybe I'll try to condense it later. Basically, evil figure comes to the Mushroom World, the Mario Brothers must find it and defeat it. Fun fact: This was going to be my entry for the Choco Contest, but since I had problems with SRAM, I had to make something different...
...but now it's back! No demo, but screenshots!!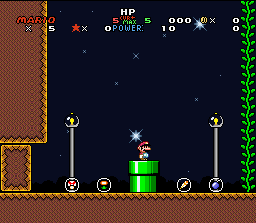 Instead of things like Mushrooms and Fire Flowers, you get these! These Powerups are PERMANENT! Getting hit won't make you lose them, AND you can switch between them interchangably!
Mushroom merely lets you break Turn Blocks with Spin Jumps. Nothing more, nothing less. It's outclassed by everything else except Small mode.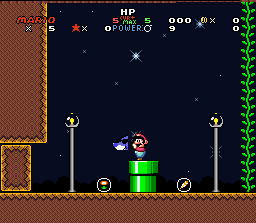 Bomb lets you throw Bombs! (duh) They destroy steel blocks (not shown) and have a powerful effect on enemies! (duh) But watch out! You have a limited supply! (It's right next to the power icon.)
I didn't grab Fire Flower or Cape because for some reason, they now crash the game. Weird, they didn't do that before...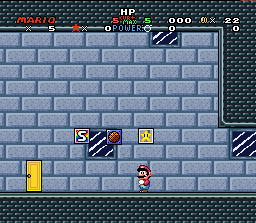 To the left, a Save Block. It saves all your progress up to that point, and that's the ONLY way you can save! To the right, Star Restore. It restores your HP and Bombs. 30 HP, 10 Bombs. (But for some reason, the HP won't get set to max, it'll constantly keep going higher and higher and higher...hmm...)
Did I mention you have to PAY? Right now, it's 20 coins for this little recharge, but later, I'll change it to 30. Different locations will cost you different amounts of coins.
Teleporters! Sorry, they're out of order right now. The only way to activate them is to find the other end (i.e., reach the teleporter room in another area) and hit the ! Switch found there. Good luck doing so...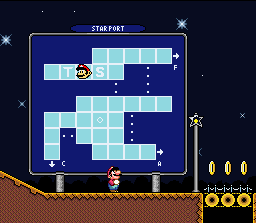 Map! Sorry, no menu map for you. Instead, you'll find these signs around each area, listing just where everything is. 1 block there is 1/2 of a screen. Meaning one screen is two blocks on the map. As you can see, the area name is listed above the map. This area is Star Port! Small, huh? The dots outside the rooms signify warp pipes. Mario's head is obviously his current location. T is the Teleporter Room. The dots in the rooms are where hidden items are. Arrows connect to other areas. Next to the arrow is a single letter signifying where it'll go- S F A C D M T ?. In this order: Star Port, Frozz Barrens, Aquania, Calcity, Mysteria Sands (a reference to a certain game I once made... The "D" stands for "Desert", of course), Foreboding Manor, Mt. Tohnitteg (lol pun, it's a volcano), and finally, the ? is the final area of the game, Castle of Curse. Mwa ha ha. You can't teleport to it, and its location is supersecret.
Now let's continue on. This is the sewer system of Star Port. It makes up most of the area, actually.
...Hmm?! Something used to be here... Hey, what's that block guarding?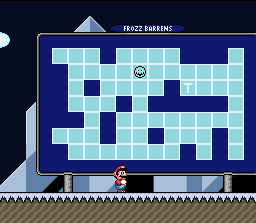 Frozz Barrens. I bet some of you remember this FG! There's the map for Frozz Barrens. It's incomplete, since I'm still working on Star Port, so... Anyway, the area's huge. Plus, it's got a new symbol on it- that face signifies a MAJOR boss battle. There's one in each major area save the final one. (Note that "major" doesn't mean "has a map" or "has a name". You could say that Star Port isn't major because it's so small, after all.) You HAVE to beat all the bosses in order to reach the Castle of Curse...
so, there we have it. Here's the areas:
Star Port - A little community that's near the ocean. It's the ONLY port in the land.
Frozz Barrens - As the name implies, it's cold, and it's barren. This mountain is one place you never want to get lost in, as it's so barren, you'll get extremely lonely FAST.
Aquania - The liveliest place in the land, this place has a complex underwater cavern, and right above that, the purest forest you'll ever find in the Mushroom World. Who could hate it?! (Note: This area will most likely have TWO bosses, one underwater, one in the forest, because it'll be THAT big.)
Calcity - A cavern reaching through the depths of the planet, it's also a major city, hence the name. Nope, it's not just a play on "calcium".
Mysteria Sands - A very mysterious desert. Some say it's not even on this world...but this is not true. It's just very mysterious and easy to get lost in.
Foreboding Manor - The most terrifying place imaginable. Boos and other ghosts are everywhere, waiting to feast on your soul!! (Basically, it's just a big ghost house.)
Mt. Tohnitteg - (PLEASE tell me you get the pun...) A large volcano in the Calciteria Valley. It's basically right between the desert and Calcity. To get to either location from the other, you'll HAVE to pass through this volcano...
Castle of Curse - The castle the Shadow Entity rules the land from. It's no real secret WHERE it is, it's right in Calcity! Getting IN, on the other hand... If you even get in, don't plan on coming out...
(I'll make sure you can't save before the Final Boss. I.e., the final save point will be outside the Castle of Curse...)
I hope to get this done.

--------------------
<Adam> I feel like smwc is a prostitute now, because we put up a porn ad for money