Download the demo!
The Big Boo's Legion 2
The Curse of the Magic Wand
The
"Big Boo's Legion"
saga returns, with full of life, more story orientation, different and exciting levels and more!
----------------------------------------
Plot:
- updating -
----------------------------------------
What's done for now:
- about 35 levels (I plan 40-50)
- most of the OW
- the title screen, intro, story development etc.
- characters, secret plans
Features:
- 'Active' story
- Longer levels
- Many custom graphics
- HDMA
- Custom sprites, blocks
- custom music
- etc.
Trailer
<object width="425" height="344"><param name="movie" value="http://www.youtube.com/v/X90w1z1PHBo&hl=en_US&fs=1"></param><param name="allowFullScreen" value="true"></param><param name="allowscriptaccess" value="always"></param><embed src="http://www.youtube.com/v/X90w1z1PHBo&hl=en_US&fs=1" type="application/x-shockwave-flash" width="425" height="344" allowscriptaccess="always" allowfullscreen="true"></embed></object>
Please enjoy this 3-minute trailer.
Screenshots
NOTE: Most of the screenshots are outdated now, so check out the pictures from page 9 instead!
The first actual level, the Wooden Bridge.
The second level, Rocky Path.
The second part of Rocky Path, the dark cave.
Two different caves as the third level.
And the Pirate Ship.
edit (2010.07.01.): Added here some new screenshots.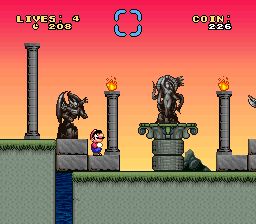 Userbar
Please put this userbar into your signature or profile, if you're waiting or supporting my hack.
---------------------------------------------
Thanks for visiting, and please, comment and give feedback. I'm really interested for your opinions!
I'll upload a video of a level a few days later.
Unexpected end tag (</param>) at 1009, expected </center>
Unexpected end tag (</param>) at 1060, expected </center>
Unexpected end tag (</param>) at 1115, expected </center>
Unexpected end tag (</embed>) at 1299, expected </center>
Unexpected end tag (</object>) at 1308, expected </center>