Created by Dr. Bloodytoothbrush King Jr.
I am happy to join with you today in what will go down in history as the greatest demonstration for vanilla freedom in the history of our central!
Ever since Jan. 1, 2006 the peoples of this great central have had the choice. Vanilla? Or Chocolate? Return to Dinosaur land, one of the greatest Vanilla creations in the history of the central will never take the place sooooo high above the glass ceiling, of Brutal Mario. Why? Because our once great central, is racist.
Vanilla hackers, as proud as they are, will never be held higher then the asm hacker, who does terrible
things
to us, and no one cares to fight back.
In a sense we've come to our nation's capital to cash a check. When the architects of our republic wrote the magnificent words of the
forum rules
, they were signing a promissory note to which every member was to fall heir. This note was a promise that all men, yes, vanilla hackers as well as asm hackers, would be guaranteed the "unalienable rights" of "blaming SNN, blaming aussies, making any kind of hack ( vanilla or asm ), and making fun of smallhackers nose." It is obvious today that the central has defaulted on this promissory note, insofar as her members of vanilla hackers are concerned. Instead of honoring this sacred obligation, the Central has given the vanilla hackers a bad check, a check which has come back marked "insufficient lunar funds."
But we refuse to believe that the bank of justice is bankrupt. We refuse to believe that there are insufficient lunar funds in the great vaults of opportunity of this central. And so, we've come to cash this check, a check that will give us upon demand the riches of freedom and the security of justice.
We have also come to this hallowed thread to remind the central of the fierce urgency of Now. This is no time to engage in the luxury of cooling off or to take the tranquilizing drug of spamming in WoI to get a few laughs, in effort to try to ignore the fact that there are vanilla hackers hiding in the bushes being beaten by the ban hammer that is our hack mods! Now is the time to make real the promises of democracy. Now is the time to rise from the dark and desolate valley of segregation to the sunlit path of hack justice! Now is the time to lift our central from the quicksands of vanilla injustice to the solid cement block of brotherhood. Now is the time to make justice a reality for all of God's hackers.
It would be fatal for the central to overlook the urgency of the moment. This frigid January of the vanilla hackers legitimate discontent will not pass until there is an invigorating spring of freedom to hack. Twenty Ten is not an end, but a beginning. And those who hope that the vanilla hacker needed to blow off steam and will now be content will have a rude awakening if the central returns to business as usual. And there will be neither rest nor tranquility in the central until the vanilla hacker is granted his user rights. The whirlwinds of revolt will continue to shake the foundations of our central until the bright day of justice emerges!
But there is something that I must say to my people, who stand on the warm threshold which leads into the palace of justice: In the process of gaining our rightful place, we must not be guilty of wrongful deeds. Let us not seek to satisfy our thirst for freedom by drinking from the cup of bitterness and hatred. We must forever conduct our struggle on the high plane of dignity and discipline! We must not allow our creative protest to degenerate into physical violence. Again and again, we must rise to the majestic heights of meeting physical force with soul force. Because this is the internets folks, we cant do shit.
The marvelous new militancy which has engulfed the hacking community must not lead us to a distrust of all asm hackers, for many of our brothers, as evidenced by their presence here today, have come to realize that their destiny is tied up with our destiny. And they have come to realize that their freedom to hack is inextricably bound to our freedom to hack.
We cannot walk alone.
And as we walk, we must make the pledge that we shall always march ahead.
We cannot turn back.
There are those who are asking the devotees of hacking rights, "When will you be satisfied?" We can never be satisfied as long as the vanilla hacker is the victim of the unspeakable horrors of hack mod brutality. We can never be satisfied as long as our bodies, heavy with the fatigue of palette editing ( and palette editing only), cannot gain lodging in the posts of the threads and the forums of the central. We can not be satisfied as long as the asm hackers basic mobility is from a smaller rom to an expanded asm hack. We can never be satisfied as long as our children are stripped of their self-hood and robbed of their dignity by signs stating: "LOL ASM ONLY LOL" and "ADVANCED SMW Hacking" No, no, we are not satisfied, and we will not be satisfied until "justice rolls down like waters, and righteousness like a mighty stream."
I am not unmindful that some of you have come here out of great trials and tribulations. Some of you have come fresh from the narrow jail cells of the trash can. And some of you have come from areas where your quest -- quest for freedom left you battered by the storms of persecution and staggered by the winds of Basic SMW hacking. You have been the veterans of the suffering of those 'Advanced' people. Continue to work with the faith that unearned suffering is redemptive. Go back to Basic, go back to N00b SMW Hacking, go back to the trash can knowing that somehow this situation can and will be changed.
Let us not wallow in the valley Fortress, I say to you today, my friends.
And so even though we face the difficulties of today and tomorrow, I still have a dream. It is a dream deeply rooted in the SMWCentral dream.
I have a dream that one day this central will rise up and live out the true meaning of its creed: "We hold these truths to be self-evident, that ALL HACKERS vanilla or asm, are created equal."
I have a dream that one day on the red hills of basic, the sons of former slaves and the sons of former slave owners will be able to sit down together at the table of brotherhood.
I have a dream that one day even in advanced, a subforum sweltering with the heat of injustice, sweltering with the heat of oppression, and the general hate for all things "basic" will be transformed into an oasis of freedom, justice, and simple hacking.
I have a dream that my four little children will one day live in a nation where they will not be judged by the color of their hacks but by the good design of their levels.
I have a dream today!
I have a dream that one day, down in Advanced, with its vicious racists, with its mods having their lips dripping with the words of "interposition" and "nullification" and "Decline" -- one day right there in Advanced little vanilla hacking boys and vanilla hacking girls will be able to join hands with little asm hacking boys and asm hacking girls as sisters and brothers.
I have a dream today!
I have a dream that one day every hack shall be exalted, and every hill and mountain shall be made low, the coded planes will be made plain, and the crooked places will be made straight; "and the glory of the Lord shall be revealed and all hacks shall see it together."
This is our hope, and this is the faith that I go back to my home in basic with.
With this faith, we will be able to hew out of the mountain of despair a cement block of hope. With this faith, we will be able to transform the jangling discords of our central into a beautiful symphony of hacker brotherhood. With this faith, we will be able to work together, to hack together, to code together, get our threads and hacks trashed together, to stand up for freedom together, knowing that we will be free to hack however we damn well please!
And this will be the day -- this will be the day when all of God's children will be able to sing with new meaning:
My Central 'tis of thee, sweet forums of liberty, of thee I sing.
Land where my hacks got trashed, land of Smalls big nose,
From every mountainside, let freedom ring!
And if the Central is to be a great nation, this must become true.
And so let freedom ring from the prodigious hilltops of N00b SMW hacking!
Let freedom ring from the mighty mountains of Basic SMW hacking.
Let freedom ring from the confused asm filled posts of Advanced!
Let freedom ring from the hack thread filled subforum of SMW hack discussion!
Let freedom ring from the helpful posts of Tutorials!
But not only that:
Let freedom ring from posts in Talk!
Let freedom ring from the meaningless current events in Hot of the Press
Let freedom ring from every problem and solution in the currently un modded but " heavily modded " subforum of Reality Corner!
From every terrible post, thread, and idea that has ever entered WoI!
And when this happens, when we allow freedom ring, when we let it ring from every thread and every hack review, from every sub forum and every post, we will be able to speed up that day when all of God's children, vanilla hackers and asm hackers, Graphics rippers and graphics creator, block coders and block inserters, will be able to join hands and sing in the words of the old Vanilla hacker spiritual:
Free at last! Free at last!
Thank God Almighty, we are free at last!
I know, many of you probably dont believe me. It is out there. Discrimination and Segregation of vanilla hacks and hackers do exist. Just look at this!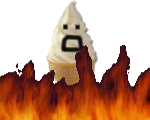 Many thanks to MSA for help