Hi!
I've dropped Mario - Shadows Reborn (Yes thats ANOTHER ONE dropped) and made a Paper Mario Styled hack. At least, it isn't some rip off of some other Paper Mario game thats already made, this one has original Graphics choices, and is made to be different from ALL the other Paper Mario games.
Plot: Mario was tired from all his adventures. He'd had enough. So he decided to go on a holiday. He found a spot in the Mushroom Kingdom he had NEVER been to, and started heading over there. When he got there, he found the place was HEAVEN! It was a great time, until he found the map. This map showed a secret place hidden in a mountain in the Kingdom. But to get into this place, he needs to collect the 7 Shine Sprites that are hidden in the kingdom. But people rumor that this secret place contains pure evil. Will Mario find riches? Will he find evil? And when is Bowser going to make an appearance?
I also have some screenshots. All the ASM has been applied. Scroll past the screenshots to see the ASM list.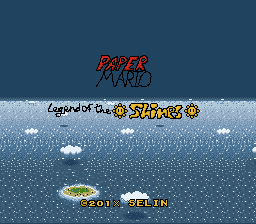 The Title Screen. Does it look alright?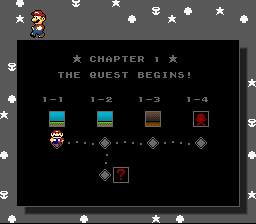 The "Overworld." Its mainly just some "tiles" I made on a black background. As you can see, there are "Chapters" each have a shine sprite in it. If you can guess what each tile represents, you win a cookie!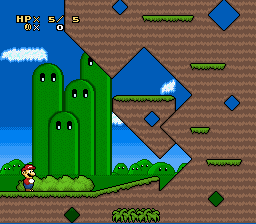 The start of the first level! I'm quite happy with the FG pallete on this level.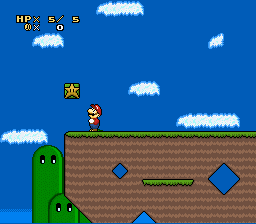 The thing that ends the level, a "Star" block. (Note: the star actually spins around.)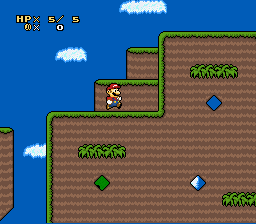 Going up! (There are no enemies in this level yet. Thats how I design my levels, I make the Level Design, then add the enemies in last.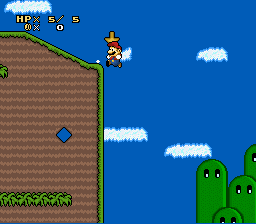 The arrow told me to go down...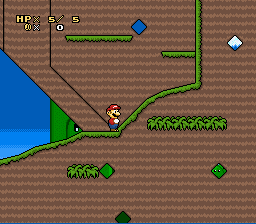 Wonder whats up there?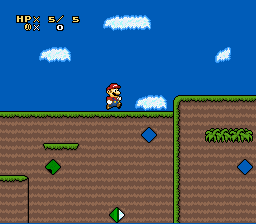 End of the level (SO FAR)
ASM LIST:
- Paper Mario Styled Health
- No Score
- No lives (Game over if you die)
- Safe fall (If you fall off the edge, you lose 1 point of health and bounce back up)
- No Item Box
- No Bonus Stars
- No Spin Jump
- "Secret"
Stuff I hope to be implimented:
- Some sort of "Hammer"
- Star Pieces to collect!
Stuff thats impossible to put in:
- A Stage for battle.
- Inventory
- "Levels"
Now that thats all done... Questions and Comments?
--------------------
Currently doing ExGFX Requests, please send me a PM, and i'll TRY to do what you want.