Extras


I should have something witty to put here (even if it's just to update dated info), shouldn't I?

Advertising Space
Still only pouring out a little over time.
These first six screens consist of a couple of levels to be included in my next C3 update... but will be a what is hopefully a more managed beta this time around. (OW still hates me and I hate it back.)
The first one is just me trying out another background for some older levels, while the second one is the first "completed" minigame I have in mind. Speedrunning with restrictions ahoy!
---
Simply incredible GFX, MrDeePay! The best I've seen in a while. The sprites i liked most were the nipper plant one and the koopa one. You'll get famous on C3!

--------------------

Now I need to change my old avatar. Or not.
Looks great MrDeePay! Can't wait to play your hack!

Remember this?
Few screens of Rolo Coast.
Loving the excellent look of the levels lynnes. Keep it up.
Originally posted by Lynnes
Remember this?
[images]
I haven't seen those particular screens.
Anyway, nice vanilla levels. You have a very consistent style I can always pick out from the crowd.
6 of the 7 worlds which will be in my hack, world * having stars in the shape of SMW's star world.
Worlds 1 and 2 make you go back to a previous level to advance to the next world.
Also a video of world *, level 5:
<object width="480" height="385"><param name="movie" value="http://www.youtube.com/v/hTM7Ebm9OxY&hl=nl_NL&fs=1&rel=0"></param><param name="allowFullScreen" value="true"></param><param name="allowscriptaccess" value="always"></param><embed src="http://www.youtube.com/v/hTM7Ebm9OxY&hl=nl_NL&fs=1&rel=0" type="application/x-shockwave-flash" allowscriptaccess="always" allowfullscreen="true" width="480" height="385"></embed></object>
Comments?
Very nice submaps, Pureblade! I really like the hill that goes up into the other submap. Very creative, although it being green makes it a little unfitting in a snowy submap. :S
---
Anyway, now to show some stuff from my secret project I started recently. I don't want to reveal too much yet, so let's just say it's vanilla-ish (excluding player & enemy graphical changes and the status bar).
Working on stuff again 👀
At first I was going to say that the giant hill looks cutoff pureblade, but I forgot that the top row won't be seen ingame

Looks pretty good snowshoe, except for a few things.
#1.
Now this isnt really an issue as much as a personal preference, but the palettes look like they could be a bit better here, mainly the brown dirt, and the mountains.
#2.
This screen looks a bit empty to me, except for the chain chomp in the corner. You might want to redo this part to make it a bit harder.
Other than this, I dont really see anything wrong with any of the screens.
Heres a little something I'm working on...
He doesn't do anything special yet, but I've got his behavior planned...
I'm thinking he'll walk back and forth fairly slowly, stop for a split second and do a little hop. When he lands, he shakes the ground... Three hitpoints and he turns red and becomes temporarly invincible each time he takes damage.
Graphics routine was not nearly the pain in the ass I thought it would be...
--------------------
I have a hack thread -
Link
(Now with a demo!)
Also a music thread -
Link
C3 Projects
2013:
Modern Spiny Pack
2012:
MGSS v0.1
Spring 2010:
SMB2 Autobomb Sprite
You're not allowed to show asm off here.
--------------------
Here's some portion screenshots of my hack.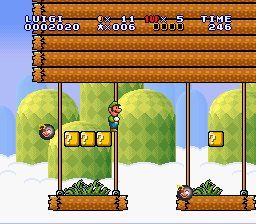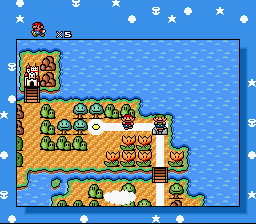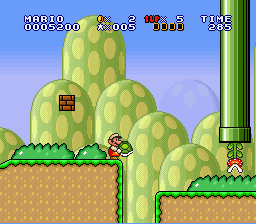 That's all i can show.
Screens of my hack. It comes at C3!
Comments?
all 3 people above me win.

I might put some sort of signature here once. I guess.

Originally posted by Lynnes
As I once pointed that out to Electron already, I'm not too fond of the status bar being behind the fade-to-black effect. The status bar doesn't belong to the environment and it looks out of place, imo.
Otherwise, looks great. Good job.
So many nice looking screenshots! Maybe I'll show some of mine when I get some inspiration to work on my hack.
SPEAKING OF LA CEE TROIS:
Holy crap me actually finishing something. An one-level demo to be precise.
Forum Index - Sunken Ghost Ship - Display Case - Screenshot & Videos Thread 5.0 [READ 1st POST!]