The results are in! andy_k_250, Aqualakitu and I gave each poster scores between 0 and 5 in three categories - Art, Slogan and Awesomeness (the latter being defined as how excited for C3 it makes you) - and then averaged our total scores. As such, each poster is given a final score with 15.0 as the maximum.
Now, in order to add a dramatic effect, I'll stretch the page to reveal the top five posters.
Honorary mention: 4th place: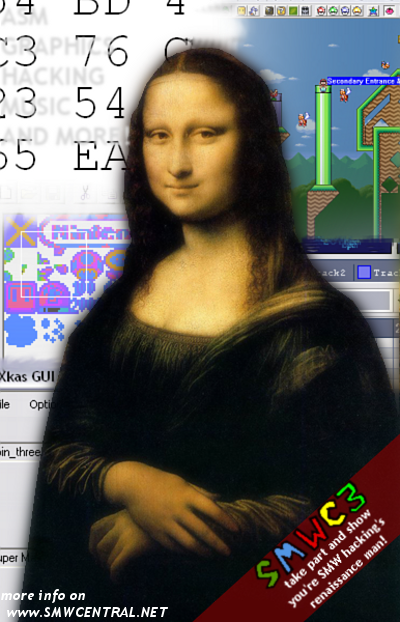 The honorary mention goes to Sheep49 with 12.7 points! We finally figured out Mona Lisa's mysterious smile: she knows C3 is near!
Bronze medal:
The bronze medal goes to Orbis with 13.0 points! I'm not sure what gears have to do with Mario, but it looks good, so who cares?
Silver medal: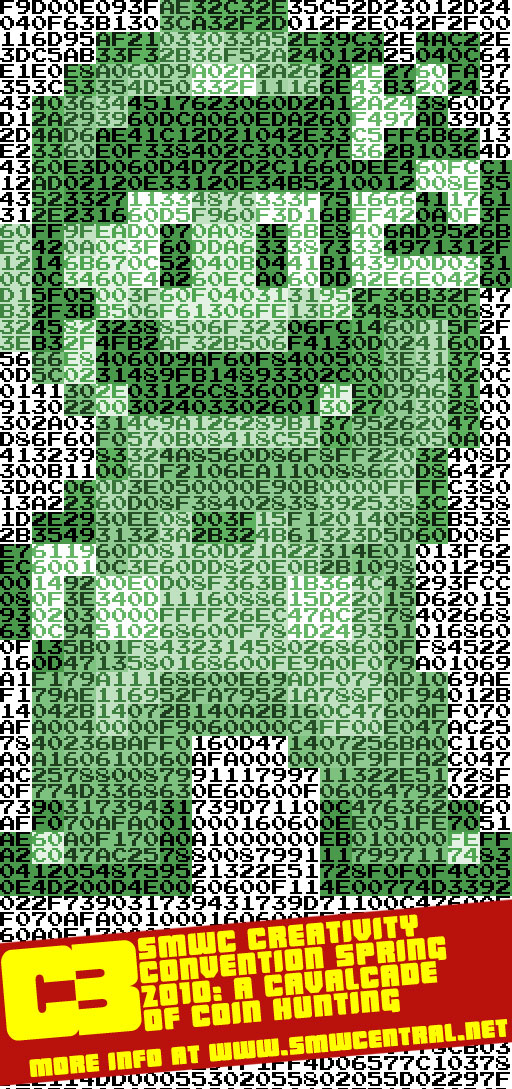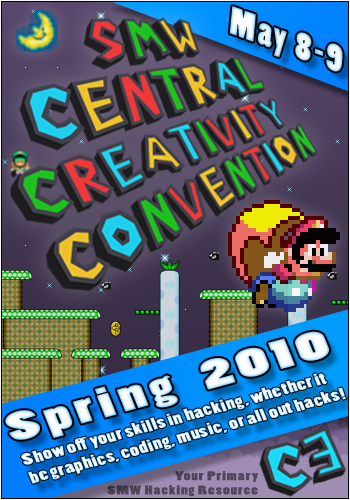 The silver medal is a tie between The Kins and Dotsarecool, both having 13.7 points! I had a hard time choosing between these two, and apparently, so did the other judges.
And the winner is...
...Counterfeit with 14.0 points! Congratulations! That sure is some awesome pixel art you've got there. You deserve this gold medal!
/me holds an imaginary imaginary medal that will hopefully turn into a real imaginary medal
Congratulations to the winners and a thank you to everyone else who participated. ...speaking of everyone else, you may be curious about the score your posters got.
1
14.0
Counterfeit
2
13.7
The Kins
Dotsarecool
3
13.0
Orbis
4
12.7
Sheep49
5
12.0
Demonsul
6
11.7
Exor
7
11.3
Adam
Aquifer
matt112986
8
11.0
spigmike
9
10.3
LudvigVonKoopa
Bluemoon
10
10.0
Pester
Koopinator113
11
9.7
Frist
Omnomlicous
12
9.3
Master S
Pikerchu13
13
9.0
Darky
Roberto zampari
Bird0 - Enemy army
iRhyiku - Boxart
14
8.7
Volke
iRhyiku - Muncher
Snake X
15
8.3
1UPdudes
Dinomar
MSTR448
16
8.0
Lunar Rico - Uncle SMW
Luigi-San
Brad172's brother
17
7.7
THE EVIL CHEEPO!!!!!
18
7.5
Bowser's Level Designer
19
7.3
Lunar Rico - C3 block
LukaNuva
20
7.0
Brad172
21
6.3
Bird0 - Chaos
dacker hacker
Koops
22
5.0
Bird0 - White noise
23
4.3
Kevinskie555
Some1
Baby Yoshi1000
24
2.7
BBkaizo
Error52
Why are you still reading this? Get back to work on your C3 projects!