[15:50] <SmaIIhacker> I wish someone would make a serious pure vanilla hack.
[15:51] <SmaIIhacker> One meant to be transplanted to SMA2
[15:51] <WYE> yup - without Map16, custom palettes and stuff
[15:51] <WYE> I don't think I've ever played a pure vanilla hack
[...]
[15:59] <WYE> I might just make one for C3 - I don't think that'll take too long
[15:59] <WYE> (just one world or so)
---
So that's what I did. A
pure vanilla hack
- No ExGFX, no custom palettes, no custom overworld, no tileset mixing, no use of Direct Map16 Acess whatsoever, not even bypassed time limits/music/etc. In short,
nothing custom at all
(aside from LM's ASM hacks, of course*). This might even be the first decent pure vanilla hack made in quite a while. As stated above, this hack is only one world long - the good ol' Yoshi's Island, only with changed levels and Donut Plains 1 serving as some kind of "End of Hack" level.
Since it cannot have anything custom, you shouldn't expect anything revolutionary from this hack - it obviously focuses on level design. And even that might not be too good... I think that some parts could have been done better, and not being able to use screen exits didn't allow for bonus rooms/complex multiple paths**. I hope you're still going to enjoy it a little.
...Wait - not being able to use screen exits? That's right - Lunar Magic installs an ASM hack that allows you to exit to any level you want (normally you can only go from level 0xx to 0xx and 1xx to 1xx), and apparently it's not possible to port that over to SMA2.
Yes, SMA2. As many of you know, SmaIIhacker recently created a
tool
that could port levels from an SMW ROM to an SMA2 one. It only supported pure vanilla levels, though, so I couldn't add anything even slightly custom when I wanted to properly transplant this.
So yeah, this hack takes advantage of Smalls' tool and comes in both SMW and SMA2 form. This might even be the first completed SMA2 hack ever ("completed" as in "I consider my work done", not as in "All levels have been changed"). The level data itself is exactly the same in both versions, though there are some minor bugs in the SMA2 version:
The midway entrances don't work perfectly - in the SMA2 version, the player sometimes appears higher/lower than in the SMW version. I don't know whose fault that is, but as long as the changed position doesn't kill you, it's okay I guess.
Layer 3 messes up a little when beating Yoshi's Island 4, probably due to me placing the goal point too high. It's still only a visual flaw though, so I didn't bother fixing it.
The intro (the first video you see after the Nintendo Presents logo) has a pretty messed-up background. Not sure if that's my fault or Smallhacker's. Oh well, who watches the intro anyway.
That should be about it. The only thing that's left are the
DOWNLOAD LINK
and
some
a lot of screenshots. ...Oh, one last thing: Of course the SMA2 patched should be applied to a clean SMA2 ROM. Please let me know if the one I used wasn't clean. >_>
Enjoy!
---
*Fun Fact: I actually used Lunar Magic 1.62 - the oldest version I could find - for making this, in order to add as little LM ASM hacks as possible.
**That's also why I had to end the gastle with a goal point - no screen exits, no boss door. D:
---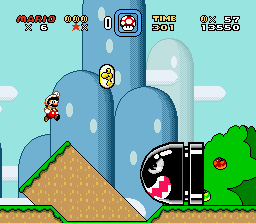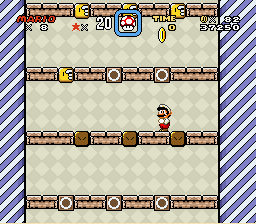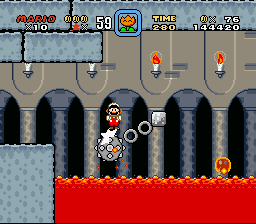 --------------------

nice vainilla hack

HEY! check my files, and download my GFX! :)
I did not know Smalls has wishes (but it sure must be frustrating making a (more or less complex) Tool, that nobody uses).

However, I'll play it now.

--------------------
Your layout has been removed.
A pure vanilla hack, so this is what it looks like. After seeing countless hacks that involve so many things custom (including palettes and screen exits of all things) it would be nice to go back to the bare bones of Lunar Magic editing. Nice job WhiteYoshiEgg, I can see this becoming quite popular as a way of saying that bare bones hacks don't have to be all that bad. I say this as many people, including myself, believe that bare bones hacks are for inexperienced users getting used to Lunar Magic, this will mostly likely change a lot of peoples attitudes towards this subject. For what has been done, and for its intentions, I give you props.
--------------------
AnimeList
|
MangaList
I want to play this! A nice little vanilla hack to remind us what SMW hacking is about.
Some spots really made me think: "This is definetely how Nintendo would have made it.", but other things, like the use of Munchers in more than 1 level reminded me, that it's a hack.

Good job, WYE!

--------------------
Your layout has been removed.
Nice! But map 16 tiles and custom palettes would make it better, and it's still vanilla :/

--------------------
Your layout has been removed.
... You don't get the thing of it.

It's PURE vanilla and you can't transplant palettes, MAP16 etc. to SMA2 as far as I know.

--------------------
Your layout has been removed.
Hm, very interesting WYE. Is it me, or do the levels you've made seem more like professional levels rather than fan made ones in Lunar Magic? Still, pretty good. I liked it.
Originally posted by Kevinskie555
Nice! But map 16 tiles and custom palettes would make it better, and it's still vanilla :/
That's not the point of it. This hack are meant to be ported on SMA version of SMW.
A pure vanilla hack would be done using a hex editor

Originally posted by Kaijyuu
A pure vanilla hack would be done using a hex editor

Thumbs Up!
But try it.
--------------------
Your layout has been removed.
I've played hack on GBA and what happen:
WTF?
Edit:
--------------------
Currently playing: Mario Forever Remake v2.3, SUper MArio Bros. X 1.3.0.1, Sonic Unleashed (Xbox 360)
GPX Plus eggs and Pokemons
PokeFarm Eggs and Pokemons
Since I comment on much because this is pure vanilla, all I can say is that the level design looks really nice.
Thanks for the comments so far.

Originally posted by BBkaizo
I've played hack on GBA and what happen:
WTF?
Edit:
The second one is already mentioned.
PLEASE, people, read the first post. D:
Elaborate on the first one though. Where exactly does it happen, and what have you done before it?
--------------------

This looks...like an interesting experiment. I have to admire your patience to do all this with so few added things. (By the way, I happen to have a copy of Lunar Magic 1.0, if you want it.) The design seems decent, too.
Oh cool! Finally, someone used Small's tool! Great job with this

Give Mario some love?~

Originally posted by imamelia
I happen to have a copy of Lunar Magic 1.0
Heh, me too.
This is indeed an incredible feat you have done here WYE.
The level design looks flat out great, and even without any new palettes or new anything, I still want to play it.
--------------------
IRC Quotes
(
March 20th
update!)
/MKICK 4: Flantastic Puns
I've been itching for one of these hacks for a long time.
I mean a pure vanilla hack that sticks closely to SMW's design.
Return to Dinosaur land basically achieved that.
Can't wait to play.

--------------------
Your layout has been removed.
Wouldn't it be possible to at least use the original SMA2's screen exits, if Smallhacker's tool doesn't port Lunar Magic's screen exits? (Or edit the screen exits with a hex-editor (within the SMA2 limitations)?)
(Random somewhat-off-topic question-- I'm actually interested in trying to hack SMA2 using a hex-editor. Can someone direct me to an explanation of how SMA2's (or the original SMW's if there's no easy explanation of SMA2's) objects/sprites/headers/screen exits are stored in the ROM?)
Delayed edit (since I was thinking about so many C3-related things that I didn't notice my icon change until now): Level 11...
–=–=–=–=–=–=–
Alyssa's Unlikely Trap
-
Zeldara's Glitch City
| | |
| --- | --- |
| Pages: 1 2 | |
Forum Index - Sunken Ghost Ship - C3 Museum - Spring 2010 - [Hack] A Pure Vanilla Hack (+SMA2)