Time for a new thread, don't you think?
Fawful's Revenge is different this time around, being mostly about exploration seeing on how it's a completely open world. I'm going for practically zero linearity, because you can get most of the shards in any order. So to do that, I crafted a save block and all that good stuff with my minimal ASM knowledge, cool, right? The story is practically the same, with a few twists and whatnot to fit the save block. But... A lot of you probably don't even know the story, right...? Well that must suck, because all I can tell you is that Fawful comes into play as the main antagonist, and you need to find eight or some number of shards to form an orb so you can do some fancy interdimensional travel. But it's a lot more in depth than that, but you'll have to wait for the demo.
Anyway, screenshot time!
Logo with drumroll :3
Title screen, and it's going to have a one button press load after figure out how to do so.
File Select (Overworld, sadly)
Save block, heal block and WIP status bar. The save block is in Ruflix Beach Town, pretty much were you start.
East of the town is Ruflix Shores East, and west is Ruflix Shores West, and Rolo cove were you meet Fawful. This is east. Oh yeah, layer three clouds, HDMA, and layer three water, too? Guess how I did that.
More of Ruflix Shores East.
After Ruflix Shores East you find Flower Fields.
And what's down there..?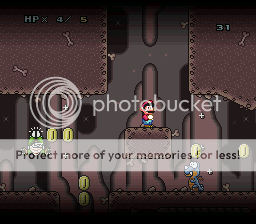 Oh a cave. Actually Dargo Mines. Looks more mine-y as you go down further.
Cool pipe, bro. Brings you back up to that pipe in the first SS of Flower Fields. You can also go down that pipe, though.
A quest, cool.
There's four messages that changes depending on the status of your quest; Starting, during, finished and after. Also a flower counter appears when the quest is accepted and you get to Flower Fields.
Oh yeah, I made this piece of crap in like 30 minutes to get an idea of the layout of the first-ish area.
Each block is about five or so screens each, and you can't necessarily get into each area right away. For instance, the grey area which is a factory, you need a key card from some random guy you find in the desert. Like, no hints that he exists random.
Aaand that's all. Comments and criticism is like, insanely appreciated. If you have anything, and I mean ANYTHING to say, say it, got it? And expect updates often.
oh yeah 1000 posts what a coincidence omg lol