Hack Name:
Mario's Quest
Length:
4 levels
Author:
Darkness
Description:
This is My first major hack it consits of four levels.Keep in mind im not very good at this consider this before you judge. So with that said Enjoy !
__________________________________________________
There wasn't all too much to say about this hack. I was only able to access one new level, and it was only relatively lengthy as it was. The gameplay wasn't bad, but the palettes could use some improvement.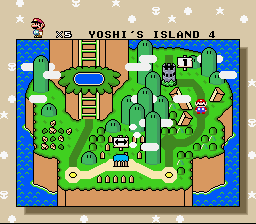 As I mentioned, I was unable to play all four of your levels. When I started the game, Mario started on this level; therefore, I missed any previous levels that could have been available.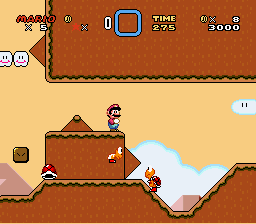 I have no idea how this occurred. After I jumped on a Red Koopa, it jumped and managed to get stuck there. This was more than likely something that I managed to accidentally cause out of nowhere, but if you notice this happen to anyone else, please try to fix it.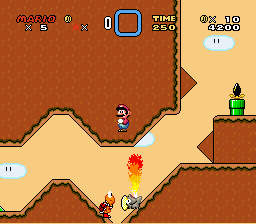 Make sure that your ceilings are all solid tiles. As you can see here, I was able to jump through a corner piece of this ceiling, allowing me to sit on the flat areas of the ceiling.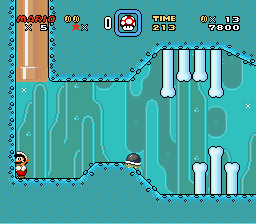 The palette of that pipe is not appealing in any sense of the word. Adjust the palettes so that it fits with its environment.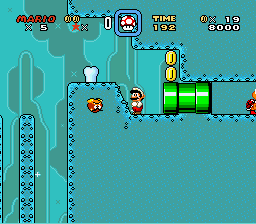 This isn't a particularly important issue, but please put a solid dirt tile behind this slope so that I am unable to throw Goombas into it.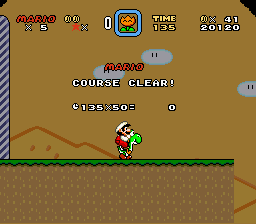 Extend the land here by one more horizontal tile so that it does not cause cutoff.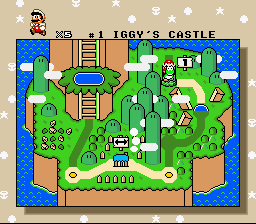 After the event plays for this level, it only reveals half of the level tile. If this still occurs after you fix your submap so that Mario starts at Yoshi's house (or the first level if you design a new map), please fix it.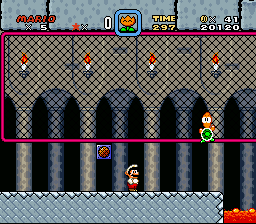 And here is where the unique chain of levels stops.
Try to fix those problems that I pointed out, and we'll see how the other levels come out when you resubmit it.