Removed
Hack Name: Mario's Weird World Demo - 103.8 KB - 13 downloads.
Length: 5 levels
Author: Kaabimasterx - Submitted by: Kaabimasterx
Description: I followed the suggestions in the log where they say why the hack got denied, I did it all, I also completely changed the over world, changed the Title, Changed Some blocks, if you see glitched sprites and invisible sprites, I did it on purpose, because I wanted to add a custom sprite with ExGFX. Also, I didn't add a yellow switch palace because The sub map to over world thing was screwed up so I left that out, Enjoy! Please take the right path because the left path is harder and it's a shortcut to the castle! Thanks!
Reasons
The IPS patch you submitted does nothing when applied to a clean ROM. It doesn't change anything. Make sure you made your IPS correctly. Always test your IPS before submitting it.
Also, this screenshot was included in your screenshots: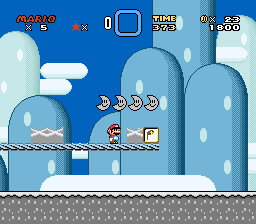 I don't know what the rest of your hack is like, but if it is anything like this, it's probably not ready for the site. Here's a short list of problems:
- cutoff rope
- cutoff floating water
- bad palette for the rope
- bad palette for the water
- gray 3-Up Moons?
- glitched-up, bad-paletted Note Block
This hack does not meet the following
Hack Submission Guidelines
:
Originally posted by Hack Submission Guidelines
1. You must submit an IPS file, NOT a ROM of any kind!
Use
this
tool
to create your IPS file,
and put the patch in a ZIP. Commercial ROMs are illegal, and we will not host any on this site. Uploading a ROM will result in a 72-hour ban for the first offense, and if you do so again, you will be permanently banned from SMW Central.
3. No graphical glitches!
Errors such as garbled sprites/FGs/BGs, message box text screwing up layer 3 items, cutoff tiles, and general graphical ugliness are frowned upon. Also, don't forget about glitches such as sprite memory issues - the graphics of the sprite will 'disappear', but the sprite will still be there, and can unfairly hurt Mario.
8. Test your hack on all major emulators!
This will ensure that all players, no matter which emulator they are using, can play it without experiencing slowdown or crashes.
--------------------

[?] Miscellaneous Helpful Hints
If I moderated your hack, there was apparently a 90 percent chance it was rejected.