Of course we have our greats (read: most staff and helpers), but there are other people who are about as cool as they are. These people don't get the recognition they deserve, and I made this thread to do said recognizing of said people (maybe not as they deserve, but yeah.)

tl;dr - Who do you think is seriously worthy of more attention here on SMWC?

--------------------
You know me if you know me.
Soul2Limbo, because despite not being much active and being slightly "reclusive", his hack is one of the most impressive pieces of work I have ever stumbled across in this website. Besides, he is also a pretty nice person to talk to, even though I haven't talked to him in a while.
Lexator, because all the hacks I have played by him so far blowed me away too. I wonder why he is so much of an underrated hacker here (or at least the way I see it), because that dude seriously has quite some potential.
Logup, because he never ceases to impress me coming out of nowhere with his mind-blogging graphical stuff. He isn't as active as he used to be these days, but hey, he's still alive.
exit1337, because his hack, despite being very underrated (), is truly an enjoyable piece of work.
Marioman, because his hack has one of those swell retro feels to it (read: it overall looks fantabulous), yet I don't recall seeing many people reacting to the stuff he has shown off of his hack in the screenshots topic.
There are likely more people that deserve a mention too, but those are the ones that stand out the most right now in my mind.
Lexator: His hacks were simply awesome, and they were also very unique, but for some reason they're underrated.

Rocket Sparkster: A great music porter and hacker. Hardly anybody commented on his awesome ROM hacks that were made with only a HEX editor. He actually left the site because he felt ignored and mis-treated.
Zerio: Yeah, it may seem a little selfish to put myself on this list, but that's because that's my honest opinion. I spent lots of time on all my current hacks, and the two I released, Talikuu Quest and Super Mario - Bowser's Secret Weapon, seemed very underrated IMO. Especially SM-BSW; it seems like a really good hack to me, but it only got a score of 6.0.

Maybe my other hacks will do better...
Honestly, I can't think of any underrated members. Generally, I think everyone gets the appropriate amount of attention they deserve.
Definitely me. I don't get enough attention as it is.
Originally posted by Red Chameleon
Definitely me. I don't get enough attention as it is.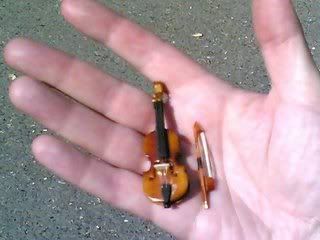 Originally posted by Jacob
world's smallest violin image
I've always wanted one of those. I should take a look on eBay at some point.
Also, the only person who really comes to mind as being underrated immediately is Lexator, as stated. He's really pumped out some very high quality hacks, but you wouldn't know it since he hardly posts about them. He just sort of submits them.
Pheonix, because he absolutely refuses to stop helping out with SMWCmon's mapping and graphics despite my intense laziness. Even when he's on vacation. He's super awesome :V
I'm gonna say the opposite, I think sometimes, that I get too much attention then I deserve, but that's from my perspective XD

But about underrated people, I'd say MarioVSShadow, he's a pretty cool dude, but he usually gets ignored :/
Yeah that's true XD
But you are trying to hard

But I'd never say no to a mod job thing either XD
I find myself underrated.

But hey, that's what I think.
I'm pretty sure that everyone thinks that they're underrated. I feel that way too. Now let's stop it with the 'I think I'm underrated' business and get back to the other underrated people of SMWC. I can't think of anyone at the moment, but I'm not that good a judge at, well, pretty much everything.
Originally posted by grishnax
I'm pretty sure that everyone thinks that they're underrated.
I feel rather the opposite. I mean, for someone who doesn't have anything to do with the site's subject, I certainly get rather copious amounts of attention.
Hell, someone even thought I'd become an administrator. I'm seeing an extended ban way before any staff positions are headed my way.
Also the only underrated person I can think of is probably Forty2 but I'm not sure how much more popular The Title is Irrelevant has made him so yeah.
What an excellent friend I am.
Foop. enough said.
He's a graphics ace, and his hack seems to be pretty decent. Still, he is quite underrated. Seconds are Lexator and two_headed_yoshi.
i AM overrated. I suck

--------------------

i just lurk sometimes
AxelStripe. Seriously.
I'm sure most people know why.
--------------------
IRC Quotes
(
March 20th
update!)
/MKICK 4: Flantastic Puns
Hmm... somebody I would consider underrated.

There is one person

• Red Chameleon - Honestly, this guy is great. He submits an entire musical track (of his own compositions I might add) to the site, and even submits some of the most high quality ports I've heard and yet hardly anybody, with the exception of myself, sees him as a "Somebody" and not just an "Anybody". I myself believe I fall into the "Anybody" catagory, because anybody can do what I do... sadly.
I'm gonna agree with S.C.O.R.P.I.O.N.
Red_Chameleon and I have had spats in the past, but I think he's a pretty well-rounded user, and much more friendlier than a lot of other users. He's even helped me out with a few of my past projects.

--------------------
ADMINS PLEASE MAKE E-MAIL NOTIFICATIONS A THING I BEG OF YOU
Originally posted by Electron
Foop. enough said.
He's a graphics ace, and his hack seems to be pretty decent. Still, he is quite underrated.
Agreed, after I saw his City drawn GFX, I knew he was a great hacker, but still hardly gets respect. I think many people here are underrated because they haven't had a chance to finish a decent hack, once people release them, they might actually get noticed.
Forum Index - Donut Plains - General Discussion - Most underrated people on SMWC