Removed
Hack Name: Yoshi Tales - Baby Bowser's Revenge [DEMO] Demo - 346.2 KB - 70 downloads.
Length: 5 levels
Author: J_dude320 - Submitted by: J_dude320
Description: After the events of Yoshi's Strory, Baby Bowser wants his revenge. He has Captured Mama Yoshi and but the rest of Baby Yoshi's Brothers in eggs!
----- NOTES -----
This is my first hack and i have put alot of effort into it ENJOY!
The Buzzy beetle, ? block, note block, pipes, stars, watermelons and mildes have all been custom edited by me to fit into SMWs Palette
(please delete the other OTHER one i discovered an error in te IPS >.>; )
Reasons
There was an error with this IPS too.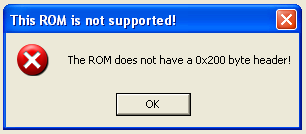 Your IPS Patch does not work properly when applied to a clean Super Mario World ROM. Please review how to make a working IPS patch and resubmit your patch.
This hack does not meet the following
Hack Submission Guidelines
:
Originally posted by Hack Submission Guidelines
1. You must submit an IPS file, NOT a ROM of any kind!
Use
this
tool
to create your IPS file,
and put the patch in a ZIP. Commercial ROMs are illegal, and we will not host any on this site. Uploading a ROM will result in a 72-hour ban for the first offense, and if you do so again, you will be permanently banned from SMW Central.
8. Test your hack on all major emulators!
This will ensure that all players, no matter which emulator they are using, can play it without experiencing slowdown or crashes.
--------------------

[?] Miscellaneous Helpful Hints
If I moderated your hack, there was apparently a 90 percent chance it was rejected.