Removed
Hack Name: SMB:The New Adventures Demo - 244.1 KB - 7 downloads.
Length: 4 levels
Author: Luigi370 - Submitted by: Luigi370
Description: 4 levels from my first hack, run only with ZSNESW.
Reasons
This hack is kind of a mess.
First off, there are only two actual levels, along with two other levels that are "friendly" NPC levels. That is not long enough for a demo that can be hosted on the site.
Additionally, the levels that were present had lots of glitchiness.
Third, I have a sneaking suspicion that this hack might have been based off of another hack, such as Pac's SMB remakes or another similar SMAS-based hack. I see no credit given for anything, and I have a hard time believing so many graphical hacks were made by a person with obviously so little experience. No offense.
I don't have any firm evidence for this, but
when a level looks like this in LM
, a ROM has been heavily tampered with in some way.
On to more specifics: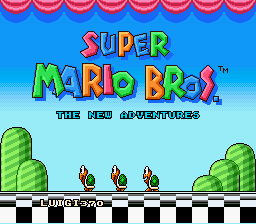 Again, this title screen is remarkably similar to some that have already been made by previous SMW hackers.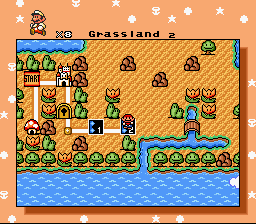 An exanimated perfectly-paletted OW in a hack with lots of other issues? Somewhat hard to believe.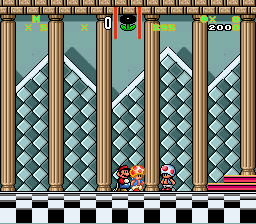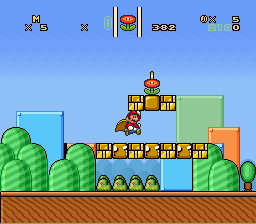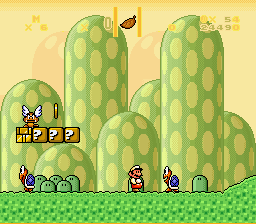 The status bar was pretty ugly in
most
all places.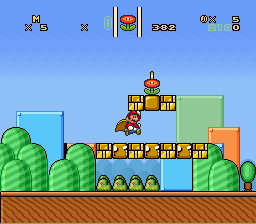 SMB3-style blocks don't work properly? That's strange.
Also, lol at Mario having three hands. How is that possible?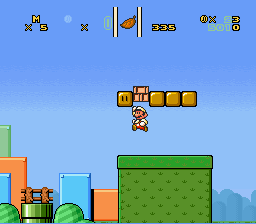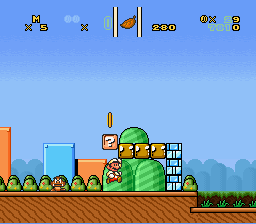 Also, several blocks had ugly bounce graphics.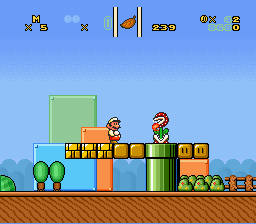 Two Piranha Plants in one pipe? Kinky. Not a reason for removal, but just strange.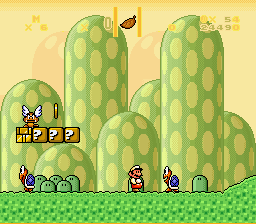 THINK FAST! I wasn't paying attention when I entered this level, so I got hit by that fast Blue Koopa in the first second or two of the level starting.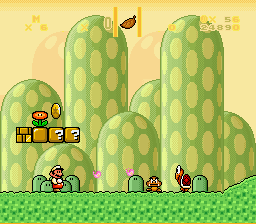 Pink fireballs? How did that happen? Oh well - Cotton Candy Power!
This hack does not meet the following
Hack Submission Guidelines
:
Originally posted by Hack Submission Guidelines

2b) Do not steal content.
Any hack containing content that was used or copied without permission (i.e. stolen) will be removed. Additionally, unless you have the explicit permission of a hack's author, you may not upload a hack that was created by another person. The only exception to this rule are any hacks that were lost in the 2008 hack database wipe.

3. No graphical glitches!
Errors such as garbled sprites/FGs/BGs, message box text screwing up layer 3 items, cutoff tiles, and general graphical ugliness are frowned upon. Also, don't forget about glitches such as sprite memory issues - the graphics of the sprite will 'disappear', but the sprite will still be there, and can unfairly hurt Mario.

4. Unless you intend to make your hack contain very long and very high quality levels, demos which are too short to provide any feedback on or be enjoyable will be subject to removal.

7a) Keep it fair, and keep the hack at a legitimate difficulty!
i.e. Avoid things like death after the goal, blind jumps, forced damage, excessive enemies, places where you can get permanently stuck, excessive 3-UP moons, etc.

8. Test your hack on all major emulators!
This will ensure that all players, no matter which emulator they are using, can play it without experiencing slowdown or crashes.

9. Quality level design
Your hack has a much higher chance of being accepted if the level design is fun. Conversely, if the level design is found to be lacking then a little cutoffness may be enough to push the hack into deletion.
--------------------

[?] Miscellaneous Helpful Hints
If I moderated your hack, there was apparently a 90 percent chance it was rejected.