I think maybe we should replace the cape with the sml2 bunny ears. We'd need to use the raccoon suit i think, disable cape flight and disable cape spins.
Also, the level looks pretty good, but once again its short. Also, are there any bonus rooms or secret exits in any of your levels? Or multiple paths? Also, it might be a good idea to think about where in the overworld the levels will go.

Also, i can compose songs in midi programs pretty well if its needed, if you need music help, but i suck at converting them.
riped the beach tiles curretly un finished and maybe changed but i figed i realse it anyway. i dont really like it but others might.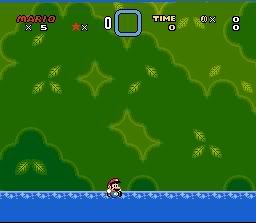 --------------------
thank u all for useing my joke button! to those who couldnt take the joke, grow a funny bone.
Very good job, but the ground is bizzarre, it looks like they rose the one on the other one.
Its suppost to be NSMB

The rocks look odd because it was used on water ingame, and meant to only be used in water, with the bottom a bit submerged.

Sorry, cant contribute much anymore... I can do little things, but not very much, so... I will still edit the first post if you say you want to do something, but just post or pm me if you want to lead, I will decide though, because some people i just couldnt trust as far as I could throw them... The reason is, I have been busy and a couple of bad grades D: *grinds teeth*
---
Footer
In other words, this hack is cancelled for you? Lol...
Then it really shouldn't be "your" team hack. ._.

O RLY? Good point...
---
Footer

I'll lead i guess...
Somebody has to do it. I guess we really need people to work together on this a lot more. The overworld and level designers are ignoring eachother, and its going to end up looking messy and random, as if the overworld designers stuck levels in random places.

Well.... sure, you have a good point. EDIT: I slid myself into level design because I can still do that much
---
Footer
Can I do level design? Plz?

EDIT: Oy, I didnt see it until after i posted, but i realize theres a spot open for OW design. Id like to be a OW designer too, i guess.

OK, i guess your added
---
Footer

Okay, can everybody working on the hack pm me a rom with all that they have done, if you've been doing things seperately the first step is to combine them. I'll look over it and make comments. Also, level designers, make sure you are thinking about the storyline thats on the front page. Same with ow designers. And make sure that you are using the graphic desingers' graphics. And the gfx designers, try to make tilesets for each world, or specific themes. We just need some coordination here.
/me abandons the project because of MiniMonster leaving, because of confusion and because of other projects.

Sorry guys. :/

*sniff* Why? It will be just the same but with Bloop! leading... And besides, I am still doing level design

---
Footer

I'll miss you...
*sniffle sniffle*
Guess we need a replacement.

I guess so... *sniff-sniff*
---
Footer
ok so Blop! is the new leader?if so its cool...

--------------------


- ignore the watermarks, working on a fix for those
Forum Index - SMW Hacking - Works in Progress - Bloop!'s team hack