Hack Name: "New Mario" - 1.2 MB - 83 downloads.
Length: 47 levels
Author: Ray321lolz - Submitted by: Ray321lolz
Description: Special thanks to: BigBoosHacker,Forte.exe,MoltenSnow,and Proton Jon. (PJ for being funny and inspiring) (please Delete other one)
---
Your hack has a lot of interesting level ideas, and it has a pretty cool soundtrack. I was actually a little bit impressed on those ends.
The reason I'm removing it, though, is that it's really, really sloppy. Glitches, bad level design decisions, horrible palettes, and other crap plagues this hack.
Now, I played most of the first world, and took 42 screenshots. At that point I said, 'Eff dis,' because, honestly, I'd have like, 200ish screenshots by the end. The best advice I can offer you is to get about 4 or 5 beta testers and get your hack checked out before resubmitting it.
To get you started on what's wrong, here are those 42 screens: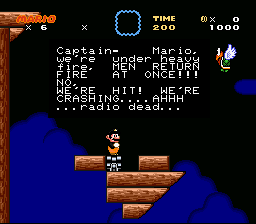 Overuse of exclamation points, bad spacing after 'NO,'.
Also, -radio dead- looks way better than ...radio dead...
Mario's palette is not that good at all. Black and that kind of peachy-orange don't go well together.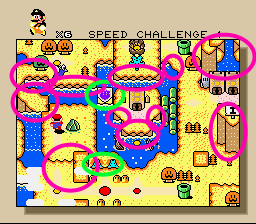 Purple = Perspective Error.
Greem = Bad Palette.
Also, never have all the levels open like they are. What's the point of playing, then?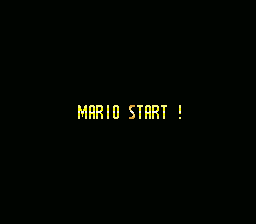 Weird white lines on 'Mario Start!'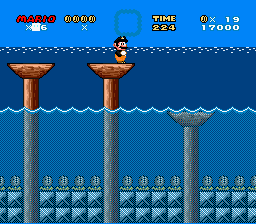 This level has amazing music, but it's really empty. Add some more stuff to do.
Oh, and the HUD's palette is a bit messed up. This happens throughout your hack.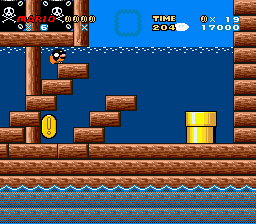 One more tile up, please.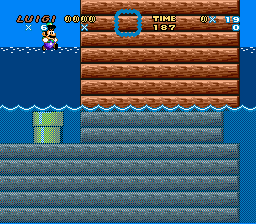 How am I Luigi? You need to explain this earlier.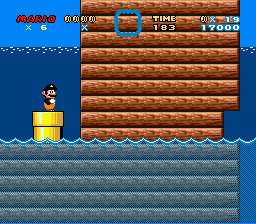 Background is kind of bland as well.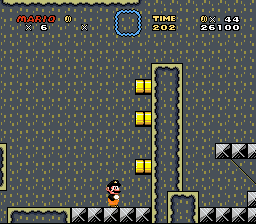 Getting out of here is really annoying.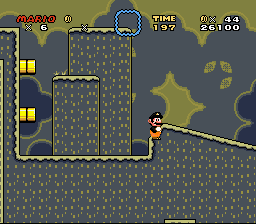 This isn't a good way to hide a secret. A lot of beginners won't know you can do this.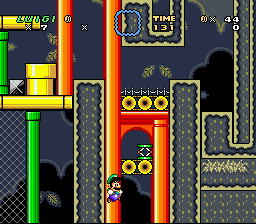 Cheap trick!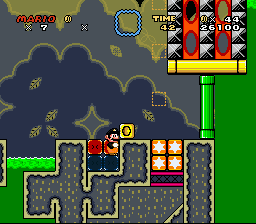 You gave no explanation of how these custom blocks work. How am I supposed to know what does what?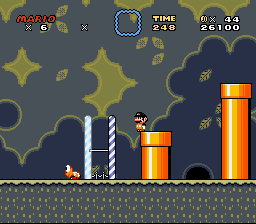 The midpoint respawns after you die.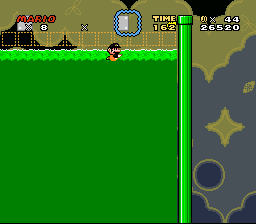 It's like the poison water sometimes works, and sometimes doesn't... which makes this 3up Moon easy to grab.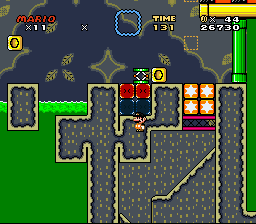 This shouldn't happen.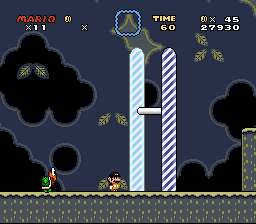 And I have zero idea where the key is.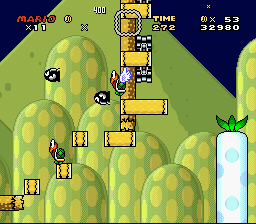 This is mean. bullet bill hopping.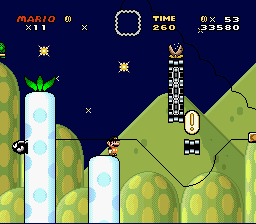 Major slowdown. Also, these bullet bills make this area pretty unfair.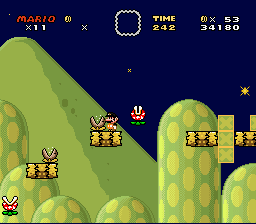 Never put these kind of jumps in your hack. One tile muncher precision is just wrong.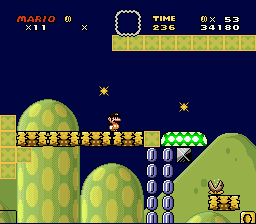 Bad kill block palette.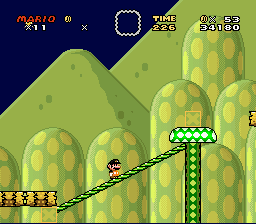 Oh cool, now they blend in with the background.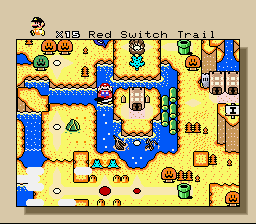 Even if I can't enter this level after I beat it, the explosion animation would still be nice.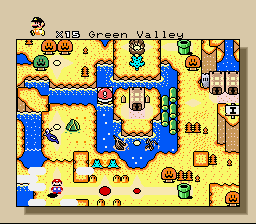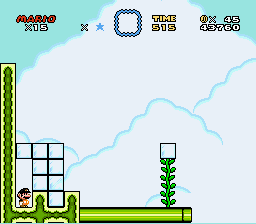 Green valley? In a desert? Make the levels correspond to the overworld.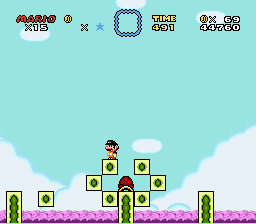 This remix song is sweet. You need to enable sprite buoyancy, though.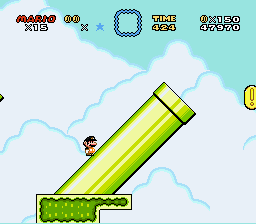 Bad pipe palette.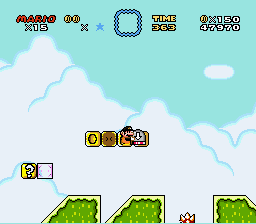 Wait, why can I go through this?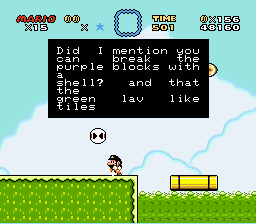 The green lav like tiles? No way. Get out of town! I had no idea!
Well, enough sarcasm... I have no idea what you're talking about in this message box. It certainly doesn't tell me the green lava acts like sand, though.
Actually the message box itself is weird/bad palettey as well.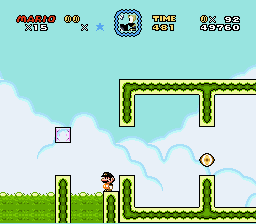 Why does touching this block give me glitchiness up in my item box?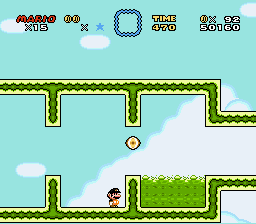 These jumps are mean.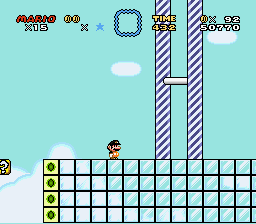 Not a removal reason, but why the huge goal posts? A normal one would work fine.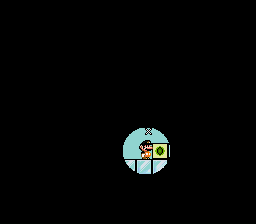 Let Mario finish his goal walk.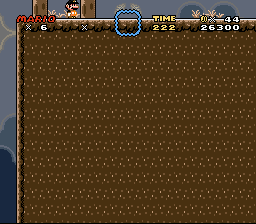 Screen starts too low.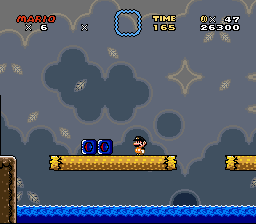 Bad palette on the throw blocks.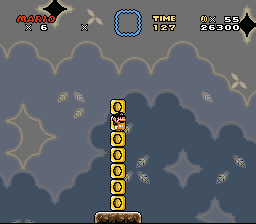 OH! They're turn blocks. Please give them an animation.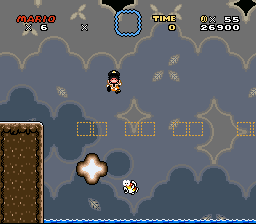 Not even close to enough time in this level.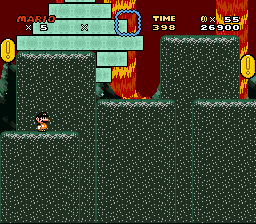 This palette is... not good at all.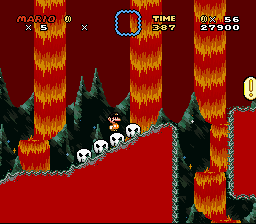 Same with the lava's palette.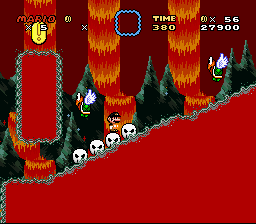 Major slowdown here.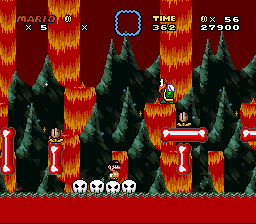 Bones have a bad palette.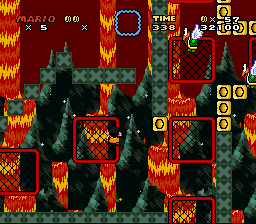 This jump is ridiculous.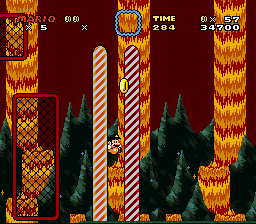 Another large goal post. No need for it, but keep it if you want, I suppose.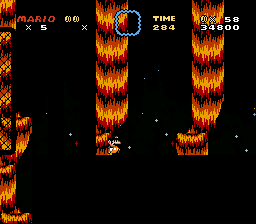 Bad fading on this level.
Basically, you just need some beta testers. Get this hack polished before resubmittal, and then we'll see about accepting it.