I've been working on this hack for quite a while now. There's been a few times where I haven't worked on it at all, or very little, but I've finally got 1 world done. Anyway, here's some screenshots.
Title Screen
My Awesome Overworld made by a friend
And now for some random level shots
If someone could help me fix this fire glitching up ... that would be helpful. Not sure why it's doing that.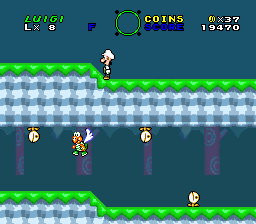 And that's all I have. I have one last thing, I also have a demo of my hack too. The entire first world is done, and only 1 level of the main overworld is done, but the banzai level is almost done, all the enemies are there.
Link to the demo
And lastly, enjoy! Let me know if you have ANY problems with the demo, I'll see what I can do to fix it.