Would someone mind telling me why I never tried using FileZilla before? Just like that, all of my screenshot uploading troubles are gone! :D
NAME:
Primal Mario World (Demo 3)
AUTHOR:
PineappleProducer
DESCRIPTION:
Demo 3 of my hack, Primal Mario World. Whats new in this demo? Well, I fixed some problems that were in the second demo and I have finished worlds 5 and 6 for you all to enjoy! I also redid a couple levels that I wasn't happy with.
This hack contains:
-ExGFX
-Custom Music
-Custom Sprites
-Custom Blocks
-Lotsa Levels!
Don't forget to rate and review this. I'm really curious to know what you think.
---
REASONS FOR REMOVAL: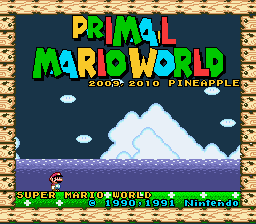 That logo honestly looks quite terrible. You would be better off drawing your own (recommended) or using the default small letters, instead of trying to piece together letters from the original logo like that.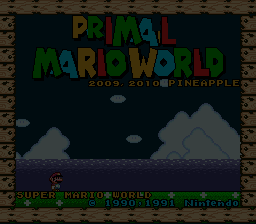 Not exactly a removal reason, but since your title screen doesn't actually involve Mario moving, why not use that one hex edit to disable the title screen movie looping?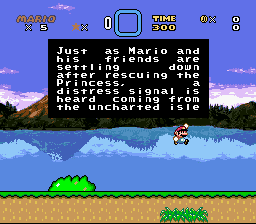 You appear to be missing a period at the end of the last sentence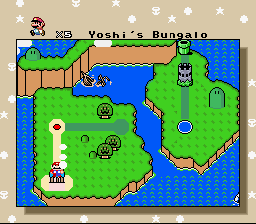 *Bungalow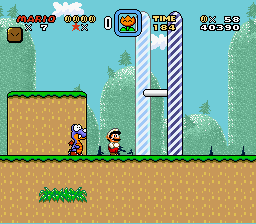 Just a minor nitpick, but I think you forgot to place the last Dragon Coin in this level.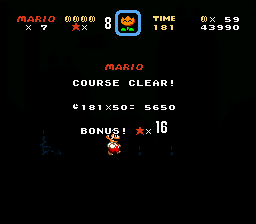 If you look closely, you'll notice that one of the colours in the background isn't fading correctly. Don't have your backgrounds use colours from the second half of the first two palettes.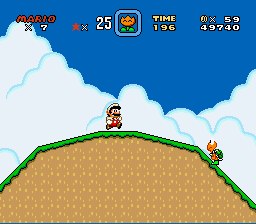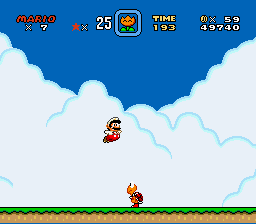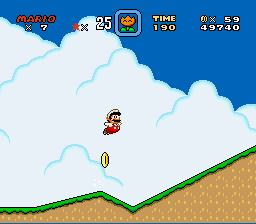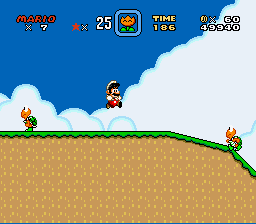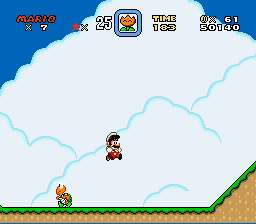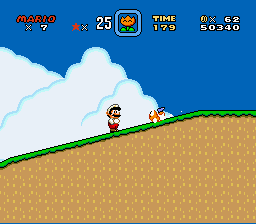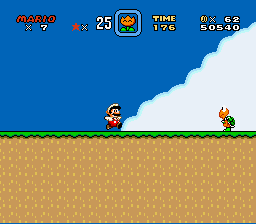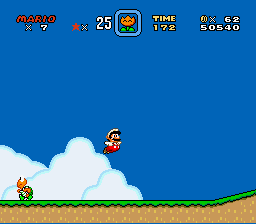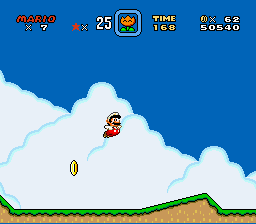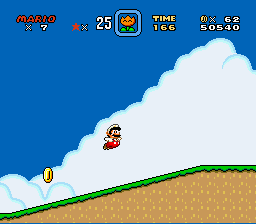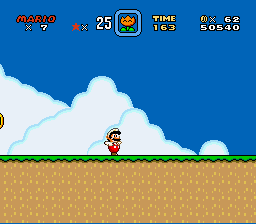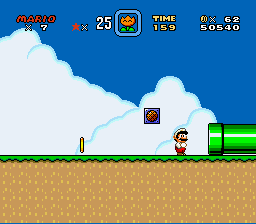 This is not what I would call interesting level design. Vary your enemy usage a bit more, place some decorations here and there, and most importantly: don't have big expanses of semi-flat land.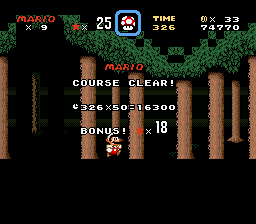 Fading issues again, though this time it's just due to good ol' not applying the Fadefix patch. A lot of your levels have this issue, but I won't bother pointing out every instance of it.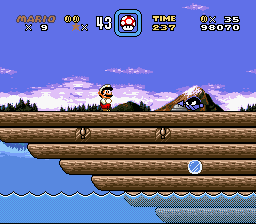 Is the Wario Land spear guy supposed to have a blue outline like that?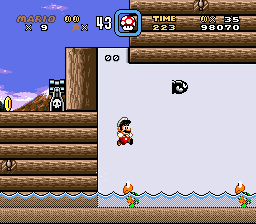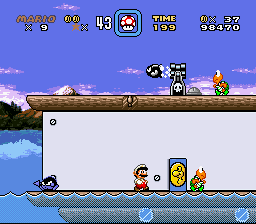 Levels with layer 3 tide and sprite buoyancy enabled tend to easily cause slowdown. You might want to consider applying the FastROM patch.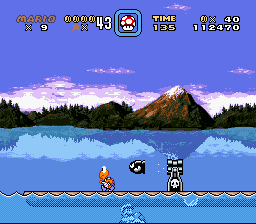 I tried swimming under the ships to look for secrets...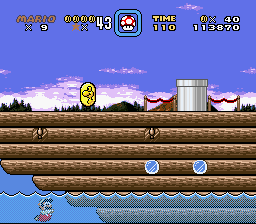 ...but ended up trapped and forced to commit suicide D: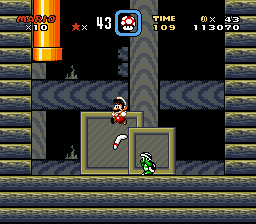 It seems kind of odd for these boxes not to be solid. More importantly, the music was makng all sorts of beeping and screeching noises; perhaps the song uses one of the SFX channels for percussion?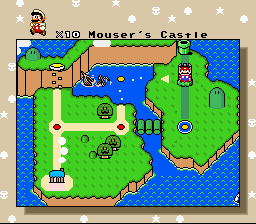 After defeating the Boomerang Bro in the level before, the overworld music didn't play. Again, you can fix this with a simple hex edit; check the ROM map.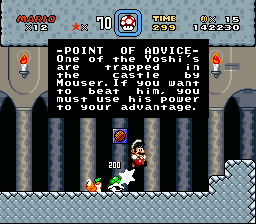 *Yoshis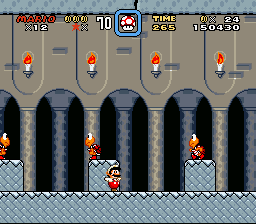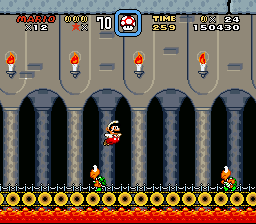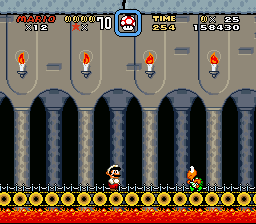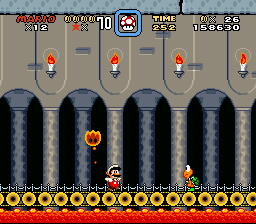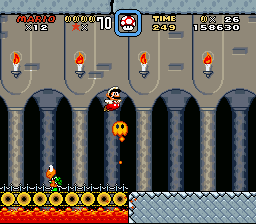 Another example of less-than-stellar level design.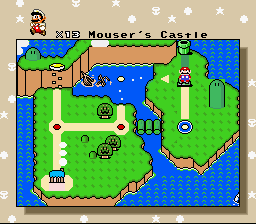 This event creates temporary cutoffness around the hill on the right.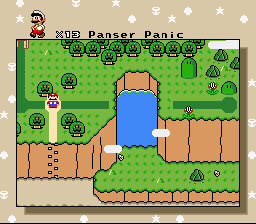 That's some rather odd perspective you have going on there. Here, let me show you how it's supposed to be done: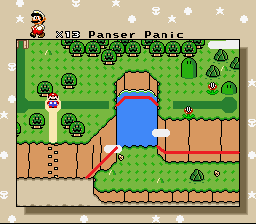 Every single part of a flat plateau or island should have the same height, and if the cliff faces are flat as well, the top and bottom of the cliff should be the same shape.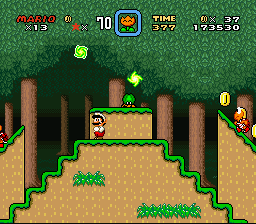 The frame used by the fireball on the left really doesn't look that good, mostly due to the white outline.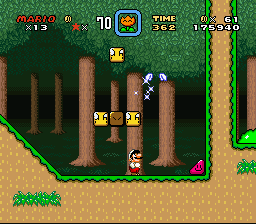 Those wings seem oddly out of place, given how there hasn't been a Yoshi in the hack yet... Are you sure you placed the right block?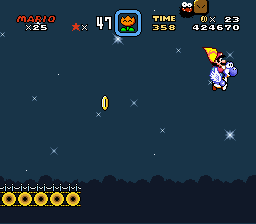 Going back to the level with a Yoshi, I discovered that the Yoshi wings level isn't even edited, furthering my suspicions that those wings weren't supposed to be there.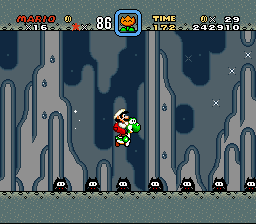 The background palette could use some improvement, and that many Ninjis processing at once do wonders when it comes to reducing the FPS rate of the emulator.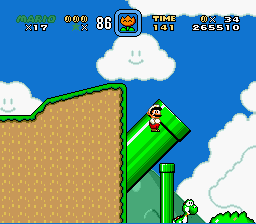 This is why you should never allow Mario to get below one of those big pipes.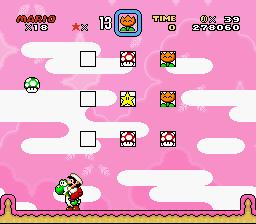 Having the mushrooms spawn from thin air like that looks kind of strange.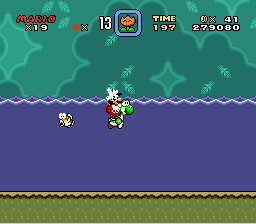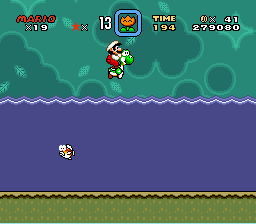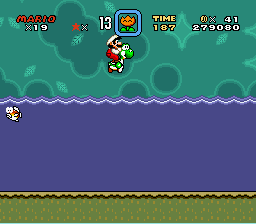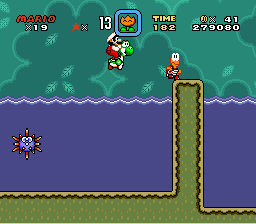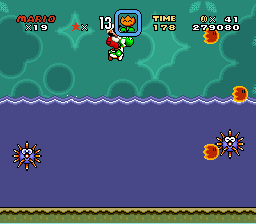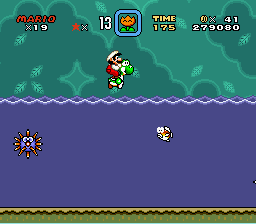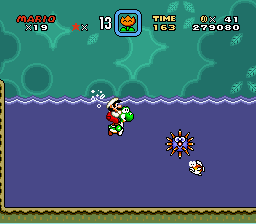 whee level design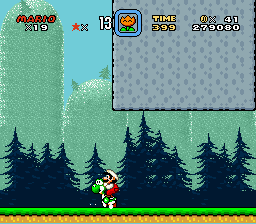 Your custom No-Yoshi intro is very glitched. You can walk around during the "standing still and looking up" part...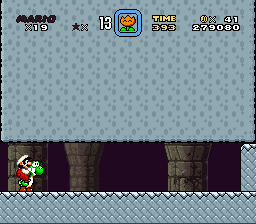 ...but more importantly,
it doesn't make you lose Yoshi
.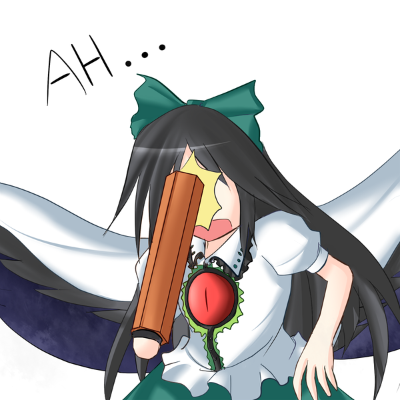 You didn't test that the sprite actually worked, did you?
In other news, the palette of the "Mario" text in the status bar is kind of bad.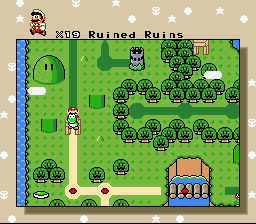 This is not how you use events to create hills.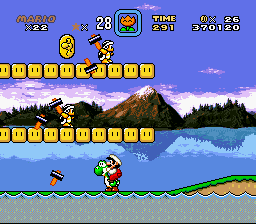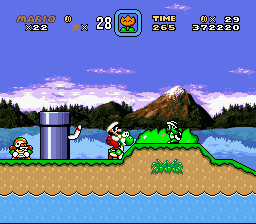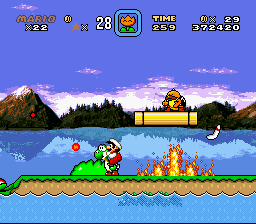 Again, tides + lots of sprites = slowdown. Also, a boomerang turned invisible in the last screenshot due to too many sprites on screen.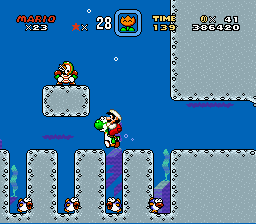 More slowdown, but also something else: since you didn't turn on sprite buoyancy, these fishes can't get out of their little pits, and are thus no danger to Mario whatsoever. This is why testing your levels is such a nice thing: it makes sure you spot stuff like this.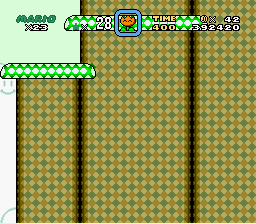 Initial FG position is kind of off here.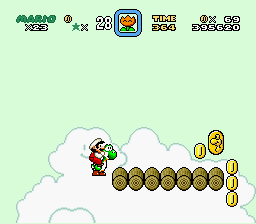 ?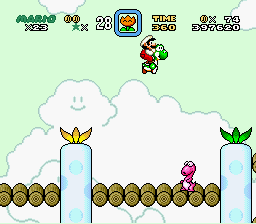 This is a rather bad spot for a secondary entrance, don't you think?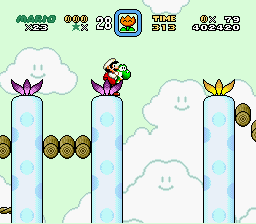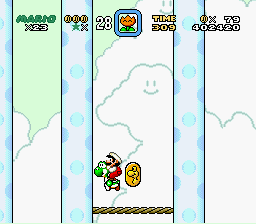 I can't say that I'm a big fan of hiding stuff down completely unmarked pits, but your choice, I guess.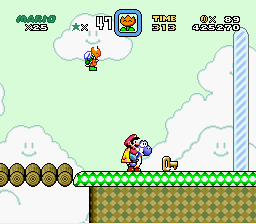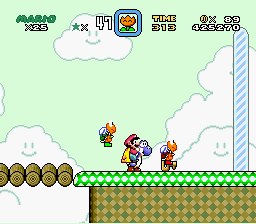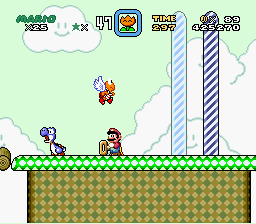 lolglitch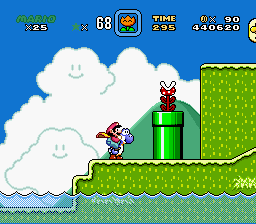 [insert obligatory rant about red-stemmed piranha plants here]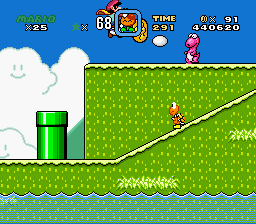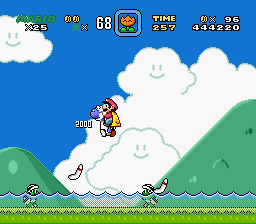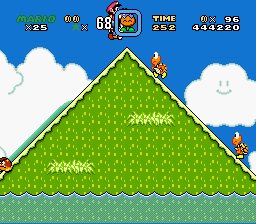 Slowd(ry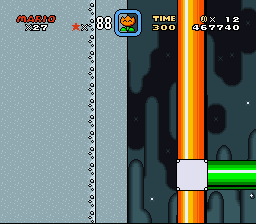 Seems like that initial FG position is wrong again.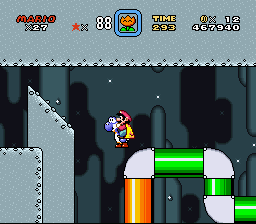 You know, having rounded graphics for something that acts like a big square really doesn't work all that well.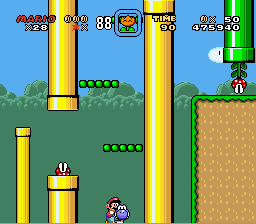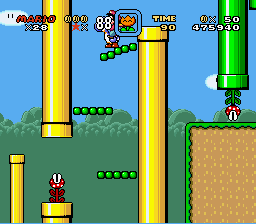 The green wall springboards shouldn't be placed one screen above a bottomless pit, since they'll cause odd warping glitches like this.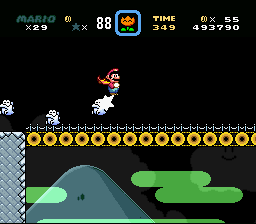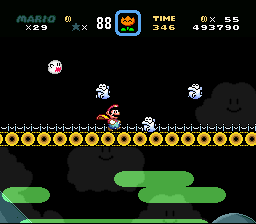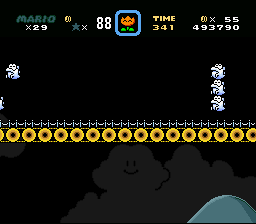 And here, the level design took a hit again for a short while.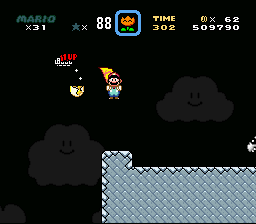 Self-explanatory.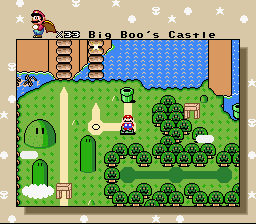 It's for reasons like these that silent events exist. If you don't know how to use them, check the Lunar Magic help file.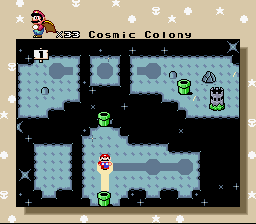 Those twinkling stars in the background could use a better palette.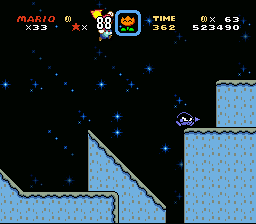 It's really kind of awkward how you can suddenly randomly float in some of the world 3 levels. You might want to at least give the player a warning, and perhaps some sort of explanation.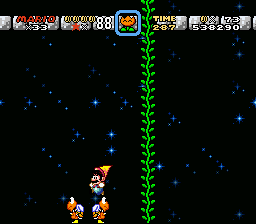 I don't think that those teleport blocks are supposed to be solid like that.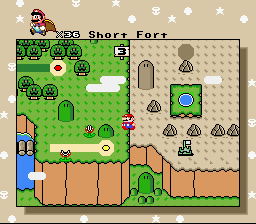 ...that just doesn't make sense. Place a slope for Mario to walk up, or something.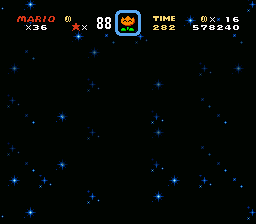 In quite a few places, you can use the floating gimmick to simply skip the level by floating over any danger.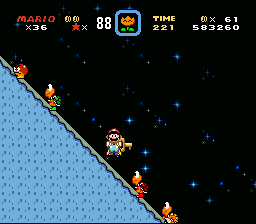 Slowdown - now without sprite buoyancy as a cause!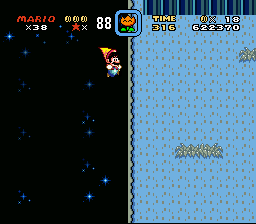 I think you might have accidentally a tile there.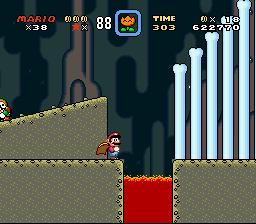 Even in this hack -
F.O.E.
bad corner tiles!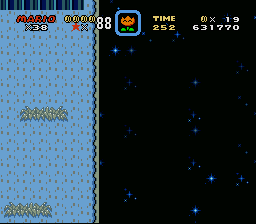 Again with the camera position.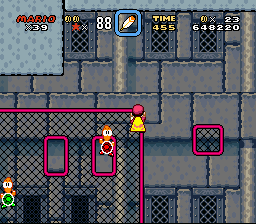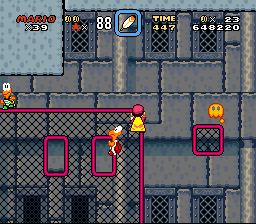 Horizontal net Koopas need nets at least three tiles wide to climb on, or they get all confused.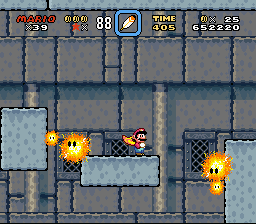 Go on, make a guess.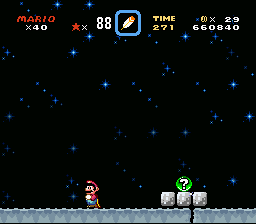 Victory music playing twice due to being set as the background music? Sure, why not?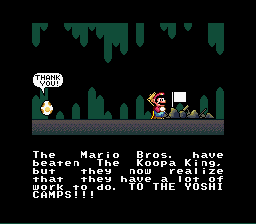 *the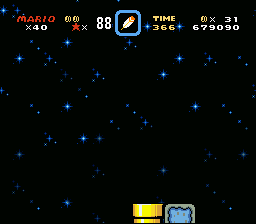 camera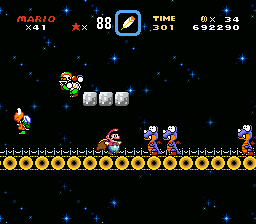 slowdown
(From now on, I won't be posting screenshots of more areas with slowdown because :effort: and this removal log is getting long enough already. Just be aware that the rest of your hack also has quite a bit of them.)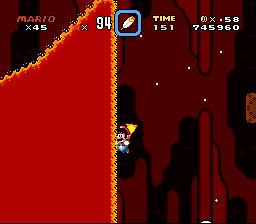 I am fairly certain that lava shouldn't be solid to the touch like this.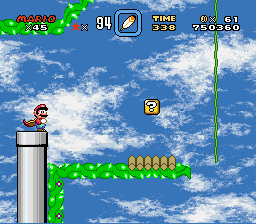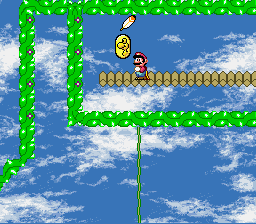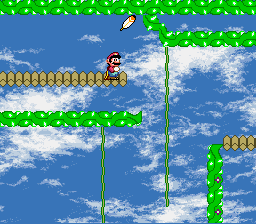 The tiles of this brambles tileset doesn't seem to fit together all too well; every single corner is cutoff.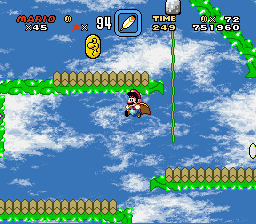 You'd think that hitting his head on brambles would hurt Mario...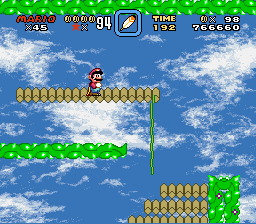 I can't say that this vine looks particularly good. I really can't.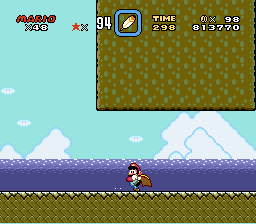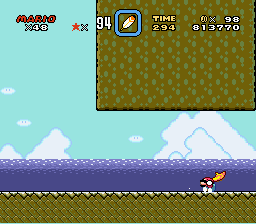 More playing around with the glitchy no-Yoshi intro sprite.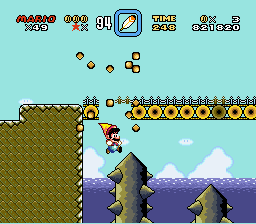 RAEG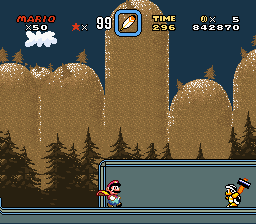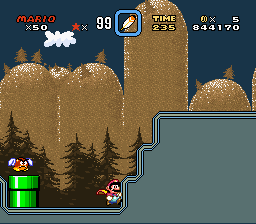 Using the same graphics for walkthrough and passthrough ledges might not be the best of ideas.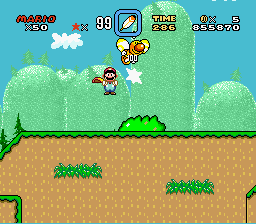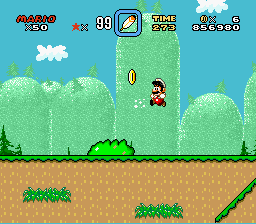 Are you really supposed to be able to kill those things that easily? Normal Wigglers are immune to capes and fire, after all...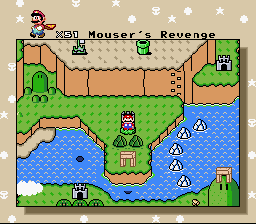 What's up with the half level tile in the water?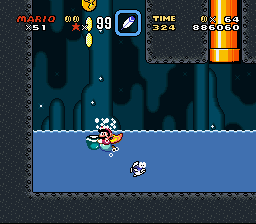 Just wanted to point out that the way you placed these Dragon Coins, with one in this shaft and the other in the bonus room, makes it impossible to get all five.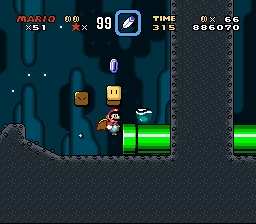 My reserve box feather and the ? block coins turned blue in this level for some indiscernible reason.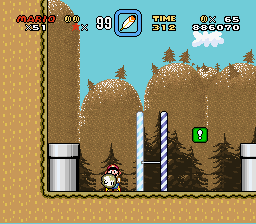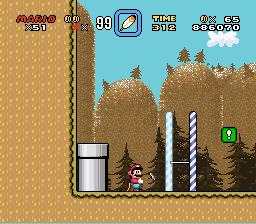 Bringing a Buzzy Beetle through the pipe to the midpoint gave me this petrified Boo/triangle thing instead.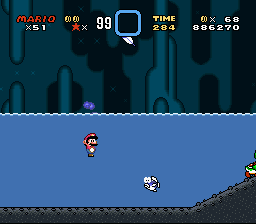 Blarggs and water don't really go together, since you can get hit by them when they are behind the water and you can't see them.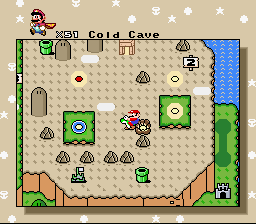 Just a suggestion: some paths would be nice in this part of the overworld. Having to guess which directions you can actually go in when backtracking is kind of a pain.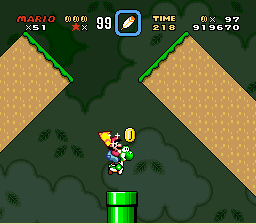 Kind of a palette mismatch here, what with the foreground being all bright and cheery and the background being dark. Speaking of which, I think you set your background palette up backwards, since it does look kind of odd.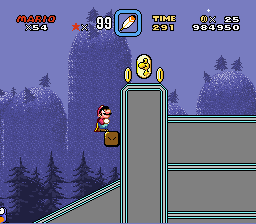 One Dragon Coin too many in this level. Not a removal reason; just thought I'd point it out.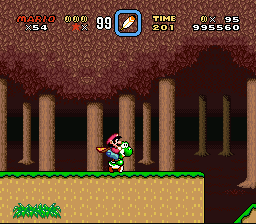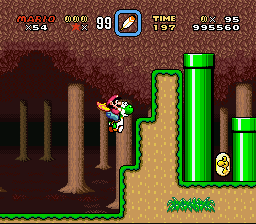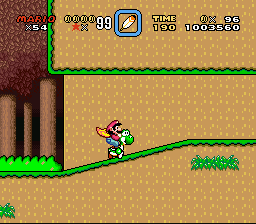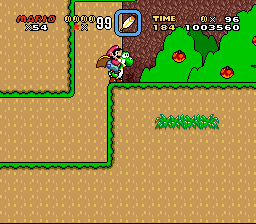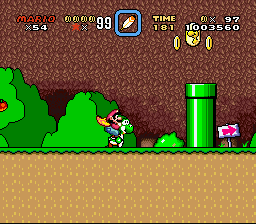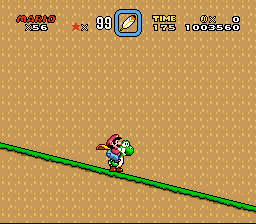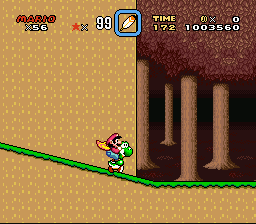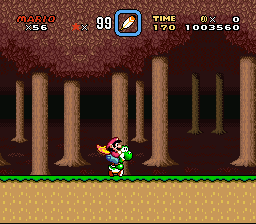 Kind of empty here, don't you think? Where did all the enemies go?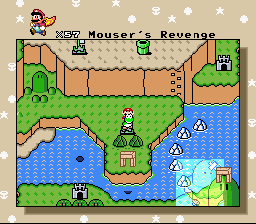 Again, silent events are your friends.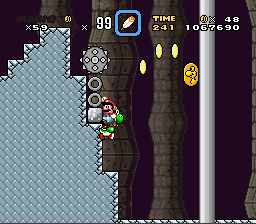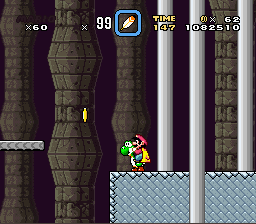 Those solid edge tiles look kind of glitchy. What did you do to them?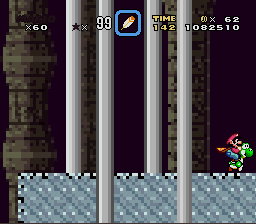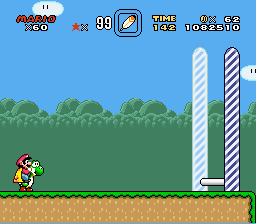 That's... not exactly the most subtle of transitions.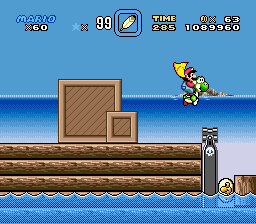 The Bullet Bill launcher has a bad palette.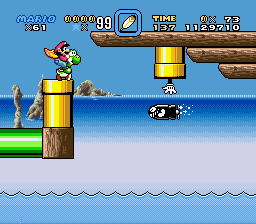 Jumping down here, which doesn't seem too unreasonable to do...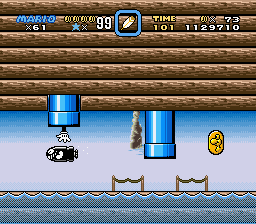 ...renders you unable to get up again, eventually getting you stuck below the last screen of the level.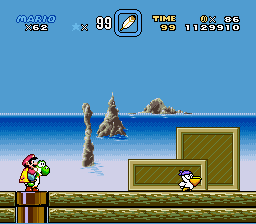 The palettes here are not exactly the best ones ever, and the issue with the screeching music makes its triumphant return.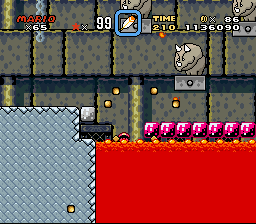 So I was supposed to know that a different-coloured cement block that hasn't appeared once in the entire hack breaks and dumps me in the lava? A warning would be nice.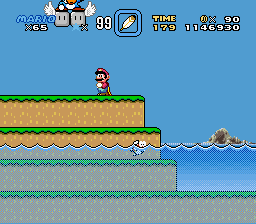 This Hammer Brother is rather useless, given how all his hammers go offscreen and disappear before they can reach you.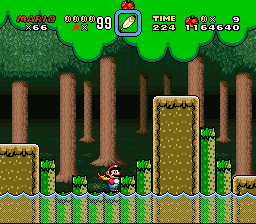 This is not a good palette for the vertical logs.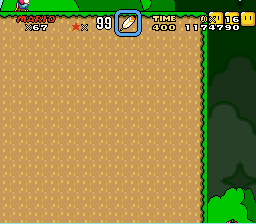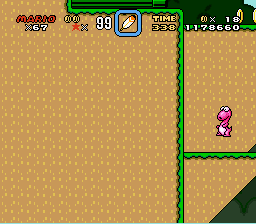 Initial foreground positions. Change them.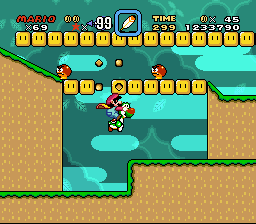 Why do these normal-looking turn blocks randomly break on contact with Mario?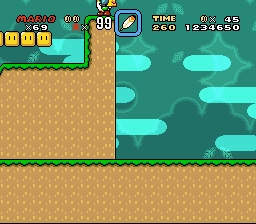 It would be rather nice if you enabled vertical scroll here.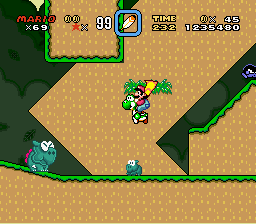 Wrong corner tile.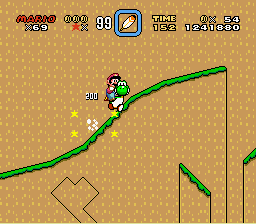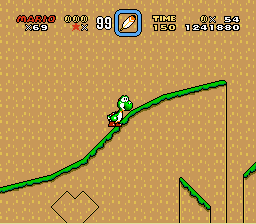 Enemies turning invisible => check your sprite memory settings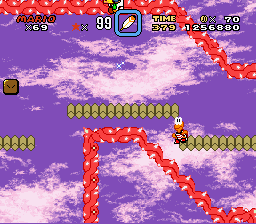 Again with the Yoshi wings leading you to an unedited level.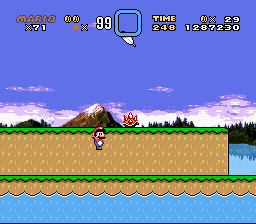 Hiding Lakitu behind walkthrough ground is not very nice of you.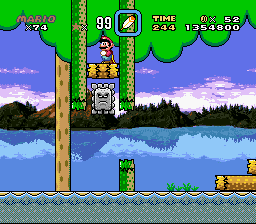 By flying I managed to end up in here, and now I have to wait out the timer.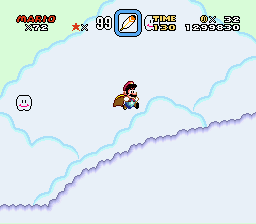 The music here loops very,
very
badly. Seriously, it doesn't even get past the third note of the main melody before restarting.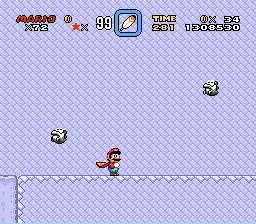 You don't seem to be using the correct sprite palette here; the Eeries should use the Sprite Palette 5 option.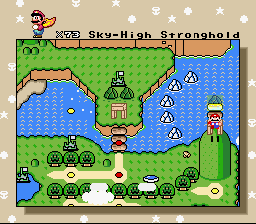 This event seems a bit messed up, with the sparkle being replaced by a green rock and whatnot.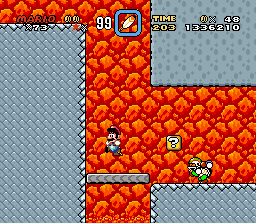 Blind falls into lava are not very fair.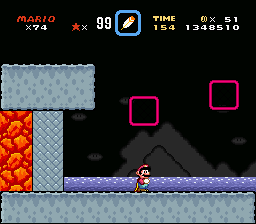 ...why does this area use the fast BG scroll?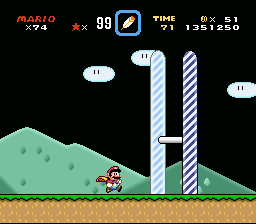 Once again, a double dose of victory music due to it being used as level music. Not shown: this is a vertical level, meaning that the level end sequence doesn't work properly.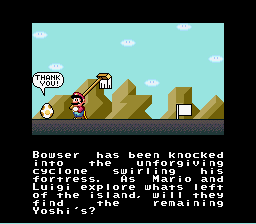 *Yoshis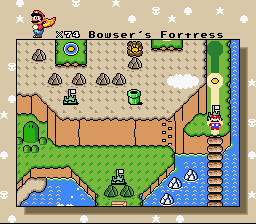 Is this supposed to be the end of the demo? Looking in Lunar Magic, the next level seems to be finished as well, and the level after that appears to be an actual end-of-demo level...
---
Despite the length of this removal log, this was actually a rather decent hack. However, it was dragged down through a whole bunch of mostly rather minor errors. Fix the ones I've pointed out, get some testers to check for stuff I missed, and this will most likely get approved.
Whew. That took forever to write. Well, you can't say that I'm not thorough...
--------------------
My YouTube channel
Get the official ASMT resource pack
here
!