Hack Name: Mario's Epic Adventure - 329.8 KB - 14 downloads.
Length: 17 levels
Author: moltensnow - Submitted by: moltensnow
Description: Uh-oh! Bowser took over the Mushroom Kingdom! Mario, you have to stop him!
This hack only contains the first three worlds and contains significant changes from the last demo.
---
I'm extremely close to accepting this. In fact, I was going to accept it and just get you to give me a fixed version, but there are a few things I need to mention.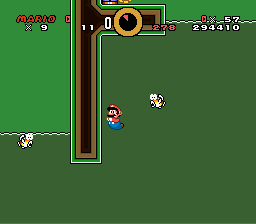 One major reason for removal is this level. Too much time needed in water, with not enough coins around to fill your health.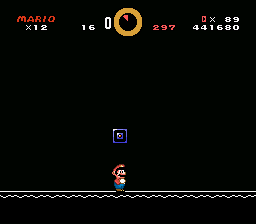 Please make this area side-exitable.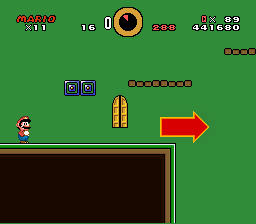 So many areas in this world don't have backgrounds. It'd look a lot better if you added some.
Also, the foreground graphics aren't the greatest, but it's obviously not a removal reason.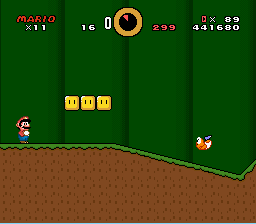 This foreground palette has a little issue just underneath the grass part of it. There should be a shadow there, but instead it's just the same colour as the rest of the dirt. It looks kind of 8-bitty the way it is now.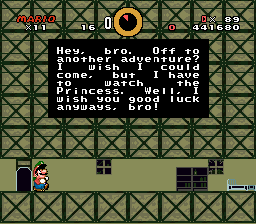 "Off
on
another adventure?" sounds better.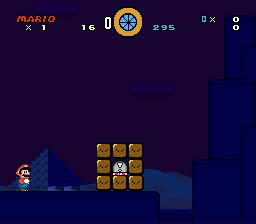 There are a few palettes in your hack like this; all one colour. Try to avoid these.
NOT SHOWN:
The level with those really fast moving platforms... I would take out the bullet bills at least, because they're practically impossible to dodge.
So yeah, just a quick fix and you'll be set. The first two screens and the NOT SHOWN are the most important but I recommend fixing the other things as well.
--------------------
IRC Quotes
(
March 20th
update!)
/MKICK 4: Flantastic Puns