Hack Name: The Adventure of a Plumber - 450.2 KB - 79 downloads.
Length: 22 levels
Author: LuigiYoshi112 - Submitted by: LuigiYoshi112
Description: *insert long description here*
---
Oh man, this was a really tough hack to moderate, because it had some really good level ideas, but loads and loads of small errors here and there.
I really suggest getting some good beta testers and then resubmitting.
Anyways: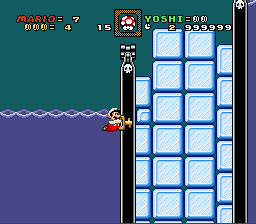 This jump is impossible if you kill the koopas. Lower the cannon one tile. (This is a main removal reason.)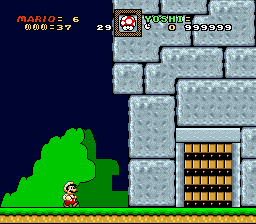 Bush is cutoff.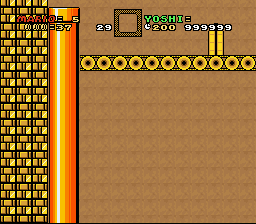 Screen starts too low.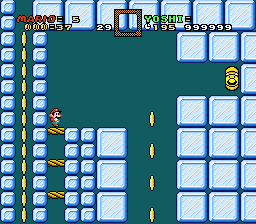 Rope is cutoff by ice block.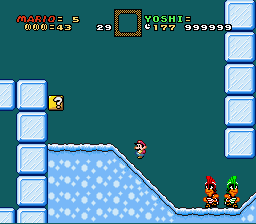 These slopes act like cement blocks. Also, this area needs a background.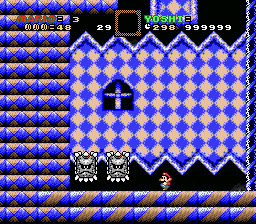 Give the player more time to react to this. There's a difference between hard and unfair!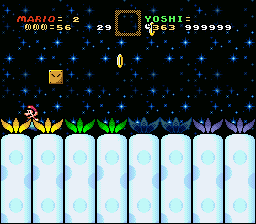 ...I can swim in the yellow flowers?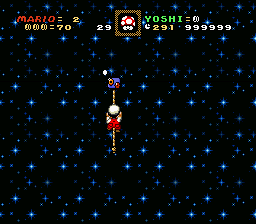 This part is pretty boring. Add some enemies or something.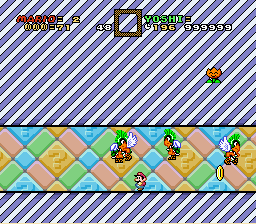 Slowdown. Remove some sprites.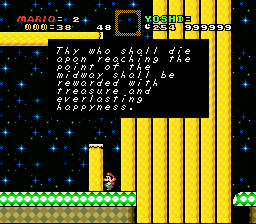 *Happiness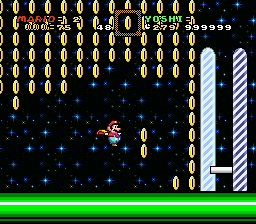 What's the point of putting coins that high. I can't reach them... Especially with flight disabled.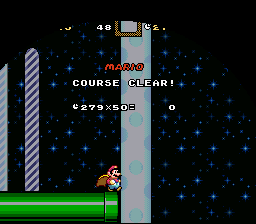 Let Mario finish his goal walk.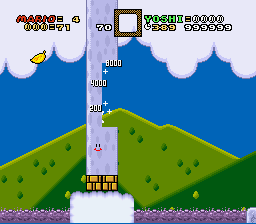 I don't even know what is going on.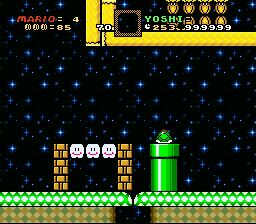 Awesome glitch here.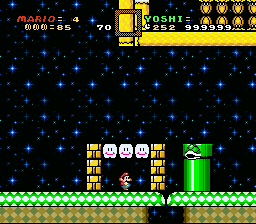 See?
Maybe make it so you come out of a pipe so this doesn't happen.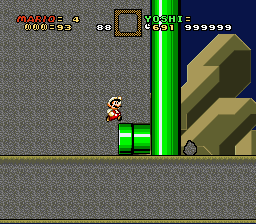 Cutoff.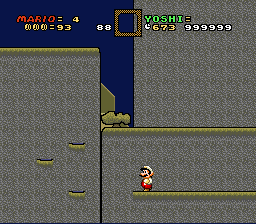 Cutoff again.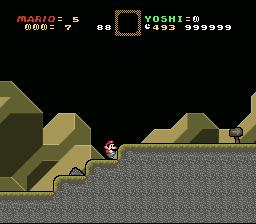 Cutoff again, again.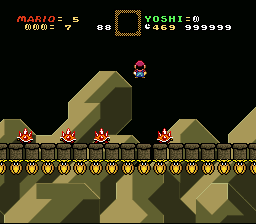 Slowdown.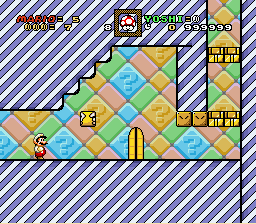 More cutoff.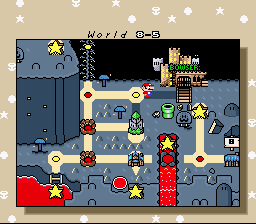 This event doesn't activate.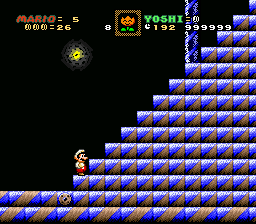 More emptiness. Needs anything.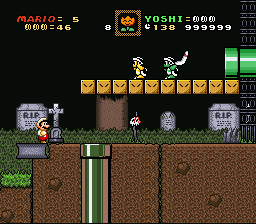 Bad pipe palette.
Cutoff.
The hammer bro's hammers are invisible because of sprite limits.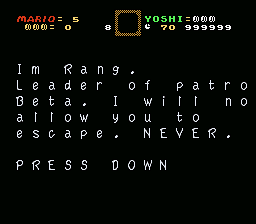 *I'm
Also, see
this tutorial
to learn how to make a good cutscene.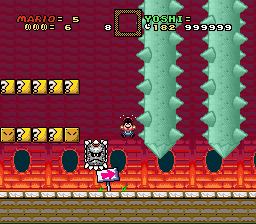 I see that you're trying to make the outer spikes actually do something, but now I'm killed before I'm actually even touching the spikes.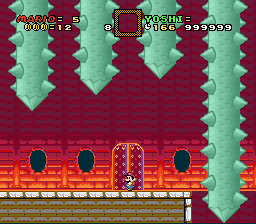 Bad palette on the boss door, and brick foreground.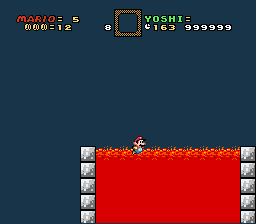 This is mean.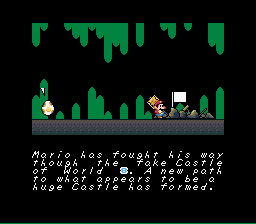 '8' has a bad palette. Oh, and a part of the speech bubble from the Yoshi is still there.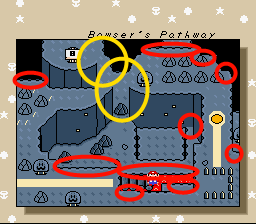 Red = Cutoff
Yellow = Perspective error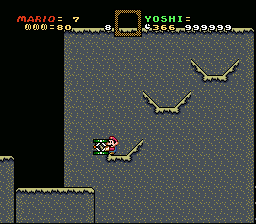 Cutoff.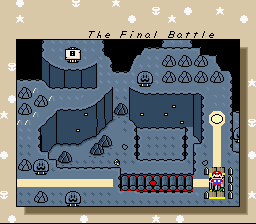 Weird glitchiness on top of this level. I also can't go to that next level even though it appeared after I beat the level on the bridge.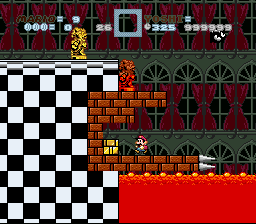 Bad status bar palette. This is an error in a lot of your levels.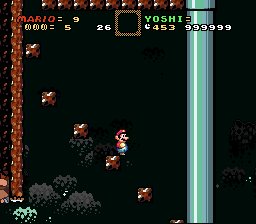 Emptiness city, USA.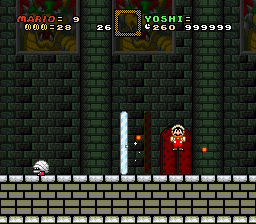 Bad palette on the midway point.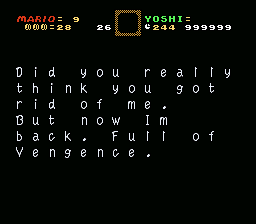 *I'm
Again.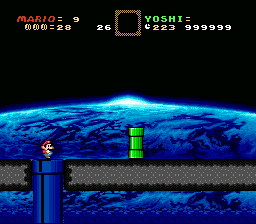 Bad pipe palette.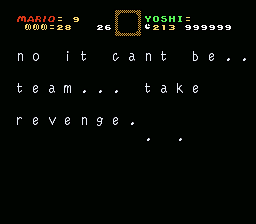 Should read: 'No, it can't be... Team... Take revenge...'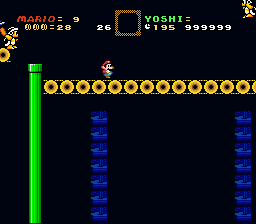 What
are
those things?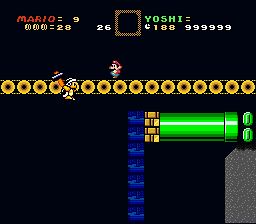 Hammer bros. hammers were disappearing again.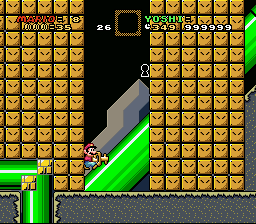 What if I missed grabbing the key? I'd be stuck.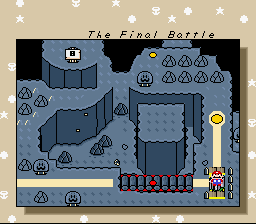 But yeah... I can't continue. So that's that, I guess.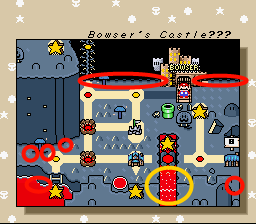 Red = Cutoff
Yellow = Perspective error
Yeah. There were
way
too many instances of cutoff to note them all, so get some beta testers to go through the hack, find as many of them as possible, fix them up and then resubmit.
On a positive note, I really like some of the ASM you've inserted into your hack. It's pretty cool.
Good luck!
--------------------
IRC Quotes
(
March 20th
update!)
/MKICK 4: Flantastic Puns