NAME:
SMW: Quest For the Eggicite [Take 2]
AUTHOR:
PrevailingSouls
DESCRIPTION:
First version was rejected, so I fixed it up! After Vista completely destroying itself and having to recover it, I'd say this hack has been a bitch to fix, but I still think I've got a chance to make something that is unique. All of the original problems of the first rejected hack has been fixed, although I'm sure I've created problems with this hack when I fixed it, but oh well. Here's to hoping I don't get rejected twice.
Cheers,
PS
__________________
Credits are in the .zip
---
REASONS FOR REMOVAL:
Not bad at all, but you're still not quite there yet.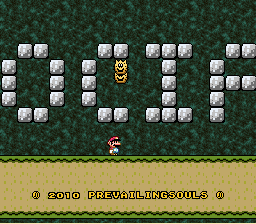 Bouncing glitched footballs in the title screen? Why? It's not like they serve any purpose at all...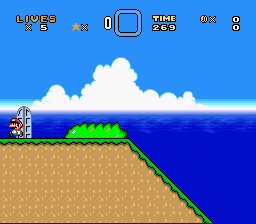 Not exactly a removal reason, but exiting the level through a random door instead of the normal side exit just seems sort of awkward.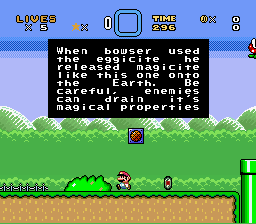 *Bowser
*its
*properties.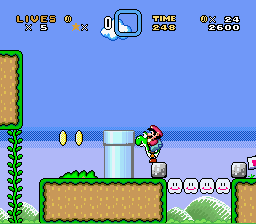 The pipe looks rather out of place, given how it lacks a proper outline.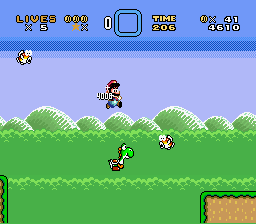 I'm not really sure how you're supposed to get this Dragon Coin without having to sacrifice Yoshi :/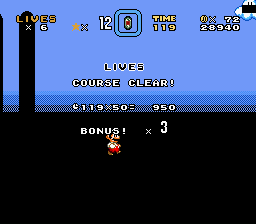 [insert generic rant about background not fading here]
And by the way, while replacing the "MARIO" graphic with "LIVES" works just fine for the status bar, replacing it for the Course Clear message kind of makes it seem like Mario's name is Lives. Using the status bar editor to replace the tiles instead of editing the graphics would probably be a better idea.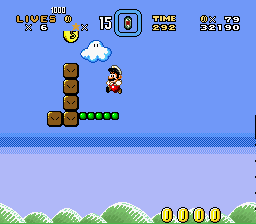 No, that Dragon Coin is not placed on a screen boundary. The way you have the springboards set up makes it very easy to get the coin before it has scrolled onscreen, resulting in the tiles not updating properly.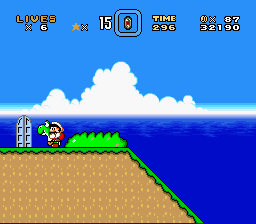 Remember this place? Turns out that if I enter it with a Yoshi, I can't get out the door without having to leave him behind D: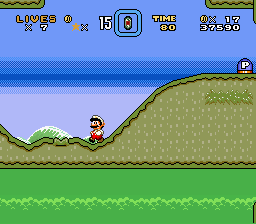 I'm not sure what you were trying to do with the ground here; it looks rather strange and cutoff.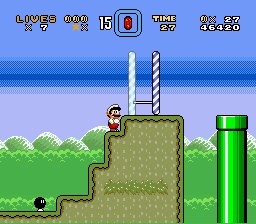 Okay, there is no way I could possibly call this a removal reason, but your midway point isn't symmetric due to the tape being placed too low. And it bothers me :|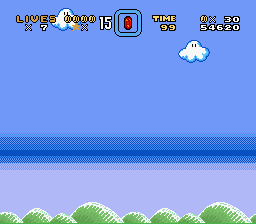 Initial foreground position is off.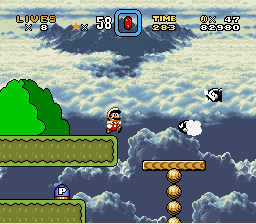 Bullets getting fired out of thin air? what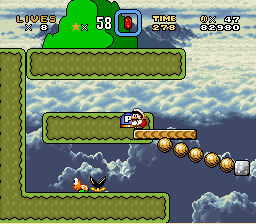 While moderating this hack, I have learned that the big swinging platform should not be placed so that Mario can hit his head on something solid while riding it.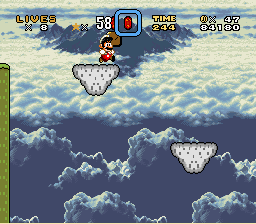 Placing a solid block one tile above a sprite platform makes Mario jitter around a whole lot if he tries to stand up below it.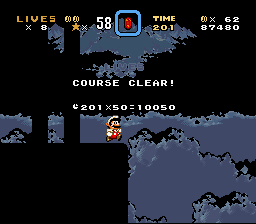 Again, fading. I see that your background is using the second half of one of the first two palettes, so you'll have to move it to another one. Or just disable fading entirely.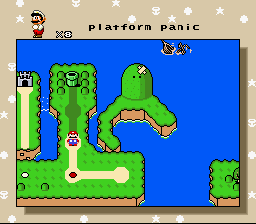 *Platform Panic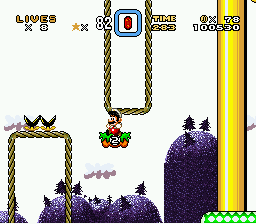 See the caption three screenshots above. Also, the rope tileset doesn't have proper corners, so you'll have to draw your own and/or exchange them for square blocks.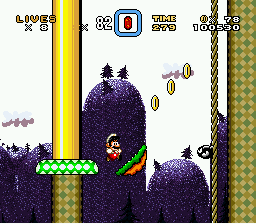 Silent Bullet Bills are just mean, especially when they are placed so as to hit you in the middle of a somewhat tricky jump.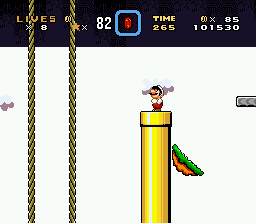 This background doesn't seem to tile vertically very well. :V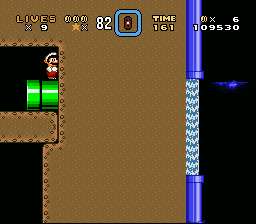 I think you forgot to extend the wall properly.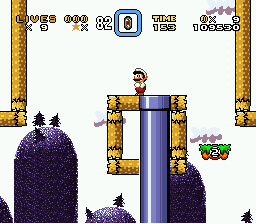 The pipe creates some cutoffness where it meets the lower log.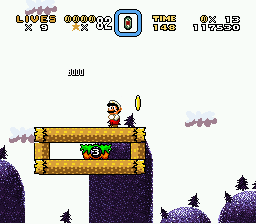 And here, the intersections of the logs make cutoffness.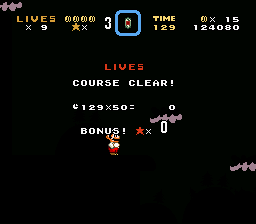 Fading issues - revisited!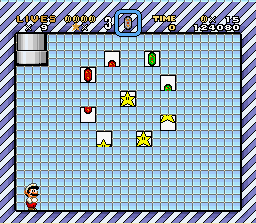 Looks like your bonus room background got eaten.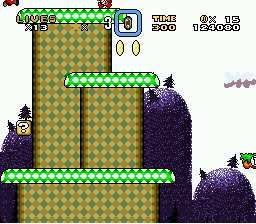 Foreground initial position is using the incorrect value again.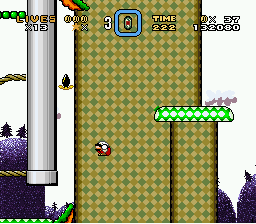 Random floating muncher for no apparent reason.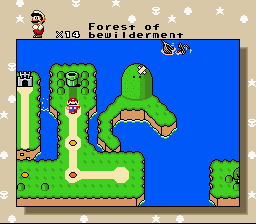 *Bewilderment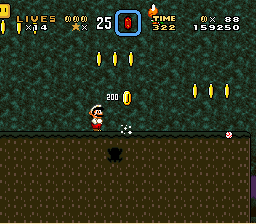 If I burn the falling Koopas, like so...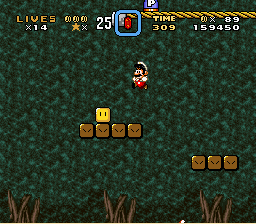 ...I have no way to hit the block, and am forced to commit suicide. Since it isn't immediately obvious that you need the Koopas, I would suggest providing a nearby stack of throw blocks, as those are harder to destroy by accident.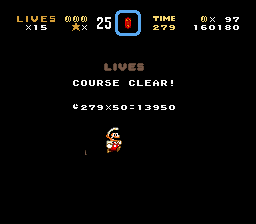 Not as noticeable in this level, but the background still isn't fading properly.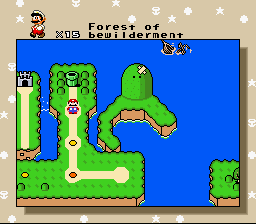 You forgot to change the tile under the pipe when you created the event that reveals the path to it.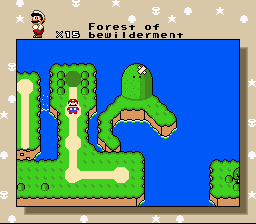 See?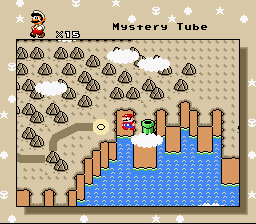 I somehow get the feeling that there was supposed to be a bridge here.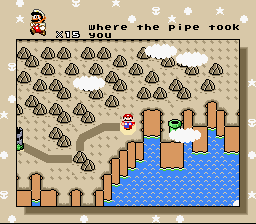 *Where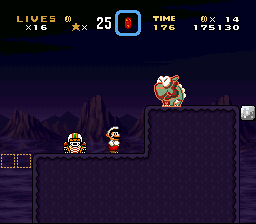 That is one terrible Dino-Rhino palette.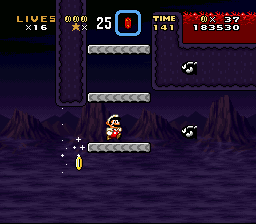 Again with the silent Bullet Bills in unfair spots D: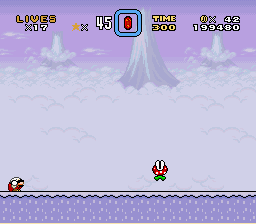 The music in this level sounds all sorts of scratchy and messed up.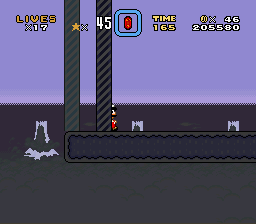 why did I need to take screenshot of every single non-fading background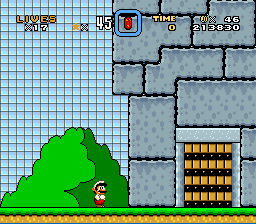 Another case of a background having gone mysteriously missing. Did you completely clear out Map16 pages 40-41 or something?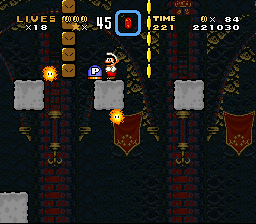 It's amazing how many people forget that you can jump over objects placed at the top of the screen.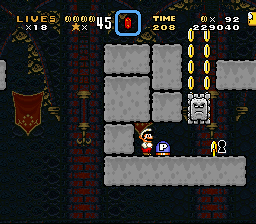 Badly set sprite memory turned this sprite coin all glitchy-looking.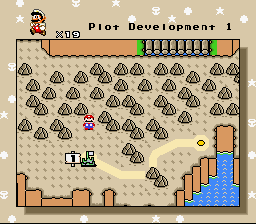 So there is the bridge I was missing!
...it kind of seems to be in the wrong place, though.
(hint: silent events are your friends)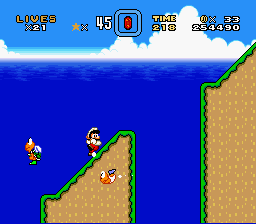 You need to take more care when placing sliding Koopas, so that they don't end up going through walls like this one.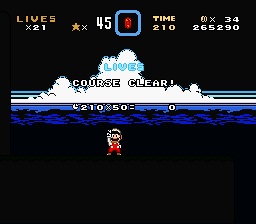 .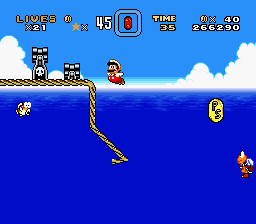 The palette here isn't exactly the best I have ever seen, and neither is your rendition of the broken rope. You'd probably be better off drawing your own graphics for that tile.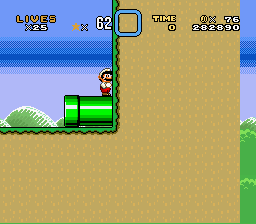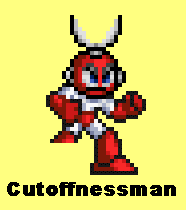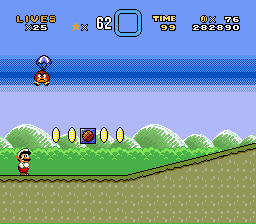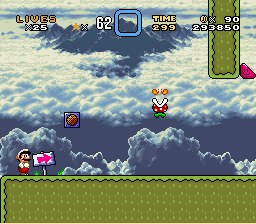 These two bonus levels after the end of the demo seem oddly familiar... You might not want to use the same ones for both the secret path and this.
---
tl;dr - this hack is mostly fine, just my usual nitpickings. The music thing and the missing backgrounds are probably the most important issues; in any case, if you fix these things up, I don't see any problems with accepting your hack.
EDIT: fixed broken images
--------------------
My YouTube channel
Get the official ASMT resource pack
here
!