NAME
: the mario bros
AUTHOR
: cbndfs
DESCRIPTION
: Description: First're uploading. World demo, and is a Korean version. To enjoy the game. ^^
DENIED!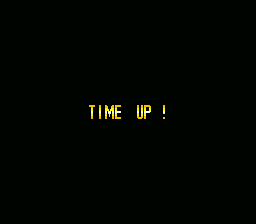 If I die in the very first level, I get the Time Up Screen due to the level's timer being 0. Download the Time Up Fix, which you can find in our Patches Section!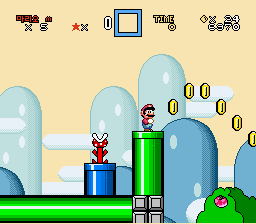 You should also download the Pirnaha Plant Stem Fix, to be found in our Patches Section too, in order to avoid possible VRAM errors.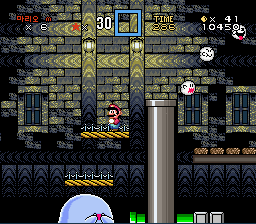 These ropes are cutoff.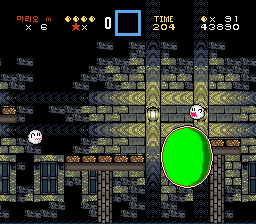 Mario disappeared: Sprite Memory issues caused by the gas bubbles. You shouldn't use them unless you use the sprite memory OD. (But then, the Big Boo makes problems, so don't use Big Boos and gas bubbles at all in the same area!)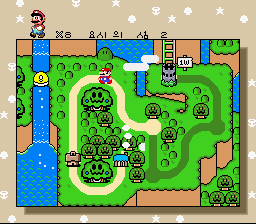 Make your levels reveal on the corrrect events. Change the revelation from the Switch with the level 2 (where Mario is just coming from).
Otherwise, your submap seems fine.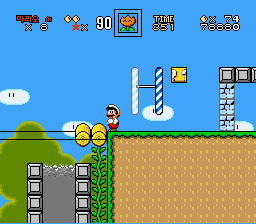 The palettes of the lava and of the ice blocks, which can be destroyed by Fire Mario, should be improved.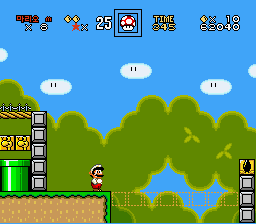 I am screwed in this level if I haven't beaten the Yellow Stich beforehand.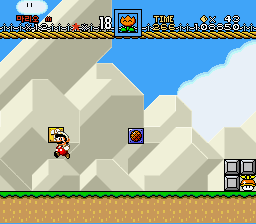 And (probably because I don't know the Korean language), I am totally trapped here.
Mario can in a weird way jump through the ?-block and he also cannot break the gray blocks seen on the right.
↓
This hack seems to have some gamplay mistakes which
need
to be fixed but it appears to be otherwise quite fine!
--------------------
I play different games on Twitch, currently I speedrun Pokemon Gold or play some other shit, can also include SMW hacks. Check out
my twitch!
Exits done: 45, Overworld: 85%
Play through Taomb Demo 3
Taomb is pretty much dead. So am I on SMWCentral.