NAME:
Koopa's Aventure (sic)
AUTHOR:
blackraven
DESCRIPTION:
For those of you who played the original and found the bad patch, sorry. hopefully this one is good.
anyways - storyline:
Mario has been kidnapped! Now Koopa must sett off to find him, and, in the meantime, fight his brothers who went over to bowser's side.
this includes 8 levels, including switch palace and END OF DEMO level.
PLZ NOTE: thanks are in game.
---
REASONS FOR REMOVAL:
Firstly, may I ask why you included a todo list (contents: "1. add ASM hack that makes you lose lives as well as coins") in your submission?
Several different flavours of cutoffness: the lava against the pipe, and wrong corner tiles in three different places. Find them all for a prize! DISCLAIMER: I will not be providing said prize.
Oh, and since you are using the "level scrolling by" type of title screen, you should probably record new title screen movements: the sound of Koopa jumping around offscreen is kind of distracting.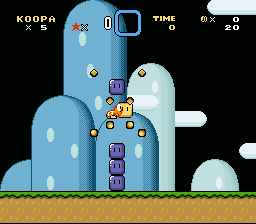 So the throw blocks break if I touch them, but I can still pick them up if I'm fast enough? what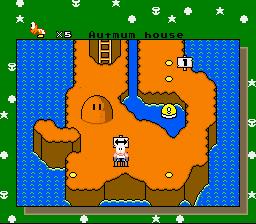 *Autumn
Besides the spelling mistake, there are several things that could be improved with your overworld. Firstly, it could definitely use some texture and decoration instead of just being plain orange. Secondly, some actual paths would be nice, as would the level tiles not showing up until you unlock the paths to them. And finally, the whole thing is a rather obvious edit of Yoshi's Island; creating your own overworld isn't entirely necessary, but it never hurts to do so.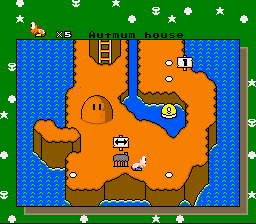 One of the feet of the Koopa overworld sprite is discoloured.
Not pictured: Upon entering a level, I get the "MARIO START" message. Since changing the tilemap of that thing is way more trouble than it's worth, your best bet would probably be to disable the message entirely.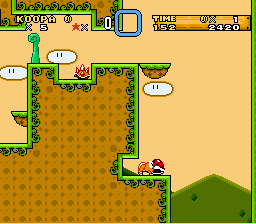 I jumped down here because I was curious if there was anything hidden, but found nothing but forced suicide D:
Also why does Koopa's body shape change from that of a green/red/yellow shelless Koopa to that of a blue one when he ducks with an item?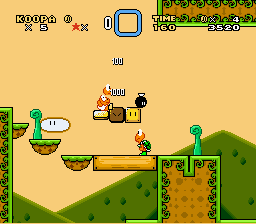 And the frame for the player getting growing or getting hurt doesn't look all that nice either. Copypasting the Koopa graphics into GFX32 really doesn't result in a very high-quality player sprite, and I'm not sure why it was accepted at the graphics section to begin with.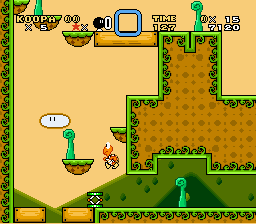 Square hitboxes for triangular objects don't make very much sense.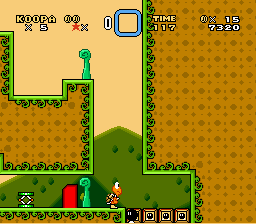 Now this just looks strange. A better way would be to place solid blocks behind the block sprites, and then have the sprites destroy the blocks when blown up. Also, those sprites must be horribly inefficiently coded if the amount of slowdown they cause is anything to go by.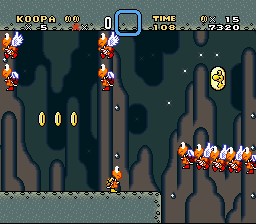 Unedited Vanilla Dome 4 bonus room = do not want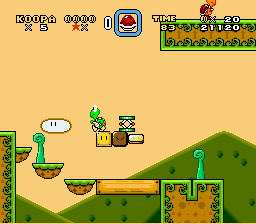 ...seriously? Are you absolutely sure that you think that is a good palette for fire Koopa? Because it isn't.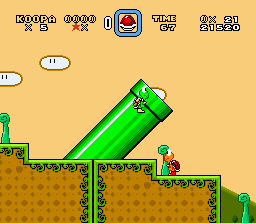 Ever noticed how in the original Super Mario World, these diagonal pipes were always blocked off on the right side? Now you know why! :D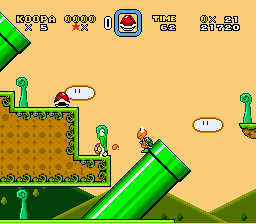 This graphics frame might work fine for the net Koopa turning around, but it doesn't work very well as a frame for a Koopa throwing fireballs.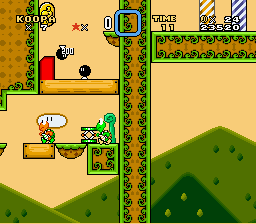 Again, quite a bit of slowdown in this level. You might want to consider moving your work over to a new ROM and using Lunar Magic 1.81 on it: that way, you'll get all the new features of the new LM version, along with the FastROM patch installed for free!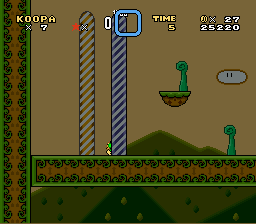 This level needs a time limit extension: after checking out the bonus room, I almost didn't have enough time to finish the level.
Oh, and Koopa's name isn't Mario, now is it?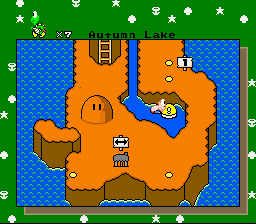 I can just skip Autumn Lake, and walk right on to the yellow switch without beating it. But what kind of hack moderator would I be if I didn't play through all of the available levels? :V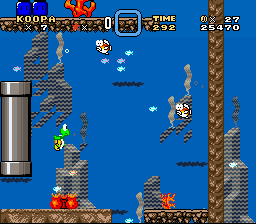 ...okay, this is just getting ridiculous. Who approved these player graphics?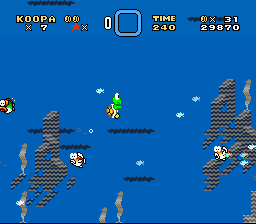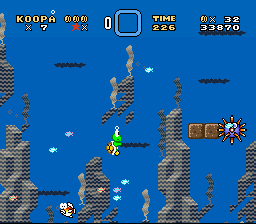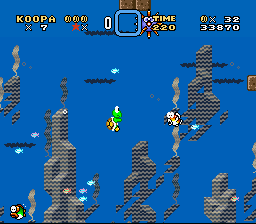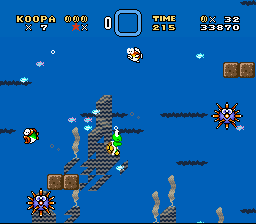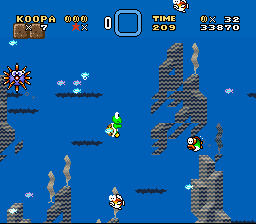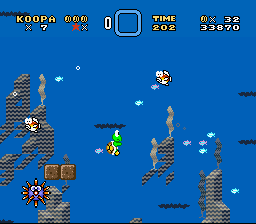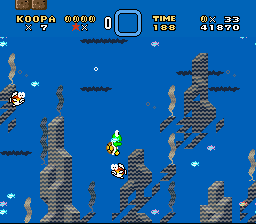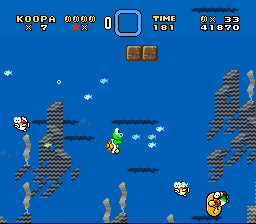 Players want quality level design. Swimming through x screens of empty water and fish, where x is a positive integer, is not quality level design.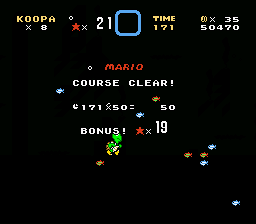 The layer 3 fish don't go very well with the ending sequence; once the course clear message show up, they freeze in place.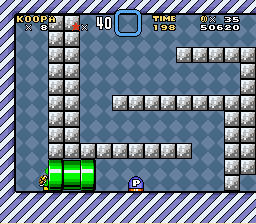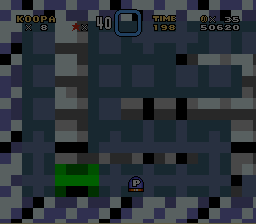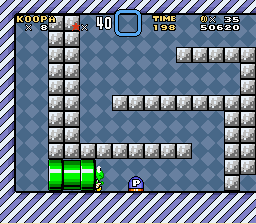 ...and what exactly was the point of this, if I may ask?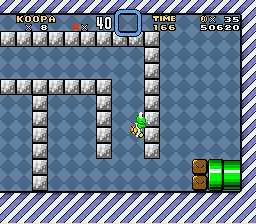 The level being a switch palace, I pressed the P-Switch when I first saw it, hoping for a coin prize. Alas, the reward wasn't to be, and now poor Koopa gets to spend the rest of his days pondering the evils of capitalism. D: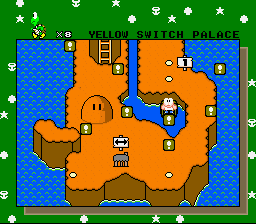 Hey! You can't fool me; those blocks aren't yellow! I demand a refund!
Also, the switch palace doesn't collapse upon completion.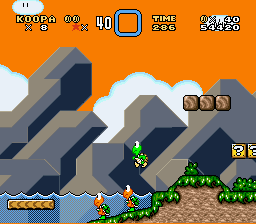 Tide levels are often plagued by slowdown issues - this one is no exception.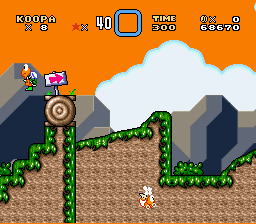 If I may say so, this doesn't appear to quite be the most optimal place for a midway entrance. :V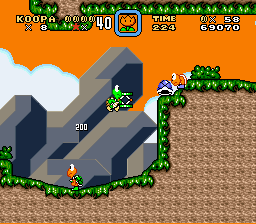 Seems like you forgot to delete some events, and the level tile for Autumn Island 3 doesn't show up at all.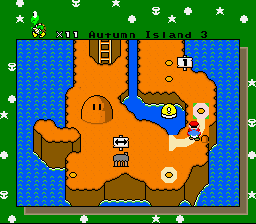 And here we have a frame of the player graphics missing entirely. Just wonderful.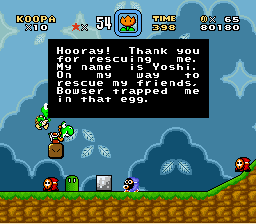 This message seems somewhat familiar, don't you think?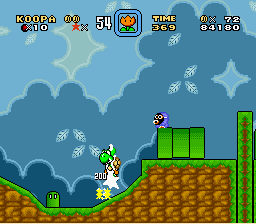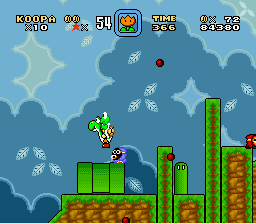 I wouldn't exactly call it a removal reason, but why can I stand on the Snifits and not on the Shy Guys? There's just no consistency...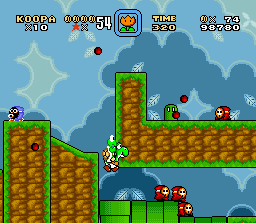 [insert majorslowdown.gif here] yay :effort: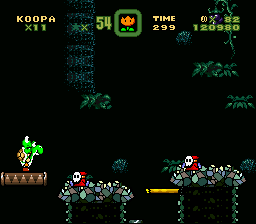 And after the SMB2-style Shy Guys from the earlier level, now there's SMW2 ones? Again, no consistency at all. Why would you even have both types when they act the exact same way?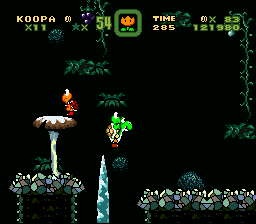 That spike has one huge hitbox.
clipdeaths galore D: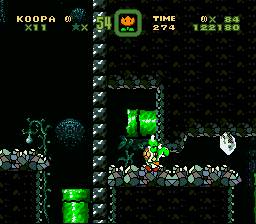 At first, I thought this was just your generic pointless "ditch Yoshi to pass" setup, but given how you can't even get off Yoshi in the space provided... yeah. You really should have thought this one through a bit more.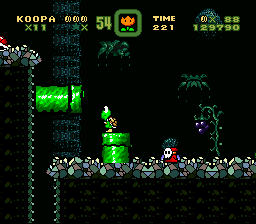 That pipe end is facing the wrong way.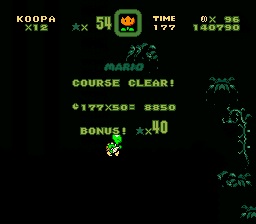 Have your background use colours that aren't on the second halves of palettes 0 and 1, please.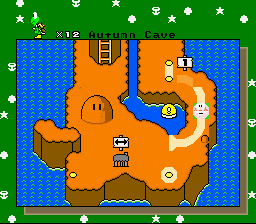 Events aren't your strong point, now are they?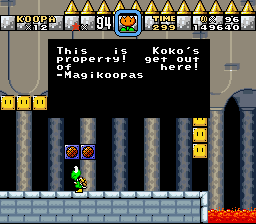 *Get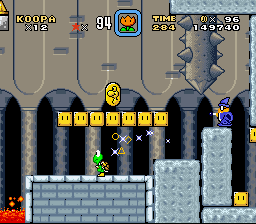 Look closely at the third turn block from the left. Yes, that's right: it changes style from redrawn to original SMW while it's turning. Why would you even have redrawn turn blocks for just one single level in the first place?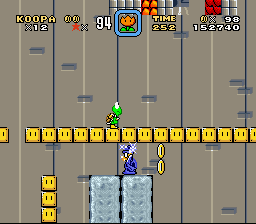 Something seems to have eaten your background tilemap. I'm not sure what, so I would suggest just changing the background vertical scroll so you can't see it.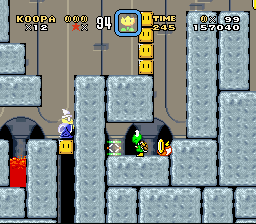 Stuff started turning invisible around here. Check your sprite memory settings.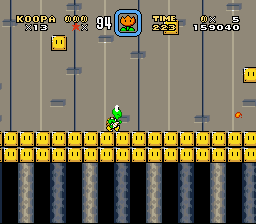 As I believe that I mentioned before, emptiness for x screens isn't interesting level design.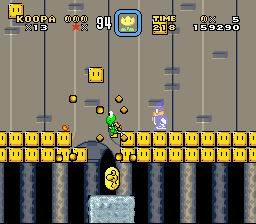 ohey a dragon coin let's collect it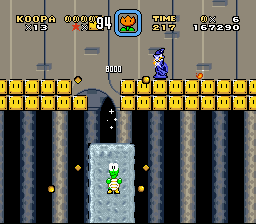 wait what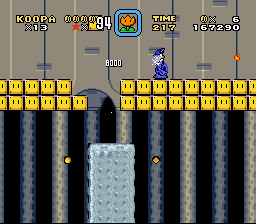 :raeg:
Why would you even put in a trap like this D: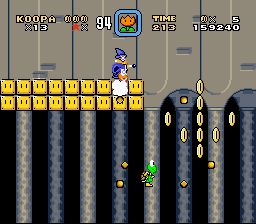 If I fall just one tile to the left of the arrow, I fall to my death instead of to the next area. This just seems rather nonsensical.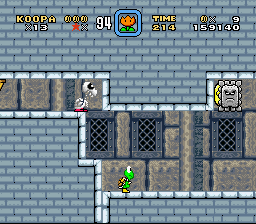 And after falling, I land... here? How does that even work?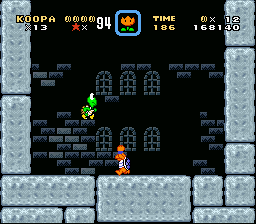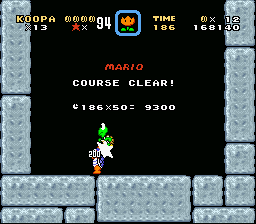 Since you used a vertical level for the boss battle, the ending is quite abrupt; the boss doesn't even have time to fall offscreen.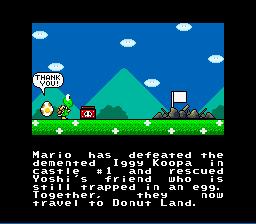 Since you actually have a plot, it seems a bit lazy to just leave this message unedited.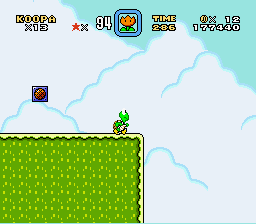 And finally, the only way out of the "end of demo" is through a bottomless pit, since you didn't enable side exit.
---
This really needs quite a bit of work before it can get accepted. Sure, you know how to insert custom stuff, but what matters in the end is not how much external ASM you can cram into your ROM, but what you do with it. The hack suffers greatly from a lack of graphical consistency: instead of using a new style for each and every single level, I would very much suggest finding one graphical style, perhaps not for the entire hack but at least for similar levels in a world, and sticking with it; as it is now, it just seems sort of thrown together. And finally, your level design just isn't that good for the most part.
You have the basics down: now what you need is just the experience. I would very much recommend creating a thread for your hack in the Works in Progress forum; that way you can get criticism from other, more experienced people to help you develop it.
--------------------
My YouTube channel
Get the official ASMT resource pack
here
!