NAME:
Super Mario Goes To Gehland
AUTHOR:
RetroYoshi
DESCRIPTION:
Third try. Fixed errors, added levels, so on, so forth.
Notes:
Yoshi's message box has signifigance. Read it.
ALL red levels have 2 exits. It's up to you to find them.
Although it defeats the purpose of the puzzle in nowheres, bringing yoshis is fine. Just note you will get signifigantly less coins.
The only message box that doesn't act like a human is Yoshi's. Be nice and treat Mr. Message box with respect.
I'm NOT telling you where the shortcut is. No way, No how.
Enjoy!
---
REASONS FOR REMOVAL:
Oh wow. This is actually sort of nostalgic; an earlier version of this hack was the very first hack I ever moderated. How fitting that it should return as my 100th one as well... That being said, you have certainly improved since last time, but there are still things left to improve.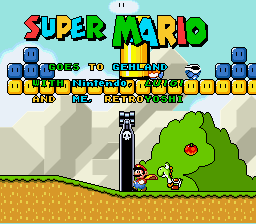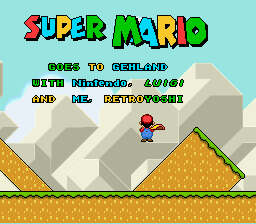 Rather minor, but your title screen demo could use some improvements. There's several rather long segments of Mario walking into walls or jumping in place; it almost seems like the demo was recorded in a different level at times.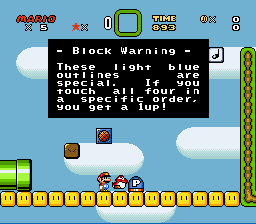 What light blue outlines? You might want to place the message box in a place where you can actually see them.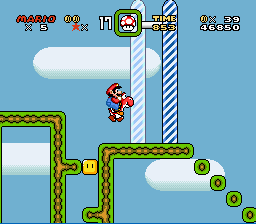 Quite a few of your levels are very short and rather bland, including this one. Try coming up with some ideas to extend it. And why does it have such an extravagant time limit?
Also, those kinds of walls aren't much better than cement block abuse. What's wrong with using actual landmasses?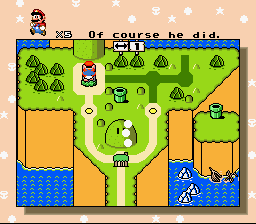 ...what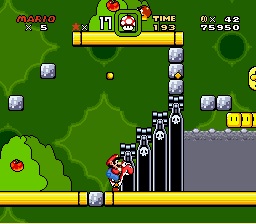 Gray lava doesn't look all that good. And again, why not use the normal ground? The overworld doesn't show the island consisting of a whole bunch of floating objects.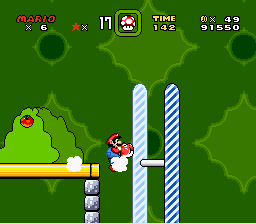 See the comment two screenshots above this one concerning level length.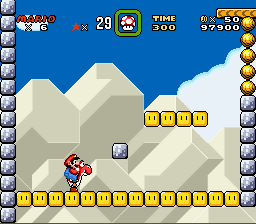 I think you can guess what I have to say about this screenshot.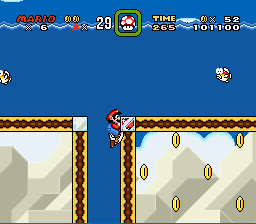 Some layer priority issues here. Using a tile that isn't transparent would look much better.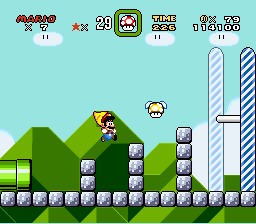 And here we have actual cement block abuse! hooray.jpg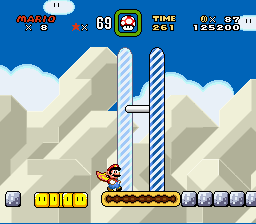 Once more, level length. And this level hardly had any enemies either.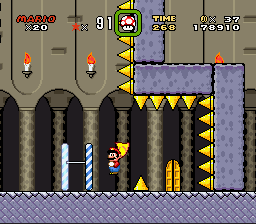 The first room of the castle was also somewhat lacking in the enemy department; it literally only contained three sprites.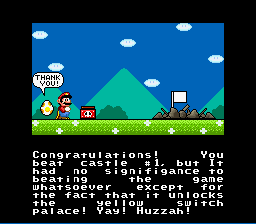 *significance
Use layer 1 events when revealing level tiles on other submaps, so you don't get the flashing effect.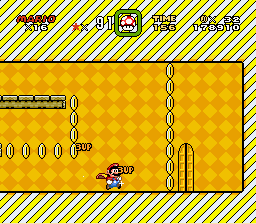 This switch palace gives you an almost ridiculous number of lives for the simple task of pressing a silver p-switch. And it even gives you a reset door so you can repeat the process as many times as you want!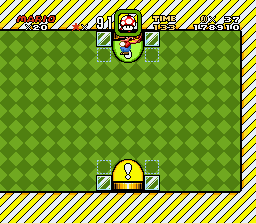 Why do I pass through this switch? I mean, I can understand not being able to press it (though I'm not sure why is it there in the first place), but you could at least make it solid.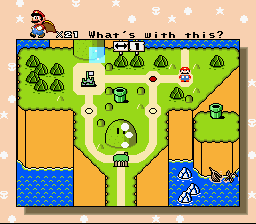 As for revealing layer 2 paths on different parts of the overworld, use silent events. If you don't know how, the Lunar Magic help file will tell you.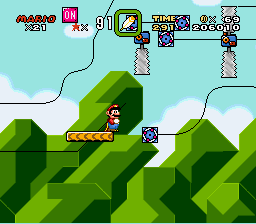 That one saw just below my items box seems to treat its straight line guide as a quarter of a circle for whatever reason.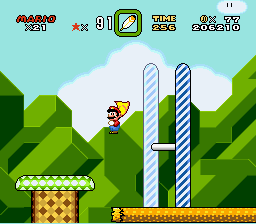 And yet another time, this level is very short.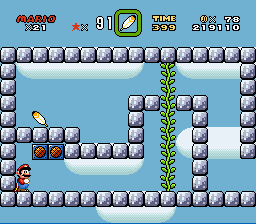 Don't we all love rooms constructed entirely out of cement blocks? (Hint: No.)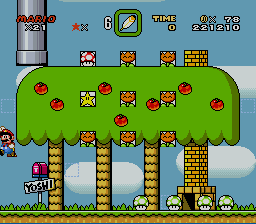 If I enter the bonus game from Yoshi's house, I can exit it from the side. Also, the mushrooms look somewhat odd changing direction when there isn't any wall blocking them.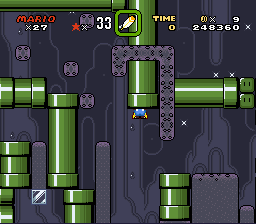 You are aware that it is very easy to enter this pipe without the springboard, right?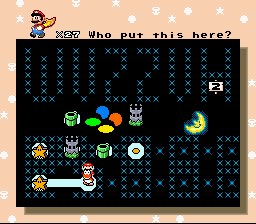 The level names in the special world don't even begin to make any sense. Is this intentional?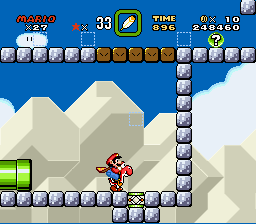 ohey more cement blocks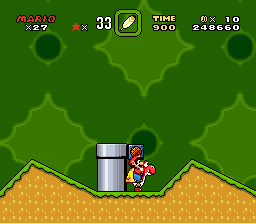 Going through the pipe in the previous screenshot places me here, instead of making me enter through the pipe I went there with.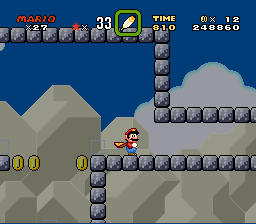 I am not sure if I would consider this level very interesting at all. You run all the way to right with barely anything to stand in your wau, get a P-Switch, and run back the same way you came. I would very much suggest spicing up the level quite a bit, making it a bit more interesting and difficult.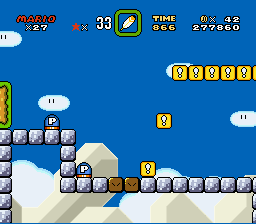 I just love writing captions about the initial foreground positioning being set incorrectly.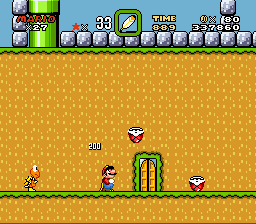 It would seem like the corner tiles above the door use incorrect "Act Like" settings; 25 is the correct setting for a walkthrough tile.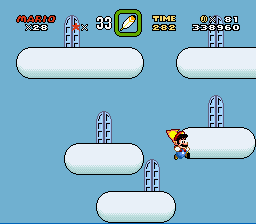 Why am I falling though the edges of these clouds, when the rest of them are solid?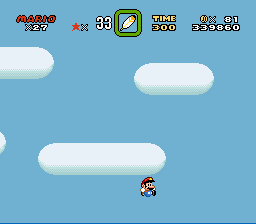 Dying after getting the midpoint in the above level dumps you in a void if you try to reenter it.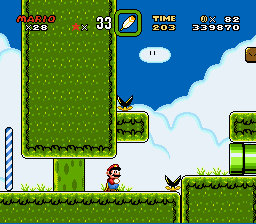 In fact, I'm not too sure what the point of the midpoint (pun not intended) is, given how all that's after it is just a pipe that leads directly to Morton. *shrugs* Your decision, I guess.
And this level was another one that felt quite lacking in design. It really contained very much more than a bunch of number platforms and a few munchers; the only actual enemies were five Rexes, two of which fell into bottomless pits before they had any chance to pose any danger at all to Mario.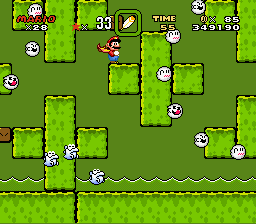 I am reluctant to even call this level design. Three screens of copypasted castle block crosses and invisible coin blocks blocking the "wrong" paths really isn't interesting at all.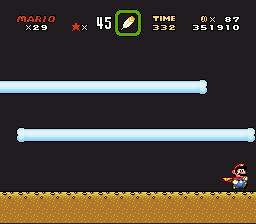 Going off to search for the Fire Flower in the end-of-demo level quickly got me stuck in this room, since the return door just plain out doesn't work and side exits aren't enabled...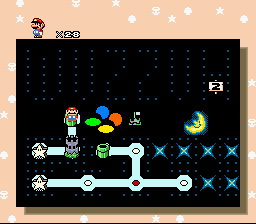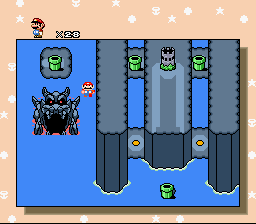 ...and going back to try to find the blue switch led me to discover that the going through the return pipe only gets me stuck in what looks to be an unfinished submap and doomed to be imprisoned in level 100 for the rest of eternity.
---
While the hack does appear to be quite a bit better than the last time you submitted it, you still have some ways left to go. First of all, I would suggest hiring a couple of beta testers to reduce the chance of gamebreaking bugs remaining not found until after release. And secondly, try to make your levels a bit longer and more interesting in general.
--------------------
My YouTube channel
Get the official ASMT resource pack
here
!