Hi! Welcome to EVERY LEVEL ROY!, sequel to the superpopular EVERY LEVEL IGGY! and not-so-popular (;_;) EVERY LEVEL MORTON!. ...again. Yep, still not done with it! In fact, only two levels are currently finished.
- MESSAGE FROM Riolu180 -
Demo-R is finished! Get your ROMs ready!
- R -
GET EQUIPPED WITH
EVERY LEVEL ROY! DEMO
GET IT HERE YOU WILL NOT BE DISAPPOINT
Sorry, as I said, only two levels. That's all I really had time for, but hey, two levels is better than none at all! Report any errors and bad level design to me, but ignore the following:
-One block in the first level, when hit from below, displays the Note Block bounce sprite. I haven't gotten around to trying to change this, so please pay it no mind.
-Revealing tiles on the map uses bad palettes. I assume this is because the main piece of land where you are uses palette 5...
I think that's about it. Also, these two levels have no Yoshi Coins yet, and neither level has a custom Roy boss, either. I'm either going to save those for last or just ditch the idea for now. ~using the original is just so much fun~
For those of you not in the know:
-EVERY LEVEL FACTS!-
First off, EVERY LEVEL IGGY! was the first game in the series. Every single level ends in a boss fight with whatever boss is in the title of the hack. Every single one. Even if you'd think there wouldn't or shouldn't be one. Furthermore, the hacks are largely vanilla (for now). EVERY LEVEL ROY! is the third hack in the series, and the locale this time around is the Mintchip Northlands. Expect to see a little ASM here and there and some ExGFX in this hack. ELI! was pure vanilla. ELM! added one piece of ExGFX and a necessary custom sprite to avoid a game-breaking glitch. ELR! will officially begin use of both ExGFX and SLIGHT ASM. This means minor ASM patches to fix some glitches to better my levels, SOME blocks and SOME sprites, and not much ExGFX at all. Expect this to not change for a while!
Oh, and the biggest fact of all: EVERY LEVEL IGGY! was made to troll a certain someone. Yes. Unsuccessful troll, but an attempt to troll nonetheless... (Instead, I got a popular hack. WIN!)
Have some delicious screens while you wait!
Intro & OW: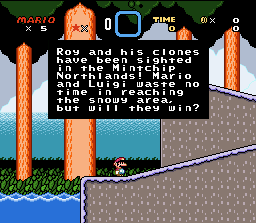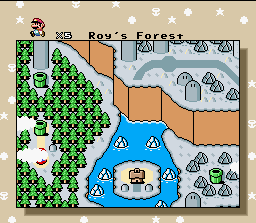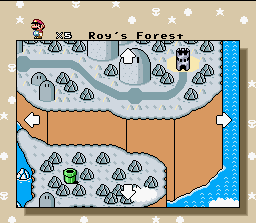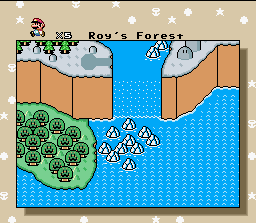 Roy's Forest: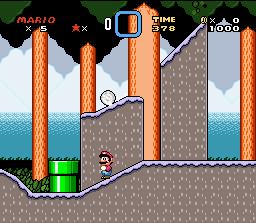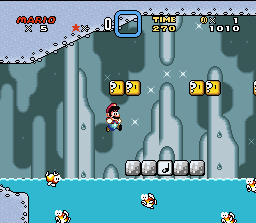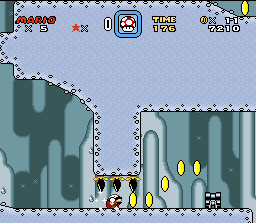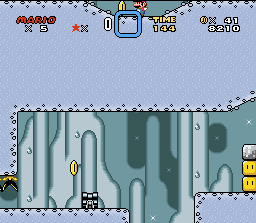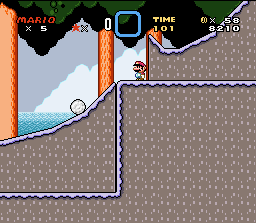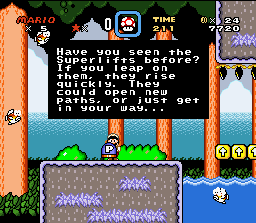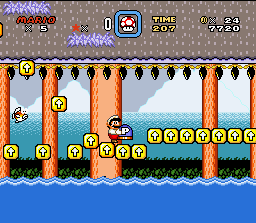 New stuff in
Roy's Cliff
:
Go away, Lakitu!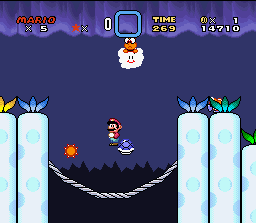 I love the new GFX slots. <3
...well. You can skip the majority of the level this way, but we can't have that, now can we? I think I'll just move the end portion to another sublevel.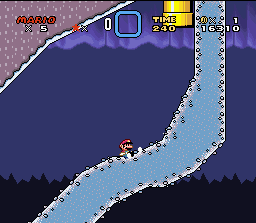 Did I mention I love the new GFX slots? <3
There MUST be something good over there...! Sadly, as one of Wario Land 2's level names says, "Coming Back is Difficult". Trust me...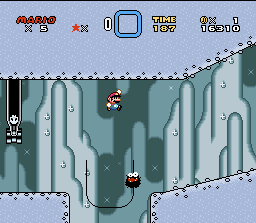 <3 <3 <3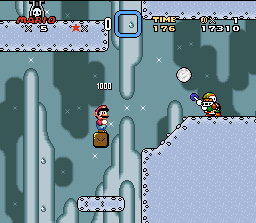 Hi Chuck! Make a snowcone for me, please.

I'm evil.

??? What does it mean?
...oh.
NOTHING TO SEE HERE MOVE ALONG
~End~
...and, of course, we all know what comes right after the goal tape. There's no need to show it, is there?
Sorry for the wall of pics! I'll give a demo tomorrow. Oh, and you guys will LOVE what I did to the credits this time.

--------------------
<Adam> I feel like smwc is a prostitute now, because we put up a porn ad for money