Wow. That tileset looks amazing, and it reminds me of the beatiful Ice Cavern from DKC.
Awesome work, I'll use this for sure!
And you just keep showing more and more awesomeness!

I'm so much using this ice cave tileset in my hack. It really looks great, Mario-styled, nice decorations, and slopes!

I thought I was good at making GFX, but I can't do anything compared to these!!!!!
(you wouldn't jsut happen to have a temple tileset sittin' around would you?

)
--------------------
Your layout has been removed.
You always impress me with your great GFX, the lat update was no exception.
Extras


I should have something witty to put here (even if it's just to update dated info), shouldn't I?

Advertising Space
Well I know what I'll be using when I get to making my ice/snow world levels. It's lookin' brilliant.
---
ice cave is missing sample level

--------------------
Your layout has been removed.
Wow. You have always been a superb graphics artist, and these are amazing.

--------------------
Your layout has been removed.
These are just heaven <3
I have always loved it how much your tilesets resemble those from SMAS (specifically SMB3). You really are one of the few blessed ones around here that are able to pull off tilesets that actually have a Mario vibe to them, if I do say so myself - if I were in your shoes, I would certainly be very proud of myself. :)

I really hope to see more of these popping up until the end of C3.
Me likey...I've always considered you one of the best graphic artists on the site, LunarDrake. I can definitely imagine using that ice cavern set in my hack, although I don't really think I'd get much use out of the first two. I hope you have more planned for the remainder of C3...you did these quite beautifully.
----------------
I'm working on a hack! Check it out
here
.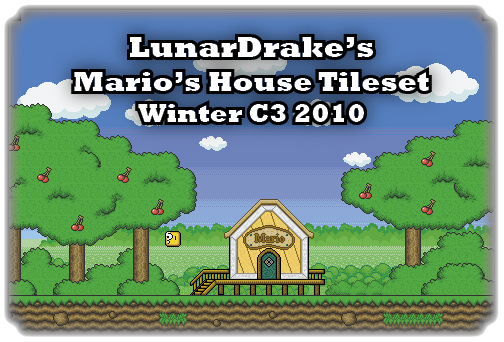 I appreciate all the nice comments. Given the thought of some things being useful, I think I will now release the Mario's House set. This set was initially created for someone, but given as he is giving up hacking, he has given me the go to release it. The bg in the screenshot is from the mario and wario bg in the ExGFX section, but the fg is what makes up the set. It is rather apparent that the paper mario mario house is the reference here. Here is the link.
LunarDrake's Mario's House
. Again, I thank you.
Oh for goodness sake

just how do you manage to make these awesome graphics?
These are awesome. You could practically make a whole hack with these graphics!

My favourite so far has to be the Big Top Tile set. I like its creativity.
Fantastic graphics as always. I especially love that train graphics set; definitely going to create a level using that once I'm done with porting my stuff to a new ROM.
--------------------
My YouTube channel
Get the official ASMT resource pack
here
!
I am not exactly sure how useful these will be to anyone, but here are some enemy spritesheets that I have redrawn, editted, and designed. Some of these can be added in over the original smw enemies, and some were intended to be used in conjunction with the various boss sprites. Rip as you please.
Hookbill, which was editted from the map graphic from Tetris attack.
Broozer, "figured broozer would have made this one", which is original, aside from the fact that Nintendo's broozer is the reference.
Here are some basic enemies found in SMW that I have redrawn.

Lastly for this post, here are some large goombas, and the goomba bros.. I was going to use these as bosses. Also, a redrawn kamek. How did those toadies get in there?
No offense, but I am not really a fan of the sprites you have drawn, but I think your foregrounds and backgrounds are fantastic. I have always wished you would release your graphics (particularly your forest fg from your contest level) and it is nice to have some good ice fg graphics on the site.
Tremendous job on these, LD.

--------------------
r̲̲̲̲̲̲̲̲a̲̲̲̲̲̲̲̲t̲̲̲̲̲̲̲̲s̲̲̲̲̲̲̲̲p̲̲̲̲̲̲̲a̲̲̲̲̲̲̲̲w̲̲̲̲̲̲̲̲n̲̲̲̲̲̲̲̲
I like how the Thwomp looks completely different from the one in SMW yet keeps the same design and facial features of it.

All of your FG's and BG's are great, too. Can't find a single thing to not like about them.
Please make a toad town, please make a toad town.

--------------------
woag.....

(previously superdragonyoshi1. sup yall.)
Hmmmm, getting requests within my C3 booth. Hey, I can go with that.
Here is the toad town, superdragonyoshi1 and whoever else would like it. As I understand we all will be seeing this set again pretty soon.
These are completely original, and I have yet to put them in map16 form so you will just have to rip. To see exactly how I set up the palettes, open with Idraw which is in the tools section. I clearly used paper mario as a reference. Also, Hobz......
Here is the jungle/forest tileset that I used in my contest level.
LunarDrake Jungle
The map16 is made in as clear an order as I could make it. This is obviously one of my newer sets. I still have one more thing to upload this C3, and that is.....
Wow, you're really good at making graphics.

I won't be using them because i like to make my own graphics for my hacks but everyone should use them or die in fire.
I do pixels sometimes
Forum Index - Sunken Ghost Ship - C3 Museum - Fall 2010 - LunarDrake's Graphical Goodies