Hack Name: Insane Mario Demo - 137.2 KB - 23 downloads.
Length: 3 levels
Author: frozenfire - Submitted by: frozenfire
Description: A Demo of my mario hack (not much included , only 3 levels ) i make more levels soon. Its based on glitches like item abuse.
hope you enjoy
---
Reasons
First of all,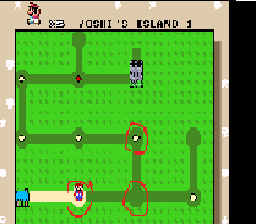 This is not a valid screenshot. If you're using ZSNES, you can just press F1 and select "Save Snapshot" to get yourself a screenshot. It's even in the right format already, so no need for resizing or any other kind of editing. However, make sure the "Format" option at the bottom of the F1 menu says "PNG", "not "BMP".
The main removal reason, however, is this:
Originally posted by frozenfire
Its based on glitches like item abuse.
Sorry, but hacks that are based on gliches and virtually impossible to beat without save states aren't allowed in the Hacks section. You could try out uploading the IPS patch to your personal
File Bin
and posting a link to it in the
Kaizo Hacks subforum
, but even there, there's guidelines your hack has to comply with.
Speaking of guidelines:
These are our main Hack Submission Guidelines
, which I highly recommend you read before submitting another hack.