Hack Removed:
Hack Name: Nostalgic Mario

Length: 4 levels
Author: deedeedeechu - Submitted by: deedeedeechu
Description: This is Nostalgic Mario! It's a demo and 4 levels, Three regulars, and the switch. Im still working on a name though. But this is the best i got:
Coustom Music
Coustom sprites
Coustom FG
Coustom Graphics
Plus more to come in the future
My Short Review:
The hack was okay, but it could use improving.
=====================================
Removal Reasons: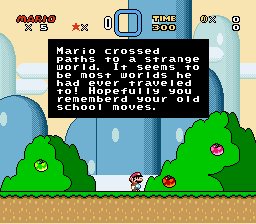 Error 1:
There are some grammar issues here.
Change this:
"It seems to be most worlds he had ever traveled to!" should be something like "The strange world seems to lead to most of the worlds he has ever traveled to!"
"rememberd" should be "remember" since "remembered" wouldn't make sense.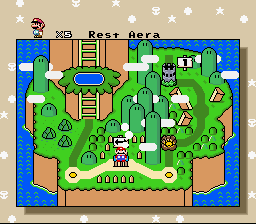 Error 2:
"Aera" isn't spelled right.
Fix this by:
Change "Aera" to "Area"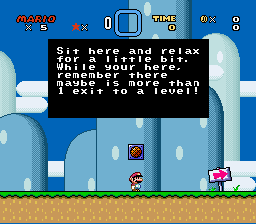 Error 3:
Spelling and more grammar issues.
Fix this by:
"your" should be "you're"
"remember there maybe is more than 1 exit to a level!" should be "remember, there might be more than 1 exit in a level!"
Also, the princess's castle theme from Super Mario 64 does not fit this small area at all.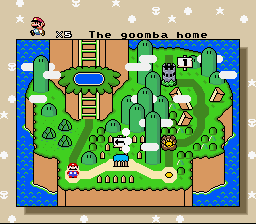 Error 4:
Grammar issues....again.
Fix this by:
Change "the goomba home" to "Goombas home"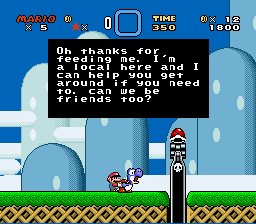 Error 5:
Capitalization Error
Fix this by:
"can" should be capitalized.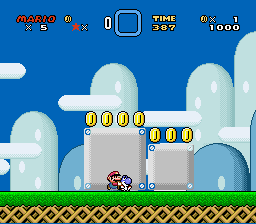 Error 6:
Graphics issue
Fix this by:
The circle around the screws in that platform are transparent, make it so it's not by using color 2 of a palette row.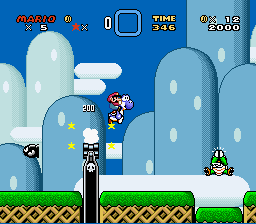 Error 7:
If you have no shell.
Fix this by:
If you accidentally destroy the shell or press "X" or "Y" while the shell is in Yoshi's mouth, you have to kill yourself since you don't have the shell. Add a reset pipe/door.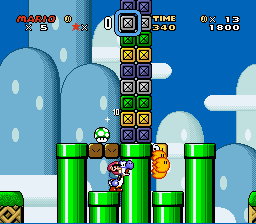 Error 8:
If I were go to the pipe Mario is standing on I'm trapped because of those invisible blocks.
Fix this by:
Take out those invisible blocks. Traps are not cool....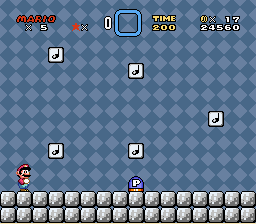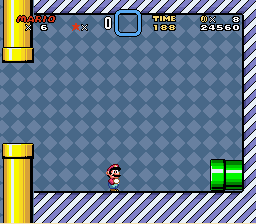 Error 9:
Blatant edit
Fix this by:
This level looked like level 14. NEVER use the old SMW levels and edit them a bit as a base for a level.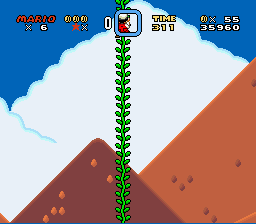 Error 10:
Pointless vine.
Fix this by:
What's the point of this vine? It leads to absolutley nowhere.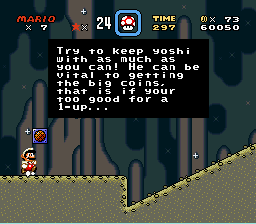 Error 11:
Grammar issue.
Fix this by:
add a "you" between "with" and "as"
Also, I didn't even Yoshi in the 1st place.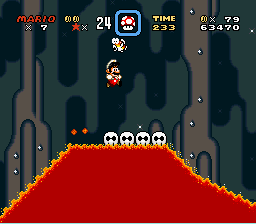 Error 12:
Surprise fishes
Fix this by:
You can't even see them and you can't tell when they're gonna jump, them out. (They shouldn't even be in lava in the 1st place too)
======================================
Conclusion:
This hack needs some work, not only that but the demo is a bit too short. So improve your levels and make the demo longer and we'll see if this will be accepted or not.