NAME:
Mario World Super: Yuri's hack
AUTHOR:
Yurelvis123
DESCRIPTION:
My fisrt hack. I don't know how to edit overworld, so i let the original. If there's any english error, sorry, about it, english is not my "main language".
---
REASONS FOR REMOVAL:
Better than certain other first hacks I have seen, but still not very good at all.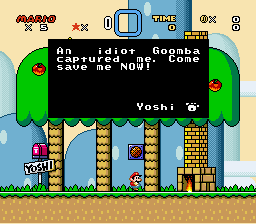 Many people forget about this, but the Yoshi pawprint actually consist of a 2x2 square of tiles, not just a single row of them.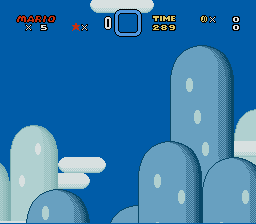 Bad foreground initial position. It seems that just about every single secondary entrance in your hack has this issue, so I'm not going to bother posting pictures of all of them.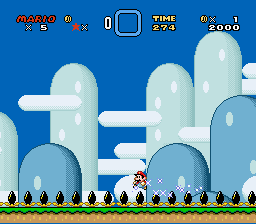 In the first level, if you take the first pipe and then go to the left...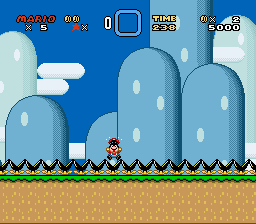 ...you die, since there is not enough time to get back all the way to the right before the star runs out.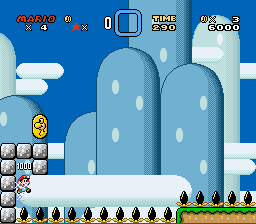 Instead, you can take the second pipe, which makes you start out all the way on the right. Which brings up the question: Why does the first pipe exit even exist?
And for that matter, why does this level exist? You can't possibly think that running across perfectly flat ground covered in munchers for 16 screens is good level design, can you?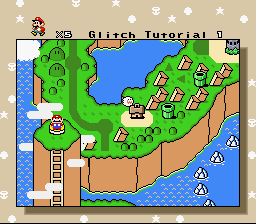 :ohdear: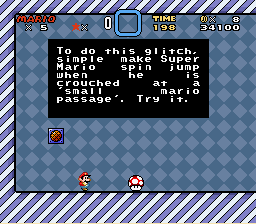 ...okay, this wasn't nearly as bad as I thought. Still, your message could use some improvement:
*simply
*crouching in
*Mario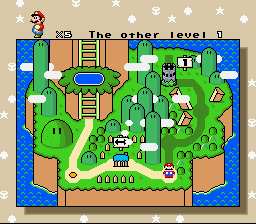 Why are you using the white 1 instead of the black one that matches the rest of the font?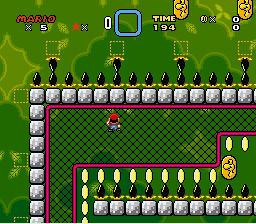 If you didn't press the yellow switch, those munchers are just kind of floating there.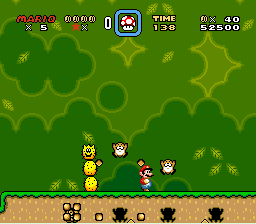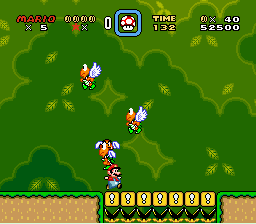 Gotta love those completely flat stretches of land. Or not.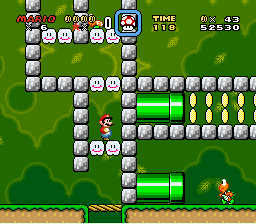 Pipes don't transition well into cement blocks; since the blocks aren't perfect squares, you get small holes of cutoffness next to the pipe.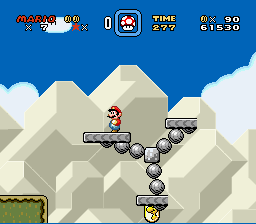 Bad sprite memory settings made part of this platform disappear.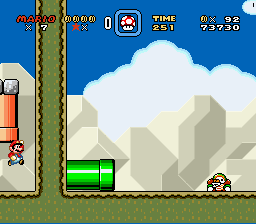 Okay, this is just mean. It's only the third level, and still you expect me to jump with perfect timing so that I can enter the pipe and not get crushed by the super-fast autoscoll? Please work on your difficulty curve.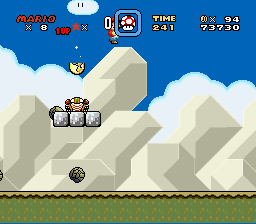 And this is why you don't put Dragon Coins on screen boundaries. Also, this is where I first started suspecting that you didn't actually test this hack properly.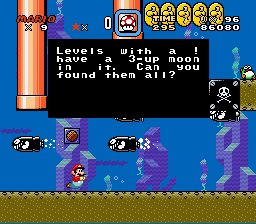 *find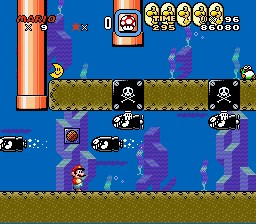 That should be a ? sphere, not a sparkling fish.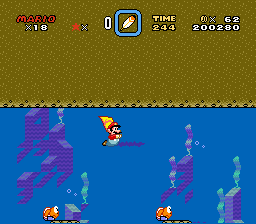 This sure is one exciting tunnel. Except maybe not.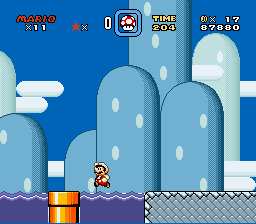 Cutoffness around the pipe.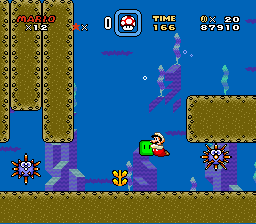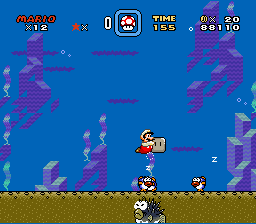 Seems like you forgot to enable sprite buoyancy for the secret return passage. Again, didn't you test this?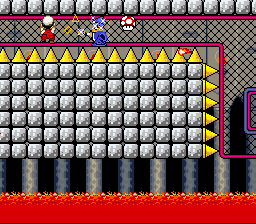 You really didn't think this one through, did you? There's absolutely no way for big Mario to dodge Magikoopa's attacks in this small of a space.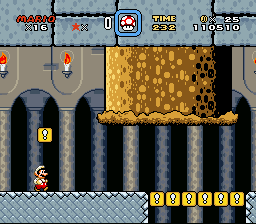 ...and this is where suspicions that you didn't clear out the original levels properly with Ctrl+Del before creating your own started to arise. No points for guessing that this is the second room of Iggy's Castle.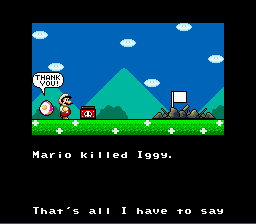 The palette of that egg could be much better.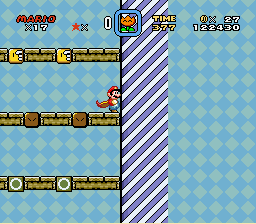 I spot a hole behind the wall.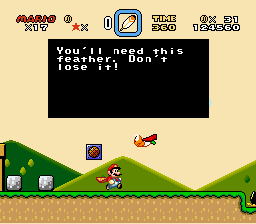 Don't tell me...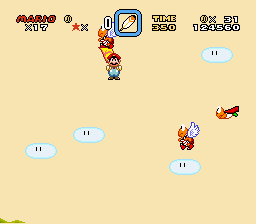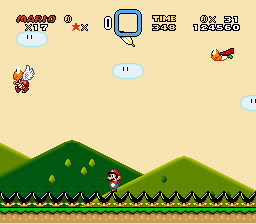 Yup, it's one of those "hope you don't fly into any enemies or you're dead" segments. Don't we all love those?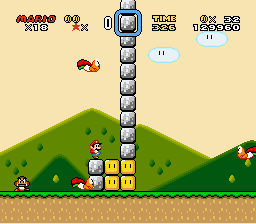 And if you get hit but still manage to make it to the other side, a wall of turn blocks forces you to commit suicide.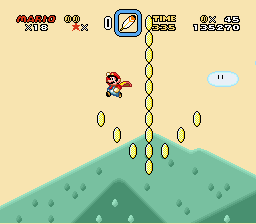 An arrow? Okay, I'll fall down here.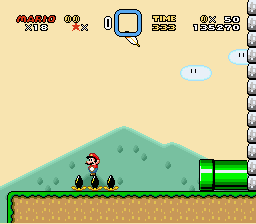 ...putting munchers right below the arrow? How nice of you.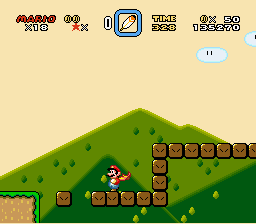 It's amazing how many people don't bother to read Lunar Magic's sprite descriptions. For instance, the one of the eating block clearly states that the sprite won't eat the block it is placed on top of.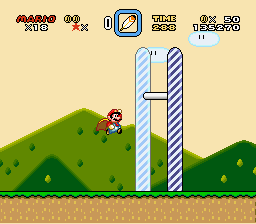 When you get here, the music resets. It confused me a lot, until I opened the level in Lunar Magic and found that you placed an unreachable set of directional coins just beyond the goal. One word:
why?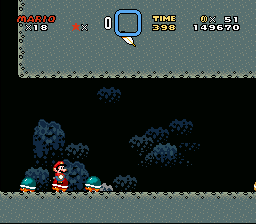 Red-shelled Buzzy Beetles are not acceptable substitutes for Spinies.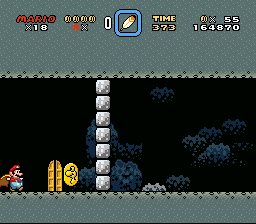 And here we have another "hope you are good at entering doors during fast autoscroll" trap. By the way, you are aware that it is physically impossible to get the moon or all five Dragon Coins in this level, right?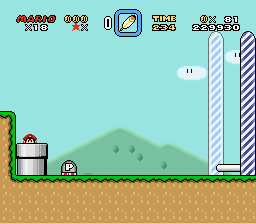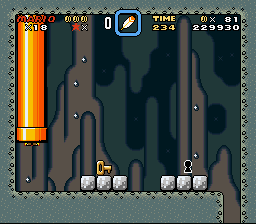 HINT: Putting secret exits in goal sublevels that are reused for several levels might not be the best of ideas.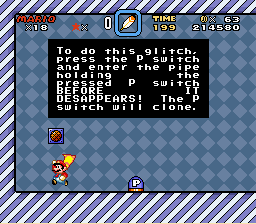 *P-Switch
*disappears
And what happens if you don't manage to pull the glitch off?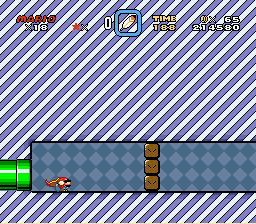 That's right: you get trapped in the switch room and have to wait out the timer. Really, the least you could have done was exit-enabling the entrance pipe.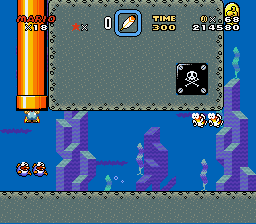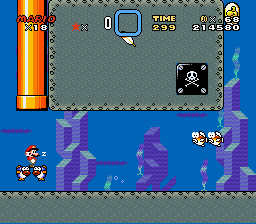 And now we are starting to get to the parts where you try to kill the played just as the level starts. Charming.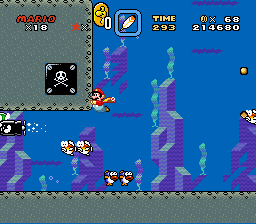 Also, there are holes around this torpedo launcher.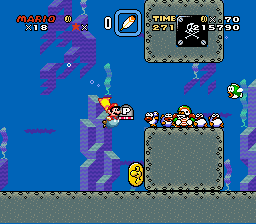 Lots of slowdown here, which is another thing that should have been picked up on during testing.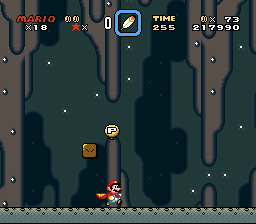 A vertical bonus room with a balloon in the bottom middle? This seems suspiciously familiar...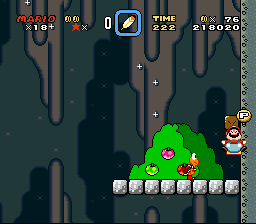 What's the point of this balloon? There's absolutely no way to reach it. And also, the bush gets cutoff by the cement blocks.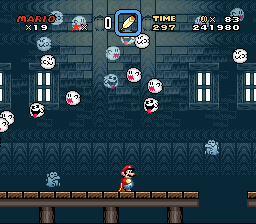 Picture the first room of Donut Ghost House with a fast auto-scroll and an Eerie generator added, and you have the first part of this level in a nutshell.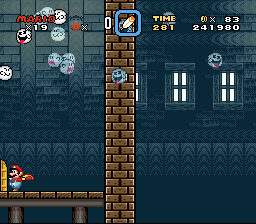 I shouldn't need to say anything about this again.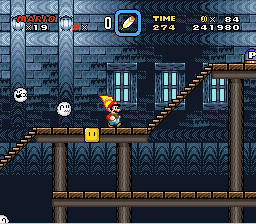 And this feels suspiciously like a blatant edit of the puzzle part of aforementioned ghost house.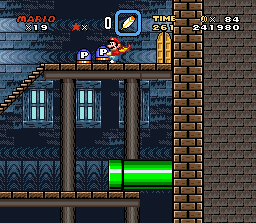 Somehow, I think that wasn't supposed to be more than one P-Switch.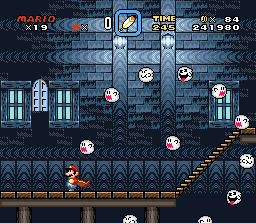 There was a coin below that door, but I collected it. Since it won't return, I have no way to enter the door and finish the level. Or at least I wouldn't if I hadn't had a cape. :V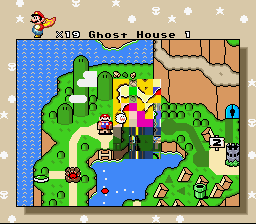 Why can't more people pay attention to the fact that you are supposed to uninstall the title screen recording ASM after you are done with your recording?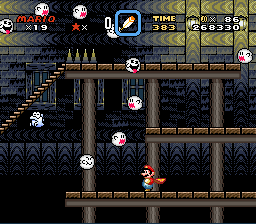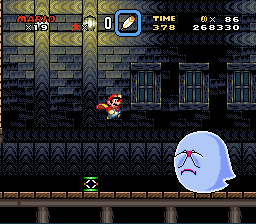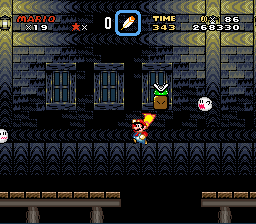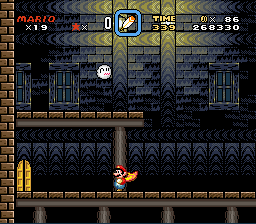 Would you please stop it with the obvious level edits and create your own levels already? Thank you.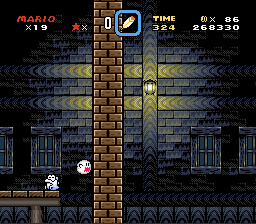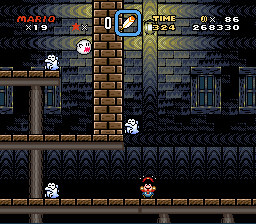 This initial foreground position is set so badly that it kills Mario instantly. Yet another thing you would have known if you had actually bothered to test this thing.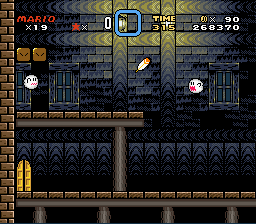 Jumping around offscreen and getting hurt by unseen Boos due to the level not scrolling isn't very fun.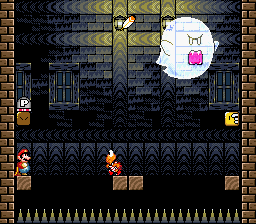 It may not be immediately obvious, but this Big Boo Boss battle suffers from the sprite memory limits. Just look at the top of the screen while I stomp the Koopa and get rid of its shell: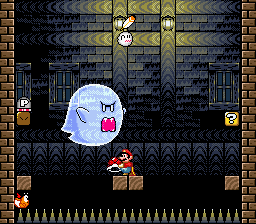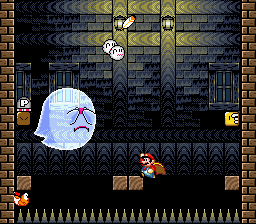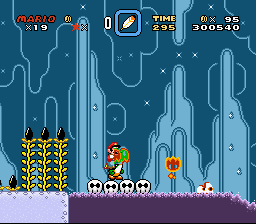 Yoshi and Podoboos don't mix very well.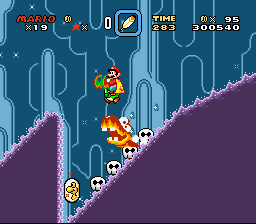 The Blargg gets cutoff when jumping out of the slope. Also, I have no idea how you are supposed to collect that Dragon Coin without dying.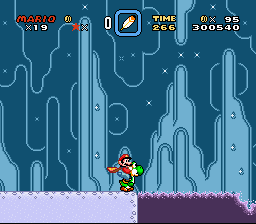 If you don't wait for the first skull raft to fall offscreen before getting here, the second one will adamantly refuse to spawn, effectively rendering you unable to progress.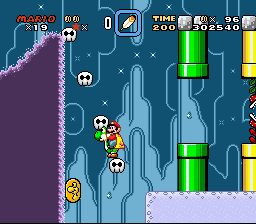 Yet another Dragon Coin that seems impossible to get.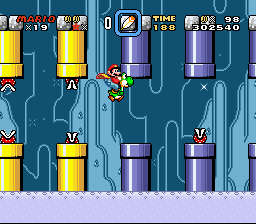 Blatant copypasta is not the best way to keep your players interested in continuing, you know. Also, you can't see in the screenshot, but those rightside-up Piranha Plants have red stems, meaning that you didn't apply the fix patch, which in turn may cause a VRAM error and mess up one of the other sprites onscreen.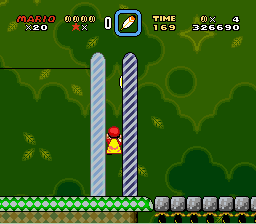 Well, this is a new one. Apparently crossing the goal while climbing a moving rope results in this.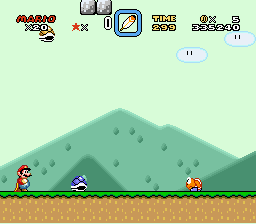 This is not a very nice way to start out the level.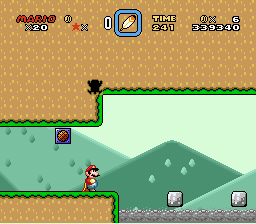 Cutoffness; use the Map16 editor to create the missing corner tile.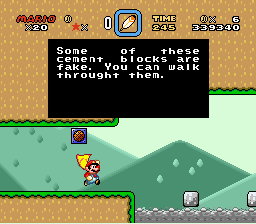 Oh no you didn't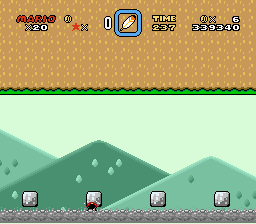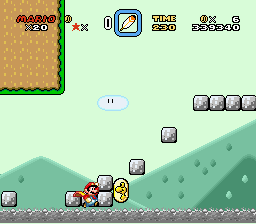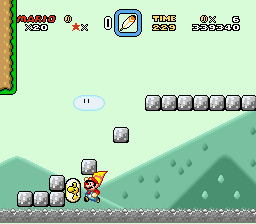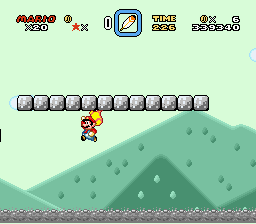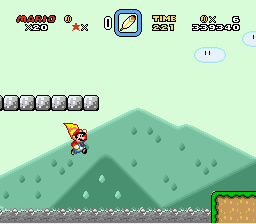 Okay, seriously now. How the hell could you possibly call this anything but unfair?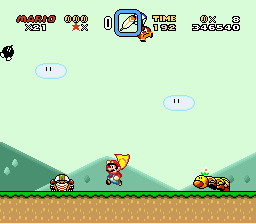 More sprite memory errors: the falling Bob-Omb is missing its parachute.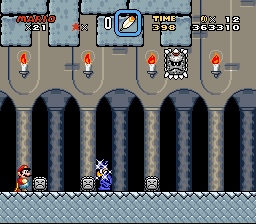 Not this again.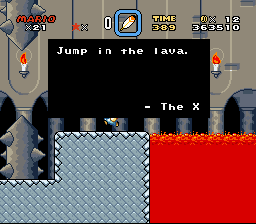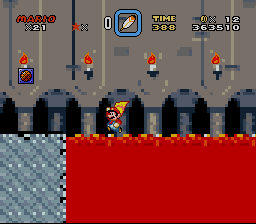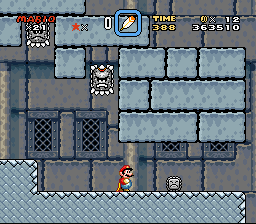 Two questions:
1) What is the point of this, apart from showing that you know how to insert custom blocks?
2) How is where Mario ends up supposed to make sense?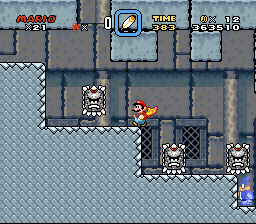 Yet another room that seems suspiciously familiar, this time to the staircase room of Morton's Castle.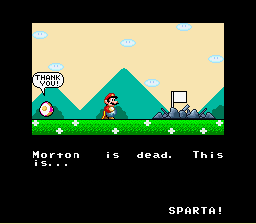 And fittingly, the hack ends with random usage of an unfunny meme.
---
I'm sorry, but if you want to get a hack accepted here, you have a lot of things to learn, most of which can be summed up by
the Hack Submission Guidelines
. Please read them before submitting a hack here again.
EDIT: fixed broken images
--------------------
My YouTube channel
Get the official ASMT resource pack
here
!