NAME:
Super Mario XR v0.1 (Fall 2010 C3 Demo)
AUTHOR:
GasparXR
DESCRIPTION:
This is the demo originally released for the Fall 2010 C3 Demo. It is a plain vanilla hack with the simple ambition of being fun to play. Being a very early demo, the quality bar seems set a little low but I'm improving as I get further and further into progress with it.
---
REASONS FOR REMOVAL:
Not terrible by any means, but very unpolished.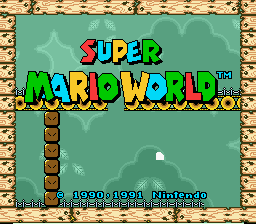 A piece of sprite garbage while the title screen appears.
This image
will help you get rid of it.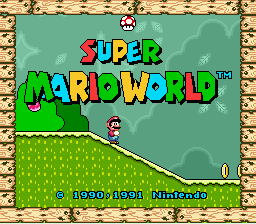 Getting a reserve powerup during the title screen demo makes it just kind of float in the top middle of the screen, which looks strange.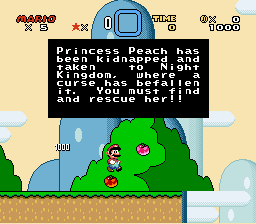 Cutoffness due to editing the intro without making sure that level length stays at one screen. Also, you may want to reword that first sentence.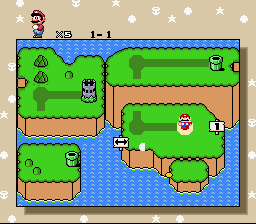 Random arrow sign and part of a cloud just below the second level, and an unreachable level tile at the bottom left. I think you forgot to delete part of the original Yoshi's Island submap.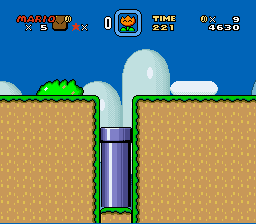 Some cutoffness where the pipe meets the corners.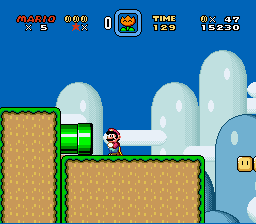 Wrong corner tile below the pipe.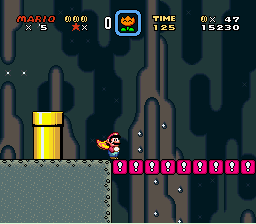 Even though I hadn't pressed the switch yet, these switch blocks were still solid. You inserted them through Direct Map16 Access, didn't you?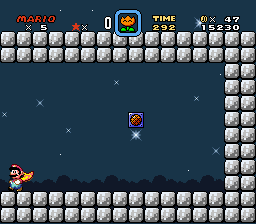 You know, if you want to allow access to levels like this, it would be kind of nice to include a side exit sprite. Having to wait out the timer and die is not very fun.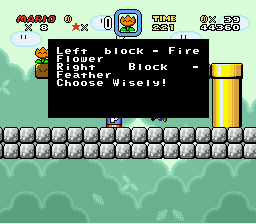 And what's to stop me from taking both? :V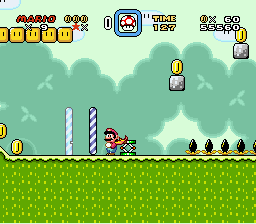 The two bars of the midway point being different heights doesn't look that good.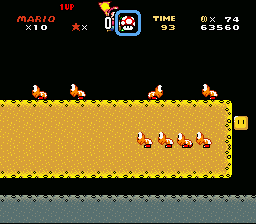 Firstly, slowdown. Secondly, some of those Koopas get stuck inside the ground. And lastly, this area would look nicer with the layer 3 cave background.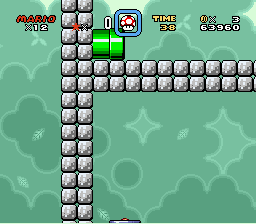 The initial foreground position isn't set correctly here.
You might want to extend the time limit for this level a bit: I hurried as much as I could, but I still barely had enough time to finish the level.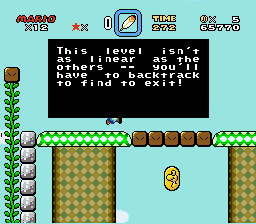 This might be the case; however...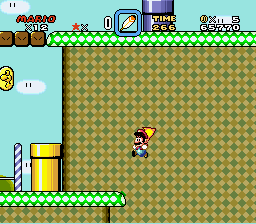 ...it is very easy to use the cape to just float right down to the pipe, essentially skipping the first part of the level. Not necessarily a removal reason, just something I thought I'd point out.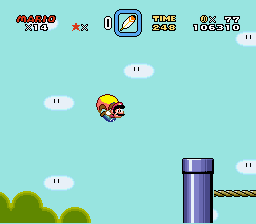 Alternatively, you can fly over a wall at the right part of the level to skip the backtracking and underwater parts entirely.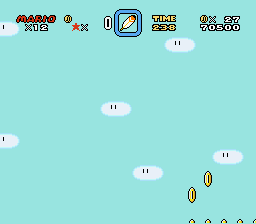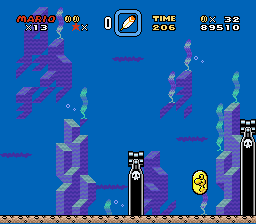 Two more cases of entrances where the initial foreground position could be set better.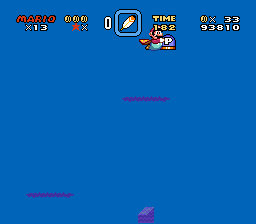 Since you didn't place anything at all on the top quarter of the level, it is very easy to just swim above all danger.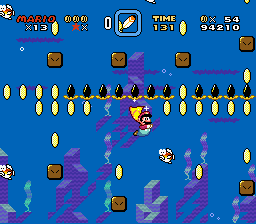 If you bring the P-Switch to the underwater segment and press it, you can make a whole bunch of munchers float.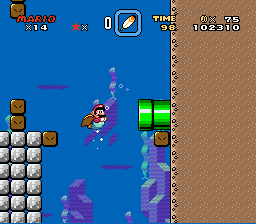 And if I collect the coins-that-used-to-be-brown-blocks below the pipe, I get permanently stuck. Though to be honest, that is probably my own fault for doing stupid things. :V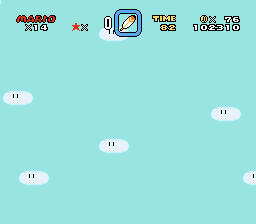 Guess what? The initial foreground position is set badly again. Seriously, it seems like all of your secondary exits has this issue.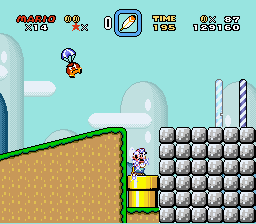 Using cement blocks instead of ground both looks ugly and creates cutoffness.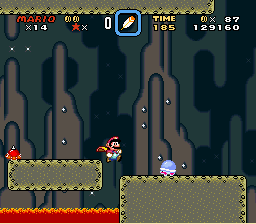 That is not a good palette for the Buzzy Beetle. At all.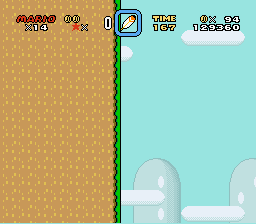 Guess what kind of error this screenshot depicts, and win an imaginary prize!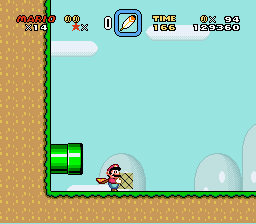 Bringing the Buzzy Beetle from before through the pipe turned it into some sort of perma-stunned square.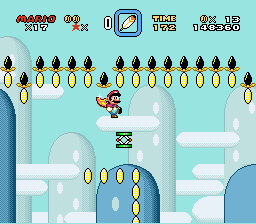 Once again, putting munchers on top of used blocks isn't a good idea if there's a blue P-Switch in the level.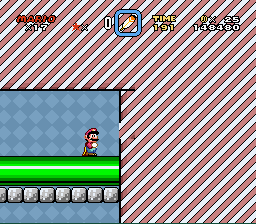 That's some messed-up corner you have going on there. NOT SHOWN: This level is just the original Green Switch Palace with a raised ceiling, no sprites, and a lengthened exit pipe. Make your own levels instead of making boring edits of original ones, will you?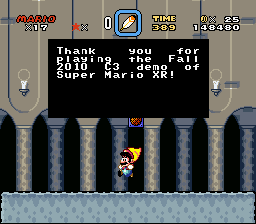 And the hack ends with another case of making you wait out the timer due to a lack of side exit sprite.
---
Yeah, you have a bit of work to do before this can get accepted. Most importantly, always make sure that you (and preferably other people as well) test your levels; a lot of the stuff I pointed out would have been very easy to notice and correct this way.
--------------------
My YouTube channel
Get the official ASMT resource pack
here
!