NAME
: Super Mario: Yoshis rainbow-egg (Demo)
AUTHOR
: Wormy2
DESCRIPTION
: This is the little Demo-version
... and that's why this hack gets
DENIED!
According to our guidelines, we do not accept demos this short, because there's simply nothing to give enough feedback on with one level only.
But still, let's have a look:
The "Demo" in the Title Screen looks bad. The title screen sbould at least display the full name of your hack.
Furthermore, Mario disappering is a no-go (especially because this is part of the first level)! You have used the wrong sprite memory.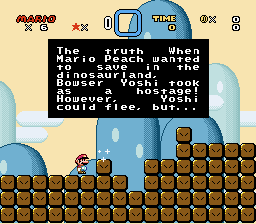 Severe language mistakes. Get beta-testers for next time. Also the moon is quite easy to get and the floor consisting of brown blocks doesn't look good.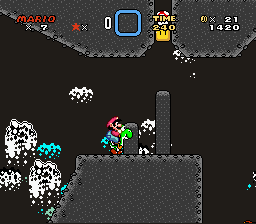 The background colors should be improved. Furthermore I am not sure if this level lacks a reset pipe/door in case you mess up something.
↓
Your idea behind the level design was quite good. The level itself could be a tad longer, but for a first level, it was okay. Just build some more levels for a reasonable demo.
--------------------
I play different games on Twitch, currently I speedrun Pokemon Gold or play some other shit, can also include SMW hacks. Check out
my twitch!
Exits done: 45, Overworld: 85%
Play through Taomb Demo 3
Taomb is a frozen project. GodDamnit.
The dead fucking end.