That's quite enough neglecting my duties as a hack moderator. Let's actually get back to doing stuff, shall we? I very much apologize for not posting this earlier...
NAME:
The Next Generation Demo 1.0
AUTHOR:
Magnum Mario X
DESCRIPTION:
Hey guy's this is a demo of my first major hack that I've been working on for about 3 months. In this demo don't play the castle level yet... it's not finished.
---
REASONS FOR REMOVAL: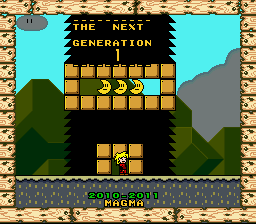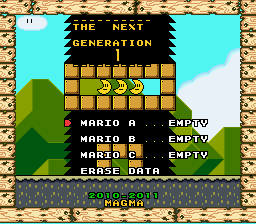 The background colours appear to change when the file select menu appears. Also, I'm not playing as Mario, am I?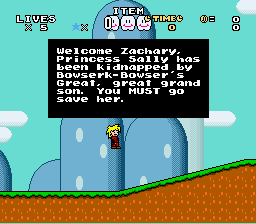 You might want to work a bit more on that grammar and punctuation.
*Zachary.
*Bowserk - Bowser's
*great-great-grandson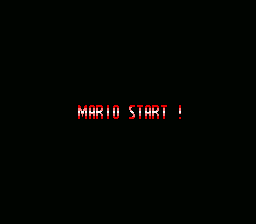 More remnants of Mario. You're probably better off disabling the [character] START! screen entirely, since trying to mess with those tilemaps is just way more trouble than it's worth.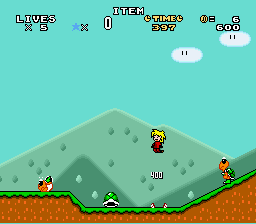 The stomped Goomba looks all glitchy: it is using part of the Paratroopa wing tile. There is a hex edit you can use to remap it to the unused 5-UP tile, so that you can draw new graphics for it without overwriting something else.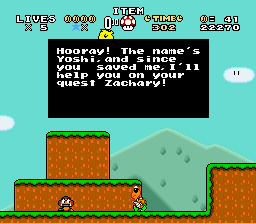 *me, I'll
*quest,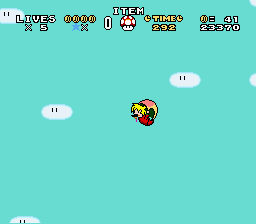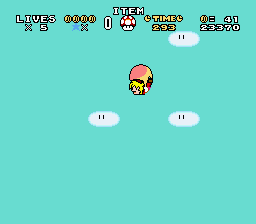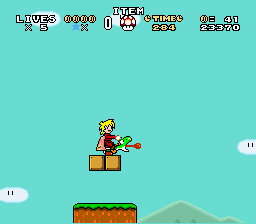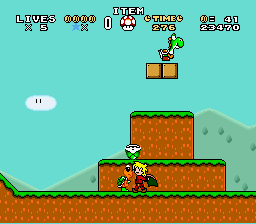 Seems like you forgot to change the bits and pieces of Mario's graphics that are stored in GFX00.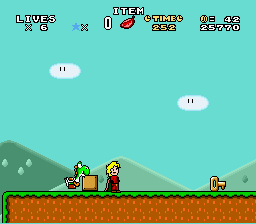 The palette of the Super Leaf when it's in the reserve box doesn't really look all that good.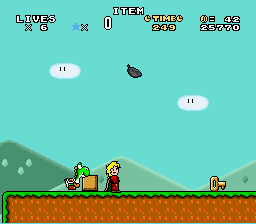 ...and then it turns all grey and black when I drop it from there.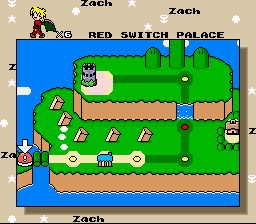 Your overworld has a bit of cutoffness around the bridge and the waterfall. Also, some of the dirt tiles around the castle are pink instead of brown.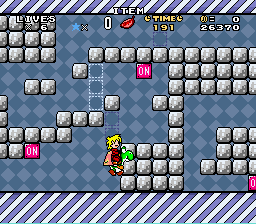 It would look much nicer if you actually animated these blocks, instead of having them as outlines no matter whether you can go through them or not. It would make more sense, too.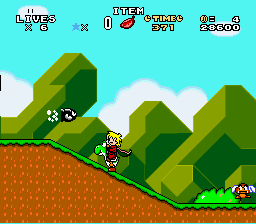 Why are there bullets being fired out of thin air? That's just plain weird, even for the Mario universe.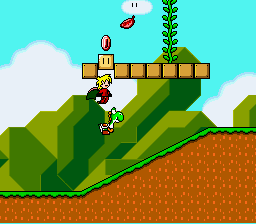 The sprite coin appears to be somewhat discoloured. As a general tip, if you're going to change the player graphics, it's a good idea to leave the first few colours of the palette alone, since they are used for quite a few other sprites.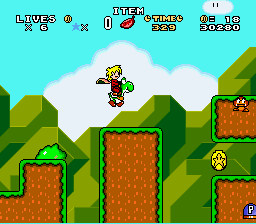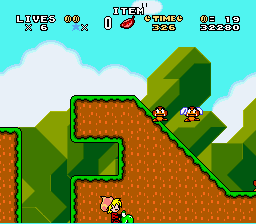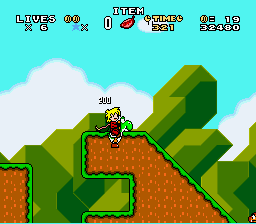 Not sure what's going on here. Apparently some of those ground tiles aren't solid for some reason?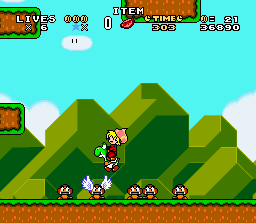 There's am absolute ton of slowdown going on here, what with all those Goombas processing at once.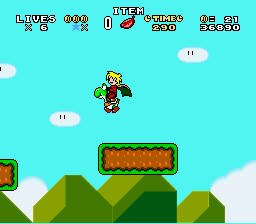 As somewhat of a counterpart to the non-solid ground, here we have some unnaturally solid sky. If you want a ceiling to your level, there are more graceful ways to do it.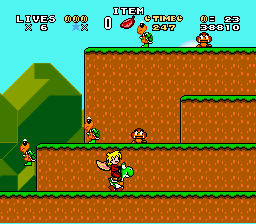 More slowdown.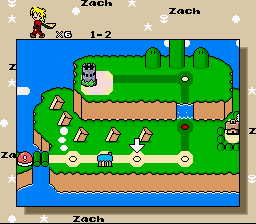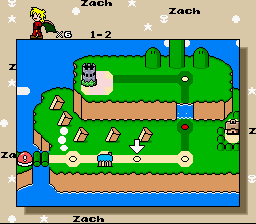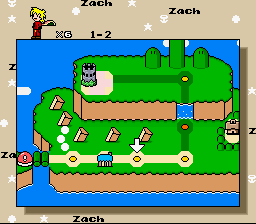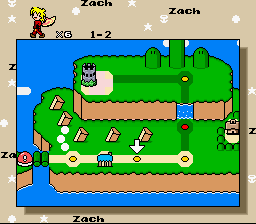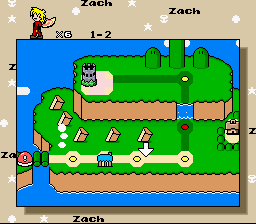 This event just looks strange. It's as if the game can't decide whether it wants to have dirt around the level or not.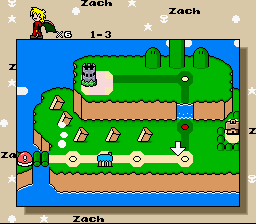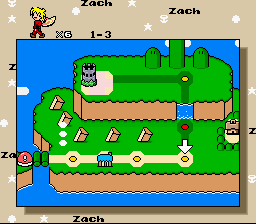 And I'm not sure what is going on with your overworld paths; the player stops just short of level 3, but then kind of teleports to end up on the tile properly.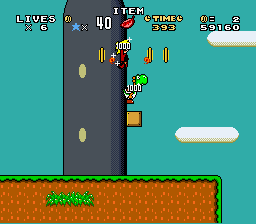 Getting a fire flower seems to automatically fire two fireballs away from you. This would be fine, if it weren't for the fact that it makes me unable to get the powerup without Yoshi getting hit by them and running away.
As you may or may not know, the rightside-up Piranha Plants actually were never completely finished, which is why you don't see them anywhere in the original game. You may have noticed that they have red stems, instead of the usual green ones: this is because they store the palette data for the stem tile to the wrong address, which can potentially mess up the tile properties for another sprite on screen. Long story short: you should apply the fix patch.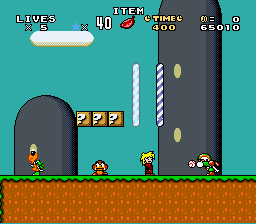 The midway entrance in this level starts you out here, which will most likely get you a baseball to the face unless you react quickly. Also, having a midway point in a level that's based around exploration to get all the coins seems a bit (it you'll excuse the pun) pointless.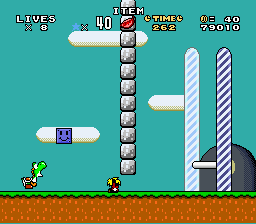 Which brings me neatly to the main reason for removal: it would seem like the block you used to make sure that the player can't pass before he has collected all the coins just doesn't work. No matter what I did, I was unable to get past it, and as such, I couldn't continue playing the hack; the screenshots after this one are just stuff I found while playing around waiting for time to run out.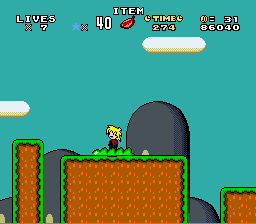 It would seem like this type of bush doesn't really agree with your player graphics all that well.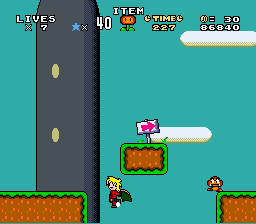 And finally, here's me walljumping off of... thin air... somehow. Speaking of the walljump, it seems kind of pointless; I didn't see a single place in the hack where it could be useful, and I literally didn't realize that I had the ability until this little incident. If you are going to give the player new abilities, make use of them in your level design; having custom stuff in your hack means nothing if it isn't implemented well.
---
Quite a bit of things to fix up here, most of which should have been caught during the testing phase. Seriously, how could you not notice that the third level is literally unbeatable?
On a side note, that's 100 hacks removed during my career as a hack moderator. Yay?
--------------------
My YouTube channel
Get the official ASMT resource pack
here
!