Hack Name: A Nova Aventura de Mario - 252.4 KB - 73 downloads.
Length: 11 levels
Author: bxcz - Submitted by: bxcz
Description: Esta hack é brasileira
Reason: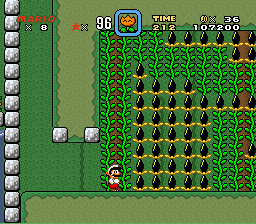 fuck no.
Please read the Hack Submission guidelines before you submit stuff like this, There are few other issue with this hack, like cutoff tiles, ground not visible on the screen (ex: title screen) and unfair invisible block jumps like the one in the beginning, but this took the cake.
Layout by LDA during C3.