NAME:
Mario In: Mad World V5.5
AUTHOR:
soulreaper3397
DESCRIPTION:
V.5.5
_________________________________
Bowser has invaded and destroyed the Mushroom Kingdom, Mario, go get the Crystal Skull to reverse time and stop this madness!
_________________________________
-Moderators This is my hack, I tried to submit it three times, first try, the IPS. patch was messed up, second try, I had glitched up graphics, now that I am done with all that, I am pretty sure everything works, IPS. Patch, bugs are gone, and I tested it four times, someone asked if this was even my game, well of course, I am not a idiot, Owen is my real name, and Romhackers is my youtube name, so I put SoulReaper3397 up there to, and if you actually finished the game before, you would have seen my name in the credits, this game took about three months to make, so enjoy! -SoulReaper3397 -Owen -Romhackers -The Christmas Reaper3397
---
REASONS FOR REMOVAL: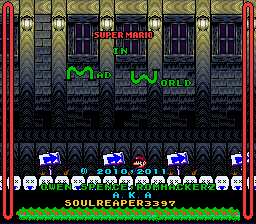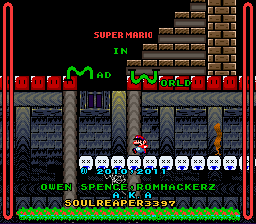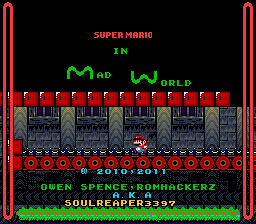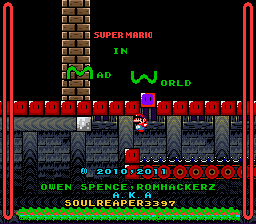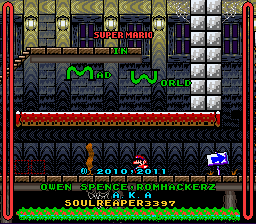 Okay, let's start with the obvious. Your custom palettes are, to be honest, really bad; the colours clash horrendously with each other and generally don't look good. Most of SMW's graphics are made to work with gradient palettes, not just random colours thrown together.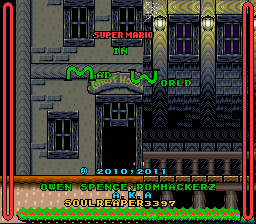 That's some pretty blatant cutoffness going on there with the ghost house entrance.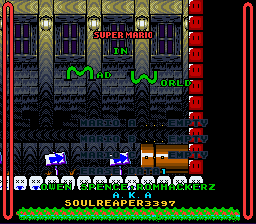 More bad palettes, but for a different reason: the text is nearly unreadable.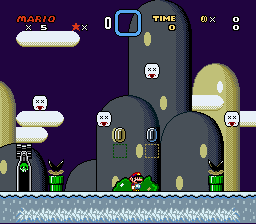 And again. The munchers' stems look inverted, and the skulls on the cannons are partially green for no discernible reason. And to be honest, I'm not really a fan of your edited cloud graphics either.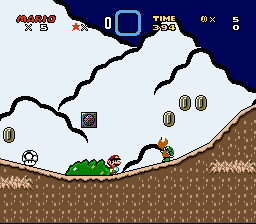 The clouds in the background have way too thick outlines, and just about everything apart from the ground has its shading lighter than the rest.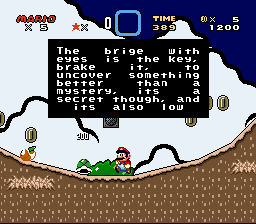 No offence, but if you are that bad at English, you really need to find yourself a proofreader. I can barely tell what any of the messages in this hack are supposed to say. This issue is prevalent throughout the entire hack, so I won't bother with posting screenshots of all the messages.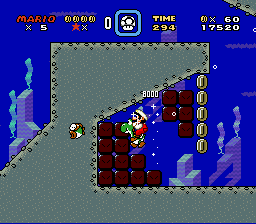 Collectable blocks just seem weird. Why don't you use the P-switch coins instead?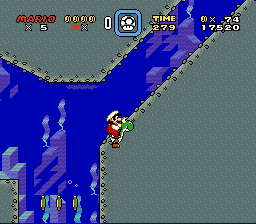 If you connect a slope directly to a vertical wall like this, Mario can pass through the corner into the wall.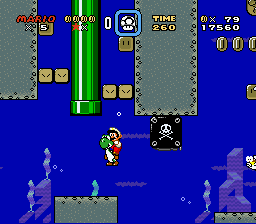 Yet another case of a messed-up palette; this time, the victim is a pipe.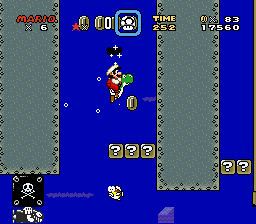 And yet again, palette changes making text completely unreadable.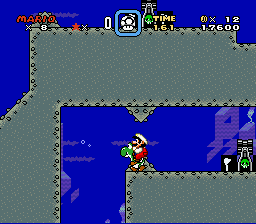 The bones just look
terrible
, and Mario can walk through slopes placed like this..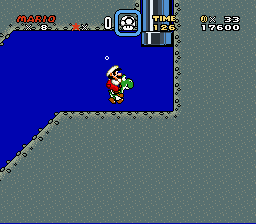 *sigh*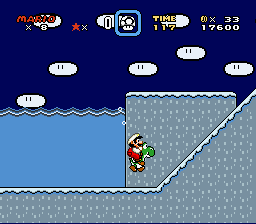 Well then this just doesn't make any sense. Don't place water against non-solid surfaces, because falling out of the water like this is just weird.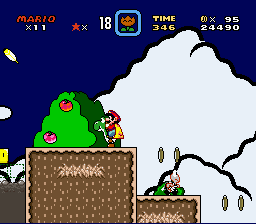 In addition to the cloud outline already pointed out, that Koopa looks spectacularly bad.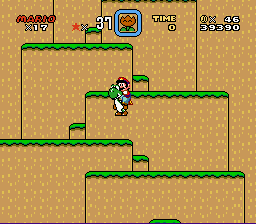 ...is this supposed to be a joke or something? The level contains nothing in the way of enemies, challenges, or rewards other than the goal: it just consists of jumping up x screens of more and more convoluted hills. Add some actual gameplay, will you?
Well, it does have one trap at the end: if you try to walk undernath the pipe with anything other than small Mario, you get crushed and die. Not the best of designs.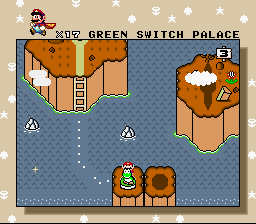 More of a nitpick than anything else, but the switch "palace" doesn't collapse when you beat it.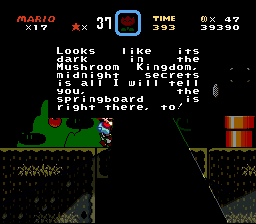 Using spotlights and message boxes together creates strange effects like this one.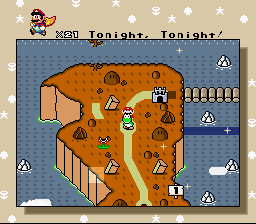 The path for this event could hardly have been revealed in a more incorrect order.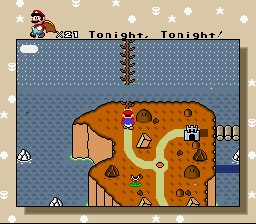 And it doesn't even reveal all the tiles it should, causing cutoffness and general strangeness when Mario climbs a non-existing vine.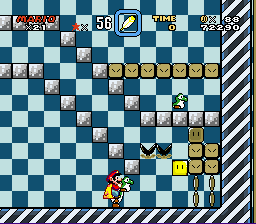 Three of the main removal reasons for a hack, together in one screenshot: glitched graphics, bad palettes, and floating munchers.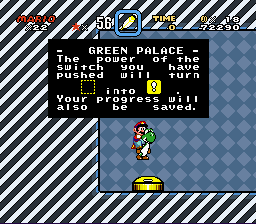 To reuse one of my older responses in a slightly changed form, that's the yellowest green I have ever seen.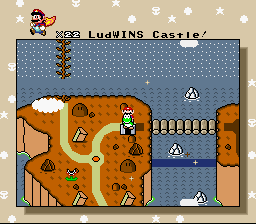 Why are you using the italicized exclamation mark instead of the normal one?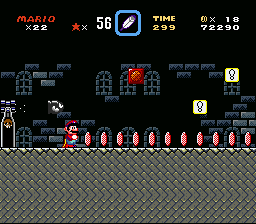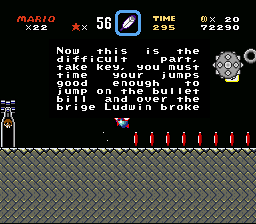 Layer 3 background + message box = no more layer 3 background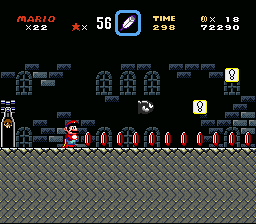 Also sprite memory issues.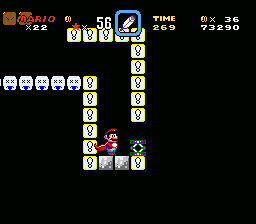 Mind telling me why the springboard has a green outline?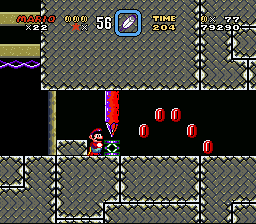 ...okay, that wooden spike palette has got to be one of the worst palettes I have ever seen.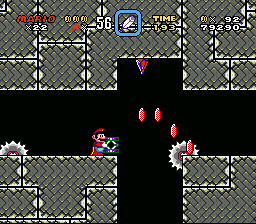 I encountered a bit of slowdown here.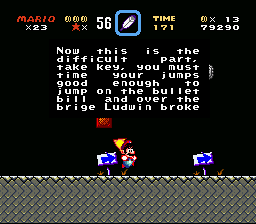 This message is the same as the one at the very start of the level. I assume this wasn't intentional?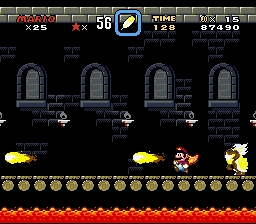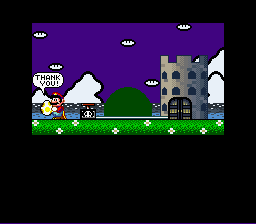 ...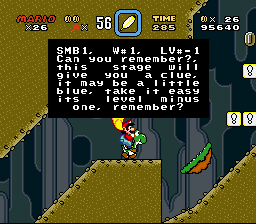 ?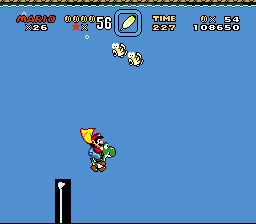 ...of all the things from other Mario games you could possibly do a remake of, you chose the Minus World from the first Super Mario Bros. Do you really think that twelve screens of swimming above Cheep-Cheeps is fun?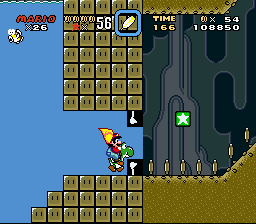 yay cutoffness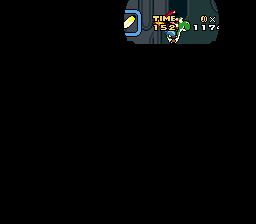 This is why you don't put a goal tape in the upper part of the screen.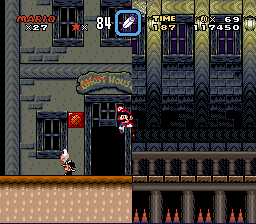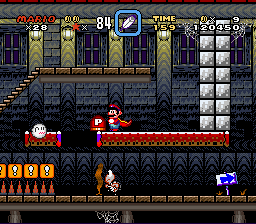 Oh hey it's the title screen level. And it seems like the bad palettes and cutoffness are still present and accounted for.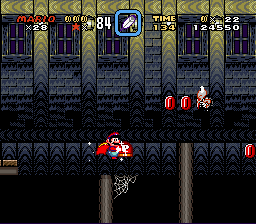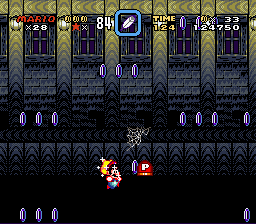 So first, coins indicate safe ground, but later, they don't? I would hardly call that fair. Also cutoffness.
And while we're on the topic of fairness, I really am not a big fan of "puzzles" where you have to guess where to use a P-Switch without any indication whatsoever.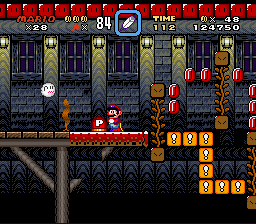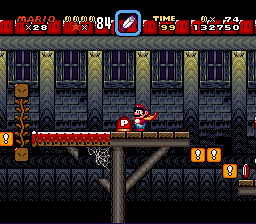 More cutoffness.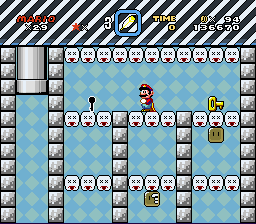 A keyhole in the bonus game? I didn't get to this place until the ghost house, which is lucky, because getting here in a level without a secret exit could have seriously messed up the events.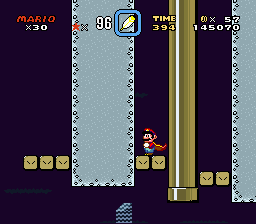 In the escape section, I fell down here and got stuck. Please make sure that spaces like these are blocked off; having to wait out the timer is never fun.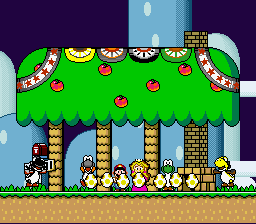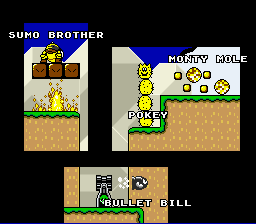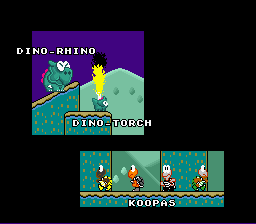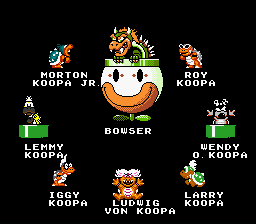 And finally, we get to see how beautiful the credits look with the new palettes.
---
Your level design is fairly decent with a few exceptions, but if you haven't gathered so already, you
really
have a lot to learn when it comes to creating custom palettes. Might I recommend checking out
this thread
for some examples?
EDIT: fixed broken images
--------------------
My YouTube channel
Get the official ASMT resource pack
here
!