NAME:
Super Mario World 3 v1.1
AUTHOR:
Zanetune
DESCRIPTION:
*Note* this hack is a demo, so its not finished. Any way this is my first hack so please tell me what to improve. thanks.
---
REASONS FOR REMOVAL:
The hack started out fairly promising, but quickly degenerated into more or less obvious edits of original levels.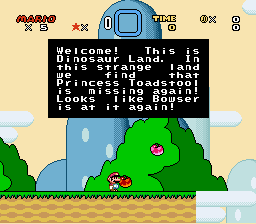 We start out with some cutoffness in the intro level. If you edit it, make sure to set it back to only use one screen, or this will happen.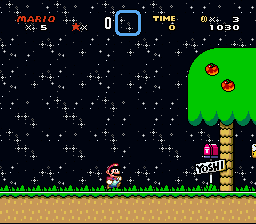 If you are going to use the original credits sequence, you might want to move Yoshi's House back to screen 0, or the "THANK YOU" banner will just be floating in mid-air. On the same note, I hope your background doesn't overwrite the graphics of aforementioned banner.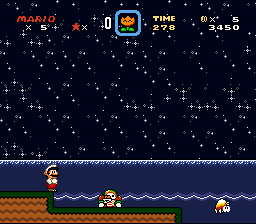 Sprite buoyancy wasn't enabled, so the poor little fish just falls to his death. D: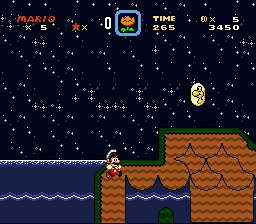 Very few hacks nowadays seem to avoid this entirely: connecting a slope to a vertical wall like this allows Mario to walk through the corner. Also, that tile just to the upper right of the water is cutoff.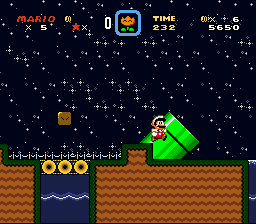 And the same thing happens again here: since the ground connector tile is missing, Mario can just walk through the pipe like this.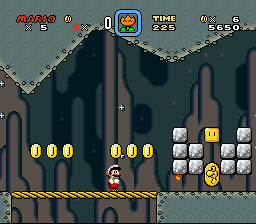 For being in the first level, this feels strangely familiar...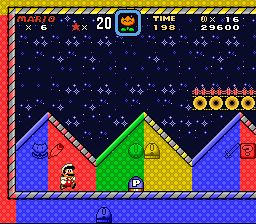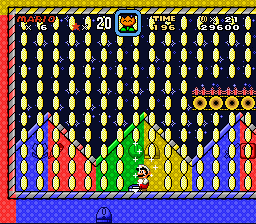 And this even more so. Seriously, just changing the graphics of a level doesn't make it new and exciting.
Also, why is the P-Switch music just one single echoing note?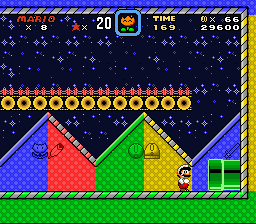 Also, the pipe and bridge railings look pretty odd, and there's some minor cutoffness going on in the bottom right corner.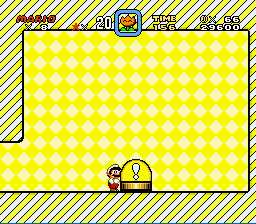 You might want to tone down the brightness of that background palette just a bit.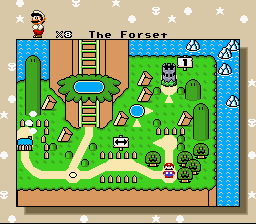 That should be "forest", shouldn't it?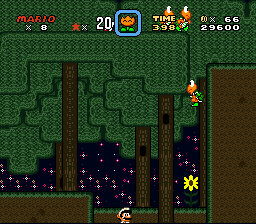 I really don't like when people use the same graphics for the background as the foreground. The lower ground looks perfectly safe to walk on, and yet, Mario just falls through it.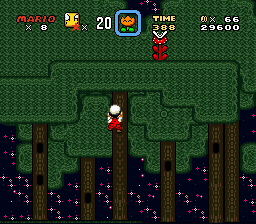 And it's not exactly entirely obvious that you can climb some of the trees. A message box to explain this fact would be nice; in fact, some messages that are edited at all from the original ones would be nice.
On another note, you might want to apply the fix patch for the Classic Piranha Plant if you are going to use it; it has a glitch associated with it that has a slight chance of messing up one of the other onscreen sprites.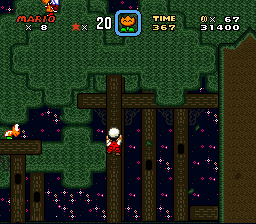 Those leaves look kind of strange just floating there like that.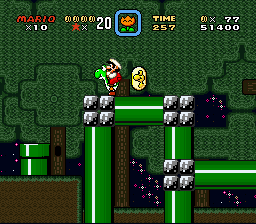 Cement blocks don't really work as pipe corners. You have proven yourself capable of using custom graphics, so why not use some for this as well?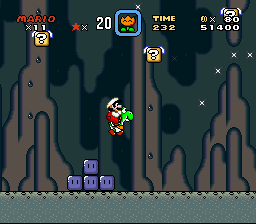 Rooms feeling familiar is one thing, but completely unedited ones is something else. It just shows complete laziness on the creator's side.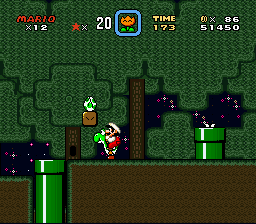 What's with all the Yoshi blocks in this level? This is the fourth one in about twice as many screens.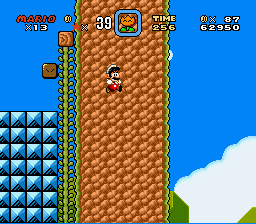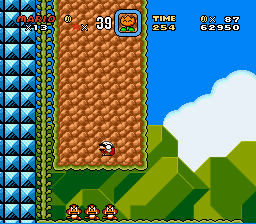 I was trying to take a shortcut, but fell down here instead, and now I have to wait out the timer to escape. Please block off the top of your landmasses.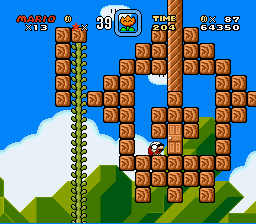 Passages like these are pointlessly annoying as big Mario.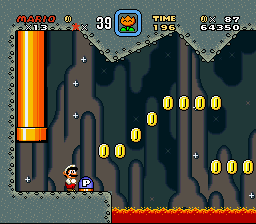 It may not be completely identical to the original bonus room, but for all intents and purposes, it might as well be. Use Ctrl+Del before starting to edit a room, and everyone will be much happier.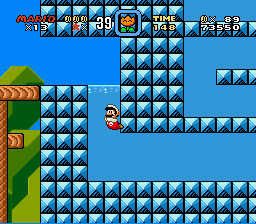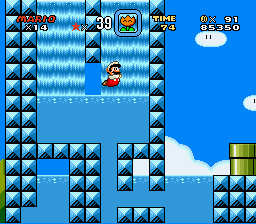 I didn't notice this earlier, but your water doesn't animate at all. The frozen waterfalls look particularly strange.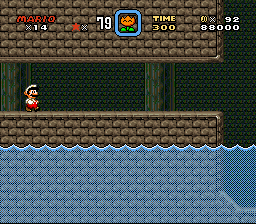 Just wanted to say that this tileset clashes horribly with the graphics used in all of your other levels.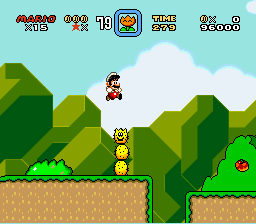 ...and yet another unedited bonus room. Why do people keep these in their hacks? D: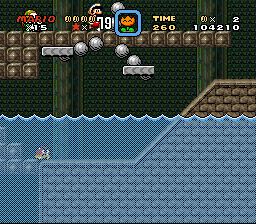 Badly set sprite memory settings made part of the rotating platform turn invisible.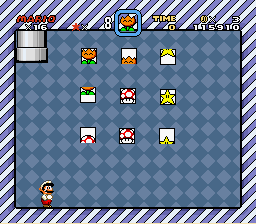 ...why does the bonus game play boss music?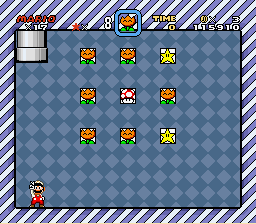 And why does it play underwater music when I have finished it?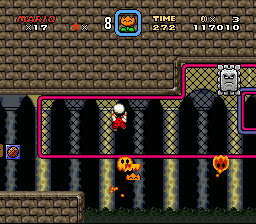 Garbled Podoboo, most likely (again) due to bad sprite memory settings. Also, the palette of that lava could be better in so many ways.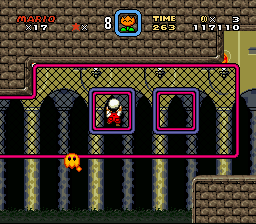 These grates don't work, since it appears that you forgot to place the sprite. Then again, they would have been kind of pointless even if you could use them.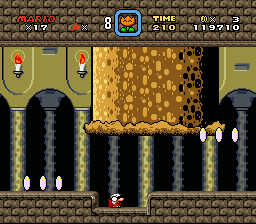 Everyone who has played Super Mario World at least somewhat recently will recognize this as a carbon copy of the second room of Iggy's Castle, and using a different tileset does nothing to change that fact.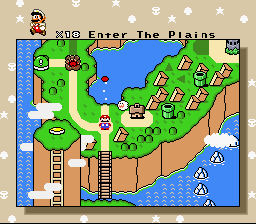 Given how this level doesn't have any enemies at all, and how everything past it is either completely unedited or in a similar state of incompleteness, I feel fairly certain in assuming that the castle was supposed to be the end of this demo. So why did you leave these levels after it accessible at all?
---
For being a first hack, this was surprisingly non-completely-terrible. The levels that were actually new were fairly all right; however, the barely edited ones and the ones not edited at all really brings down the quality of the hack.
--------------------
My YouTube channel
Get the official ASMT resource pack
here
!