Hack Name: Nostalgic Mario - 173.5 KB - 25 downloads.
Length: 7 levels
Author: deedeedeechu - Submitted by: deedeedeechu
Description: Mario takes a vacation and decides to go around. He goes to a goomba house and the goomba was not too happy. But Mario thought it was a happy place. And later he has to cross a bridge. But the guard won't let him. And mentions something about the "power of nostalgia."
IN this hacks:
custom FG's
custom music
custom sprites
2 blocks
And more becuase I think I missed some.
---
I hate to reject this hack again, but you really should fix these few things.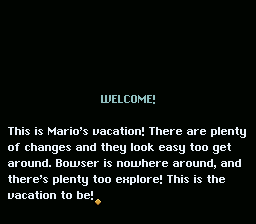 Overuse of the word 'around'.
Also, 'This is the vacation to be!' doesn't make any sense.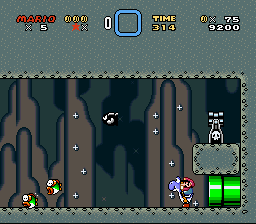 Bad corner tile.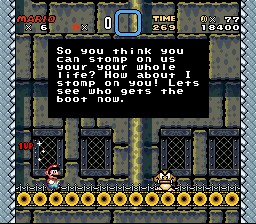 'your your'
*Let's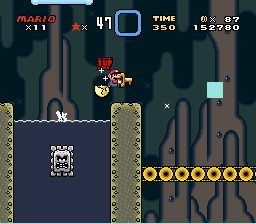 Dragon Coin placed on sub-screen boundary. It gives me many lives and screws up the background. <- Basically the only reason for removal.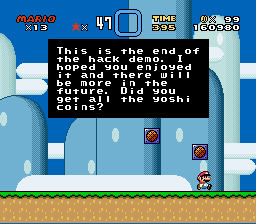 *Yoshi Coins
Nothing THAT wrong with it, but it's a pretty short demo, and that Dragon Coin glitch is fairly bad. Some of the level design is a tad boring/plain. In later levels, try to mix it up will more slopes and stuff. Custom palettes are never a bad idea, either.