Gave the barks more flexibility (corner tiles 'n' stuff) and improved the platforms a little. That's really all there is to the foreground, minus the decorations I guess. I'll see what I can do about the BG tomorrow perhaps.
Also, does the bark look overly "sketchy" compared to the platforms? The thick and uneven lines, I mean... Removing them would make the whole thing clash a little less, but definitely also take away some of the, uh, wooddenness.
What do you think?
Oh, and @Slit08: I'll probably be using Pitchin' Chucks, Grinders and the like, in a creative way (hopefully). No real gimmick other than that, I suppose.
--------------------

I kinda like the look there! The actual tree is all rough and natural looking, but the platforms are smooth and more clearly man/rat made. Though, it definitely does stick out from the rest of the sets in the hack, with probably the exception of Edit's snowy foreground. I think it's passably close enough, personally, and certainly don't think it looks bad.
Remember, a gimmick doesn't necessarily have to involve ASM (as I said in SyStemkraSh's thread). As long as you can use the vanilla sprites in a cool way, as you claimed, that's good enough for me and most likely everyone else.

As for the graphics .. it's hard to say, honestly. I actually feel that the thick/uneven lines make the set completely different from your exterior graphics, which could potentially lead to clashes. I'd almost like to see it without the YI-styled "bounciness", I think (or at the very least, in-action).
You say grinders, maybe, as tree's are wood, the grinders should be able to cut through some of the house, for a puzzle maybe.
Alright, here's what the whole thing would look like without all the unevenness. (Really quick and dirty, the shape is all that matters here.)
And if you'd really like to see it in action already,
go ahead (enter the treehouse)
. Be warned, however, as the graphics aren't final and the tile behaviors are all over the place.
I feel like I'm acting a bit strange today... probably lack of sleep. I'll continue tomorrow.
--------------------

Originally posted by TOS
You say grinders, maybe, as tree's are wood, the grinders should be able to cut through some of the house, for a puzzle maybe.
That's... a really good idea in my opinion. It reminds me of that one level from Galaxy 2. However, there is no reason that WhiteYoshiEgg needs to put in an ASM gimmick unless he thinks that it would add to his level, and that gimmick sounds a little bit complected.
It's not to complicated, all you need is
this
block by MarioEdit, and set the sprite for it to shatter as the grinder sprite.
You may want to use a 16x16 block as the shattering block as it will create cutoff if your not careful.

This one
is most likely better. It's made to be used with Grinders and may contain some tweaks MarioEdit's block lacks.
--------------------
<blm> zsnes users are the flatearthers of emulation
Frankly I'm not too sure how well that would fit in considering I intend the level to be more action-based... we'll see about that one later. Anyhow, thanks for the suggestion!
Also, GFX yet again.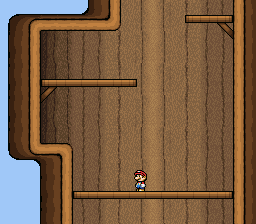 The barks don't look too shabby with more even outlines, and the old background actually fits quite well - I guess everything worked out.

I still might tweak the palette a bit though, since the background looks a little... dominant at the moment. Not too big a problem though.
(Also, in case you're wondering: That blue sky is actually a solid color on layer 1. I'm trying to avoid using layer 2 as I'm afraid it'd cause quite a lot of slowdown).
--------------------

A lot better than the original one you showed earlier, looks better without the thick bold lines.

To me, the BG look like it's coming out towards Mario, so maybe reversing the BG palette would give it a more round house effect. Although it may just be me.
Originally posted by WhiteYoshiEgg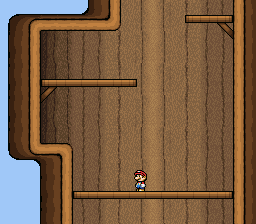 This looks really great. The only thing that bothers me slightly is the rotated tree graphics. the growth to the left on the tree seems abnormal, I think it would look more natural if you created some sort of "stump" graphics for the side of the tree.
Here's a photo that hopefully helps bring my idea across.
tatanga
You do have a point... However, I plan to make somewhat excessive use of these rotations, to an extent that I believe can't even be justified with branches anymore. I think it's easier to work with without these extra tiles, honestly.
Also, might as well show how the graphics are coming along.
Link
Right now all that's there is the tree "walls", the platforms, the leaves, a little HDMA gradient and the background obviously. I'd greatly appreciate any suggestions on what decorations to add to the inside. Might something like barrels work?
In other news, I'm slowly starting to plan out the level design. I've even started building a small fraction of the tree part, but didn't really like what I made so I scrapped it for now. (It definitely was better than anything I could have made using the old tileset though, so that's a plus.)
--------------------

Allright, since I often tend to give suggestions concerning graphics and visual style I might as well give you some ideas for decoration:
1.) Barrels are always good and should be inside the treehouse.
2.) Furthermore there need to be some lamps inside the tree cause we need something to lighten up the inside of the tree (if you want to argue with logic in a Mario game xD). If you want to be super awesome you might also consider to animate the lights of the lamps.
3.) Maybe you can add saws as decoration.
4.) Also some pelts/ furs hanging on the walls or lying on the ground.
5.) One further suggestion would be to consider adding longer branches with big leaves.
As a BG you might want to use Supertails' once he finished working on it for his world 2 level; so that might want to wait.
Overall it looks very nice.

Alright, I got about half the level done I suppose.
Link
Pay no attention to the glitched Chuck GFX and the lack of decorations for now - what I'd like to hear opinions on is the design itself. The difficulty in particular - I tend to make my levels on the easy side, so I'm as unsure as one can get whether the difficulty is appropriate or not.
Also, does the level feel a tad empty, or is it just me? If it is, I hope adding decorations will help that... I can't really add sprites because of apparent sprite memory issues (some sprites are already not spawning sometimes for some reason, I'll look into that) and slowdown perhaps.
So yeah, feedback is greatly appreciated.
--------------------

Now that I've seen the graphics in action, I can safely say that they
do
work well. I really like what you've done with the interior area, though I have to agree that it's a bit empty in terms of both sprites and decorations. I'm not really sure what you could add that would make it more .. busy, but I'd definitely think of something. Architecture-wise, it seems great.
One minor complaint in regards to the first section:
-I'd swap the location of the SMWC coin and the four coins to the left there so it's a little more difficult to get.
Also, I don't know if you've had any major ideas for the second half yet, but I had a couple of things in mind if you were stumped:
-Have a vertically autoscrolling section with two trees that you have to constantly jump between (something akin to Ripsaw Rage from DKC3, I suppose).
-Incorporate the vertical level wrap and design a section around that concept.
-Someone earlier in the thread mentioned using Grinders and the "wood" blocks (that can be cut through). Perhaps a set-up involving those could prove to be interesting?
These are just a few ideas, of course. If you already had something else in mind, then by all means carry on!
Thanks for the comment - I'll see what can be done about the "emptiness". (Any further comments regarding that, people?) Also, I take it the difficulty's about right?
Well, for the second half I was planning to do roughly the same thing, except with added vine-climbing and a couple of Grinders - we'll see how that works out. If I run out of scenarios to build with those, vertical auto-scrolling and Grinder-sensitive blocks will definitely be something to consider.
On a side note, I figured it would be a good idea to have the level name reflect the "climbing" nature of the level. How does "
arboreal ascent
" sound to you native speakers? Personally I'd love to use less uncommon words (I had to look up arboreal, and never used ascent so far), but this will do if nothing else will. (Hm, "autumnal ascent" perhaps? Those two words don't go together that well though...)
--------------------

The level itself is fun to play, but like SNN said, the tree does seem a bit empty.

I said earlier about Grinders, and SNN said a vertical auto-scroll section where you have to move from two trees. Maybe the grinders could cut out openings to each tree, making it slightly trickier maybe?
It is way too empty. However, I did like the sections with the Cuks. You could not reacht he Chuck but had to watch out for his baseballs. That was great level design.
However, I wish to see an update WYE!
How exactly do you feel it is empty? If it's a lack of enemies, I don't think I can help it. Decorations, however, I definitely will add. See the small bunch of leaves in the lower right corner? I'm going to put those everywhere, as well as a layer 2 (and possible layer 3) background behind them. Interior decorations too, though so far I haven't had much success at drawing them.
I'll get back to all this when the outside forest background is finished, which should be no later than tomorrow.
--------------------

Forum Index - Events - Super Mario World Central Production 2 Completion Project - World 2 - 010: Arboreal Ascent - WhiteYoshiEgg