Hack Name: Outrageous Mario World [Demo 4.4] Demo - 164.2 KB - 30 downloads.
Length: 11 exits
Author: AnybodyAgrees - Submitted by: AnybodyAgrees
Description: I have a confession to make. There were 2 demo 2s. This is really demo 4. This is Demo 2.3 with the following added:
Custom Music
New title screen
1 new level
Changed palettes in some levels
A new custom sprite
Works best on ZSNES.
Reason for removal: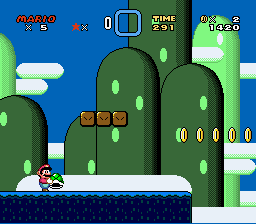 I suppose its just my opinion, but it seems to be a bad palette choice.
Yu really should ex-animate these blocks to actually turn into coins when the p-switch is hit.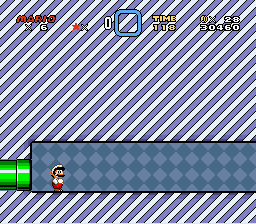 Cut-off near the back of the pipe on the walls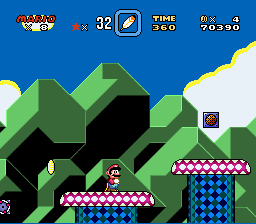 Once again, bad palette choice
Its impossible to see where your going because the screen does not scroll up. With a hex editor go to 07A78 and change it from D0 to 80 to activate free vertical scrolling. This will bypass the routine that checks whether Mario is standing on solid ground or not (RAM address $72) and sets the scrolling flag accordingly. The camera follows Mario instead of waiting for him to land on something.
Move your level tiles over to the left a bit, it looks ugly next to the screen boarder like that.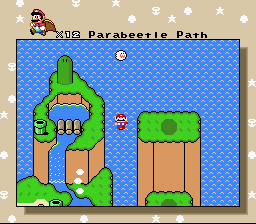 MARIO! Your......FLYING! (also, at least put a "end of demo message in here somewhere.)And, its a red level tile, but only one 1 exit...
Overall, its kinda getting better. The level in the last screenshot is almost impossible without a cape and you should never assume the player has one.
Also, I'm not sure whats up with the music selection you have, but its hurting my ears. You need to fix what ever issue is going on with it.
Layout by LDA during C3.