Hack Name: Mario World Super: Yuri's Hack (Demo 2.1)
Length: 32 exits
Author:
Yurelvis123
- Submitted by:
Yurelvis123
Description:
This is my first serious hack. I'm not very good with overworld, so it's unchanged.
To the MODs: Please delete the other one that's waiting to be moderated. I fixed some bugs and added some bosses in this version.
To everyone: ONLY WORKS IN ZSNES 1.36 OR HIGHER! Music don't work in Snes9x and the game itself don't works in bsnes.
----------
Reasons
----------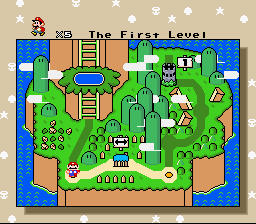 The clouds on the overworld have a glitchy frame or two. You might want to revert their graphics back to normal.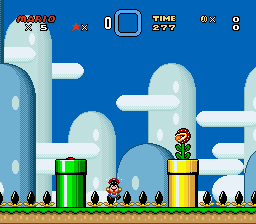 This is the first level. It took me at least a couple minutes with tools to get past the first couple of screens. Tone down the difficulty please!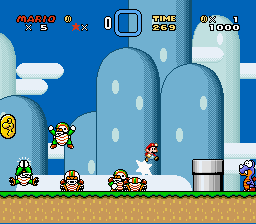 Slowdown from all the Chucks here.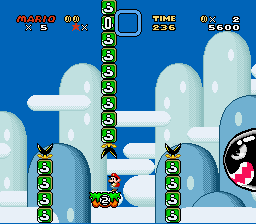 You could just draw or get graphics for hurt blocks instead of using these ugly ones.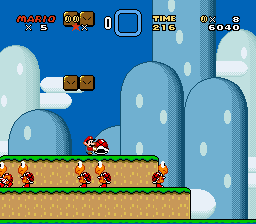 Some more slowdown here.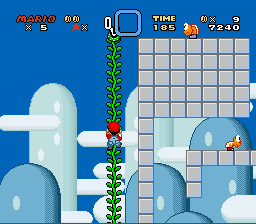 These blocks look ugly mostly because they have a gray outline and don't match the other graphics' styles. You know how to use YY-CHR, right?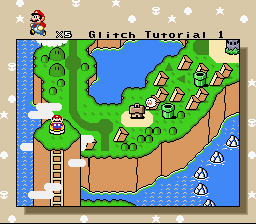 This doesn't sound good.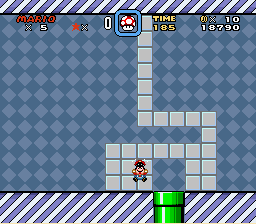 Glitches shouldn't be needed to advance through the level. I know this is an optional level, but this screen here is like the whole level. Plus there is some cutoff next to the pipe.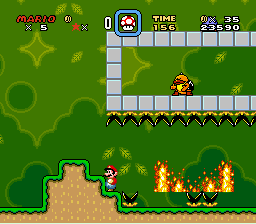 Sumo Bros' fire doesn't like uneven ground. Just take out the munchers on the ground or make them flush with the ground.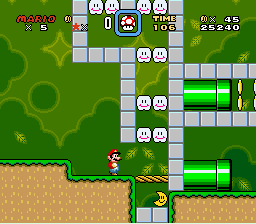 Minor cutoff with the rope by the corner piece. Also, I never found out how to get that moon. D: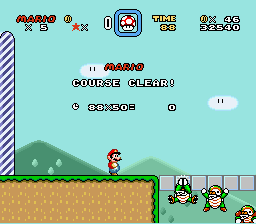 It's nice to have an applause after completing the level, but the sounds the Chucks make are really annoying.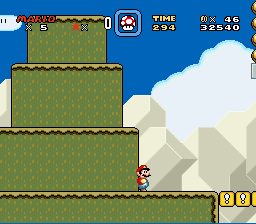 This level seems like a rehash of Yoshi's Island 3. Ctrl+Del will delete everything so you can start creating a level from scratch.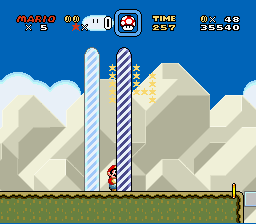 This leve was also incredibly short. It took me 43 game seconds to pass the level while scrummaging around to find problems.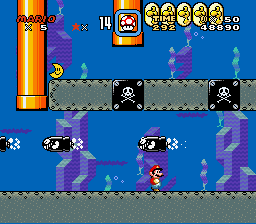 Some minor slowdown here with all the torpedoes.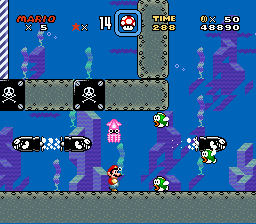 This is still world one. You tell me how I am supposed to get through here without getting hit.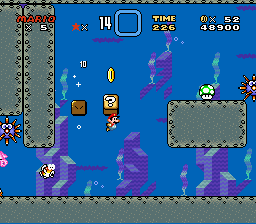 Some more slowdown.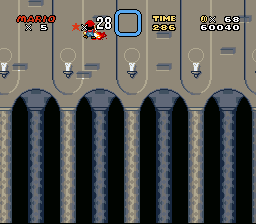 *remove this*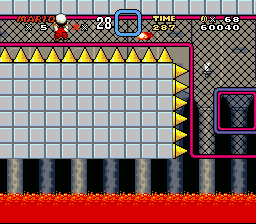 Again, tell me how I'm supposed to dodge this fireball. The screen autoscrolls me into the flame, and there is nothing I can do.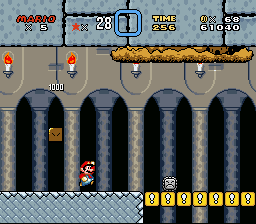 Why is the second room in the first castle always an autoscrolling smasher level? D: Ctrl+Del please! The first section of the level was already autoscrolling, there shouldn't be another.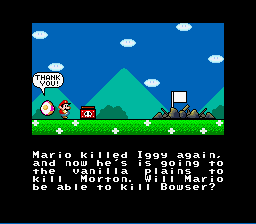 The palette on the egg is bad.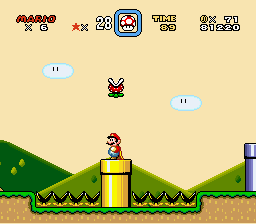 The palette on the piranha plant is bad.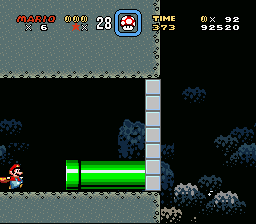 Fast autoscroll = no. There are two reasons why it shouldn't be used. First being that you can barely see what's coming in front of you.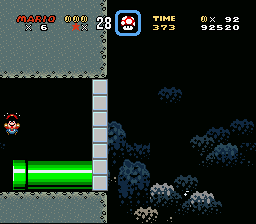 Second, if I don't push right here, I die. Just don't use the fast autoscroll.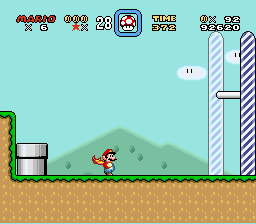 This level was also really short. Probably because of the fast autoscroll.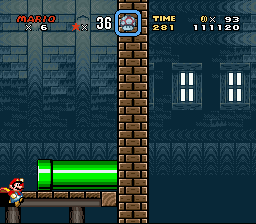 This jump is really hard because of the stupid fast autoscroll. Why do you keep using it, man?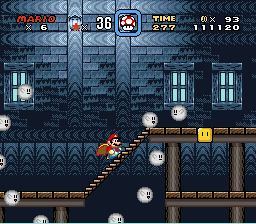 This level seems familiar...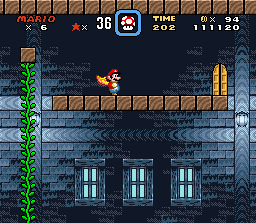 Ah, it looks like Donut Ghost House. Ctrl+Del is your friend!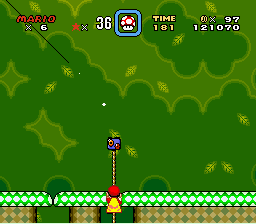 Sometimes Mario falls through the ground here when he is holding onto the rope. I don't know how you can fix this; I was just sharing.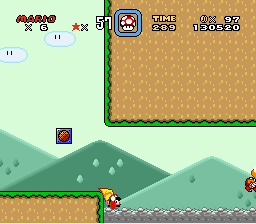 Invisible floors are dumb too. It's a game of trial and error: if I guess wrong, I have to start over. Guess right, and I have to guess again. At least have coins over the invisible blocks.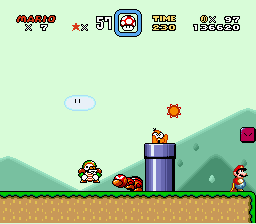 The palette on this block isn't the best.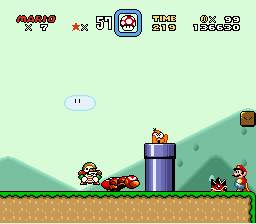 The palette on the spinies are bad too.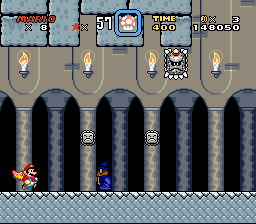 This level looks similar to Morton's Castle. I suggest Ctrl+Del, it will help you create new levels from scratch.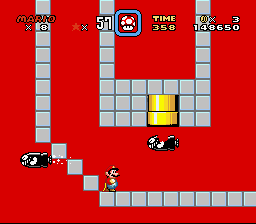 You can't see the torpedoes until the are about this far out. They got me the first time I swam past.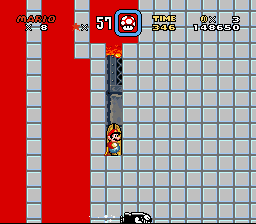 A little slowdown here for some reason.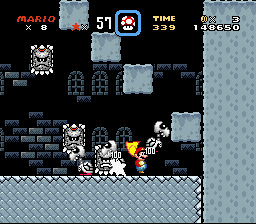 And here.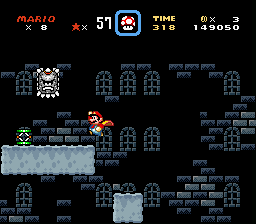 The Thwomps are nonexistent to the player until they fall on his head. I suggest placing some kind of warning sign under each Thwomp.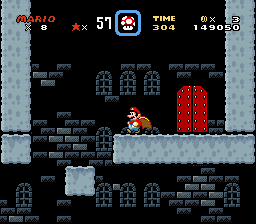 It questioned me: Why do you have a Layer 3 background if you didn't even use Layer 2? I think it's because you just edited the original level instead of using Ctrl+Del.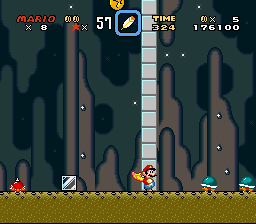 I can go through this wall for some reason...?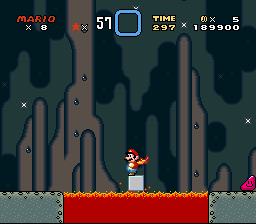 This level gives off a Chocolate Secret vibe.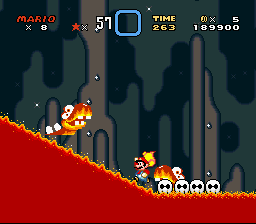 This is why Blarggs shouldn't be on sloped lava. They get cutoff like this.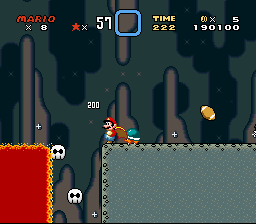 A bit of slowdown here.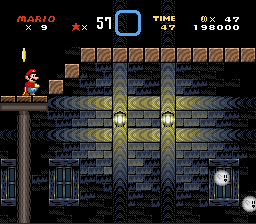 Notice the P-Switch I am holding? Oh right, you can't because it is gone. Check your sprite settings in this room; a lot of sprites tend to disappear.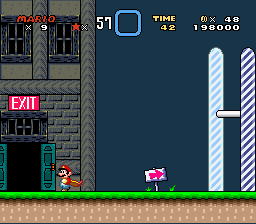 *remove this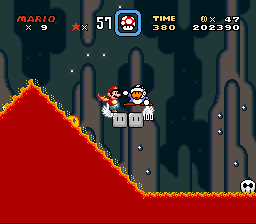 Some slowdown here. I think it has to do with the jumping fireballs.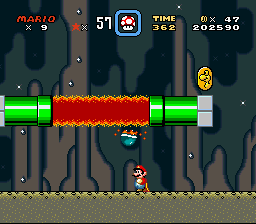 When I throw a Buzzy Beetle into this lava, it glitches out. Try it yourself and see what I mean.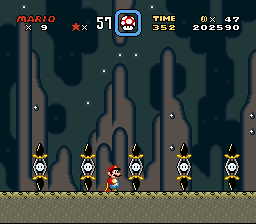 Boring little jumps around munchers. Not the best level design.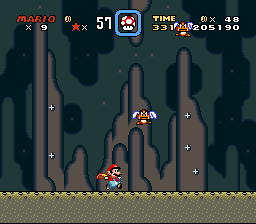 Also running forward forever after watch Goombas fly over my head. Level design is key!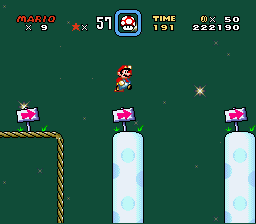 The corner of the rope is glitched, and the grass from the arrow sign is cutoff from the white columns.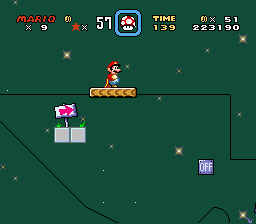 I think I pressed the speed up button in my emulator several times throughout this line ride. There were barely any enemies. D: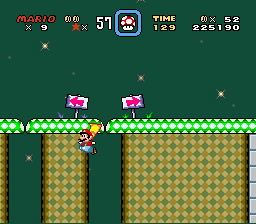 For some reason I can fall through this block, allowing me to fall to my death.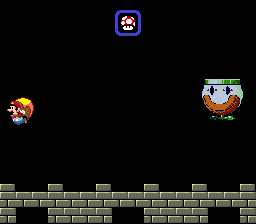 In this flying frame, Mario makes a derpy face (probably a palette problem).
----------
This hack does not pass the
Hack Submission Guidelines
:
Quote
2a) Blatant level edits will not be accepted.
Use CTRL+DEL to remove old SMW levels. (104, C5, C7, and 3 are exempt from this.)

3) No graphical glitches!
Errors such as garbled sprites/FGs/BGs, message box text screwing up layer 3 items, floating/stacked/cutoff tiles, and general graphical ugliness are frowned upon. Also, don't forget about glitches such as sprite memory issues - the graphics of the sprite will 'disappear', but the sprite will still be there, and can unfairly hurt Mario.

7a) Keep it fair, and keep the hack at a legitimate difficulty!
i.e. Avoid things like death after the goal, blind jumps, forced damage, excessive enemies, places where you can get permanently stuck, excessive 3-UP moons, glitch abuse, projectile sprites (like Bullet Bill) placed directly into a level instead of using the correct shooter/generator sprite, etc.

9) Quality level design
Your hack has a much higher chance of being accepted if the level design is fun. Conversely, if the level design is found to be lacking then a little cutoffness may be enough to push the hack into deletion.
----------
Have a nice day.