**( Go to the latest page for updated GFX, levels and more )**
The title used to be Super Happy World but since so many hacks have super or world in their titles I decided to make it more original. I've redone practically the first 2 worlds(demo areas)and the demo should be released soon, not that anyone probably cares as better hacks are coming out soon. here are some pictures of the first 2 levels...
EDIT: THESE ARE OLD GFX
Level 1...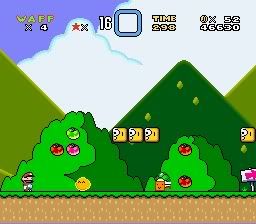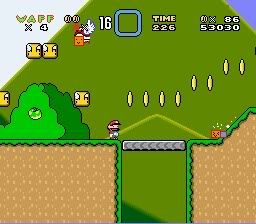 Level 2...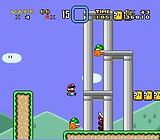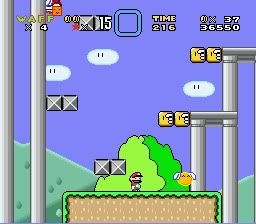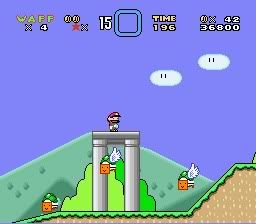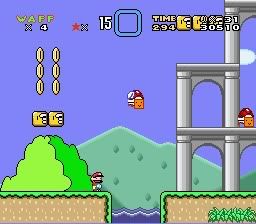 Apparently this WAFF guy is Mario or something. And the pallete for his name in the status bar is ugly.

--------------------
Good fucking bye.
Originally posted by hotsos120
... not that anyone probably cares as better hacks are coming out soon.
Don't think like that :/. Someone will play your hack, I mean it's not like it's spammed full of munchers or something.
Actually, I think what you've got so far looks quite decent, I see you've made some graphi edits which is good.
There's a couple of problems though. I think you might need to change the status bar palette as it looks a bit weird. Also I see a red pirahna plant coming out of the ground. If you haven't used the patch for it, the game can mess up, also it'd be better coming out of a pipe.
Fix these things and it'll be better. Good luck with working on it.
When you take screenshots with ZSNES (I assume that's what you're using), save them as .pngs, because .jpgs don't look all that good.
Also, you should use custom palettes. They make your levels look a lot nicer.
Good luck with this hack.
--------------------
IRC Quotes
(
March 20th
update!)
/MKICK 4: Flantastic Puns
Thanks for the comments. The reason why WAFF is dressed like Mario is because he's Mario's biggest fan so he dressed like him and went on an adventure. Not that great at stories but it works. I'll try to fix the palette for the status bar. I agree I didn't like the colors very much but never took the time to fix that. again thanks for the comments
GvS @smwcentral.net ~ u:11380
I think the Koopa's face is pretty dang ugly. You should try to fix that. Also the cement block has weird white pixels around it, which is bad.

Looks pretty good so far, but yeah custom palettes would be nice.
The graphics edits were purposely bad. its just to give the hack a simple feel. and I gave level 1 a new palette (level 2 already had 1)
what do you think? it isn't really anything that stands out and I changed the background a little bit. I know the quality of the picture is bad sorry. also changed the palette on status bar to something more fitting.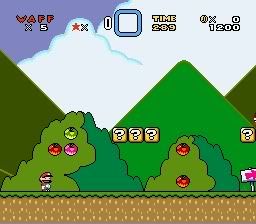 Here's a picture of the over world. tell me if there is any problems...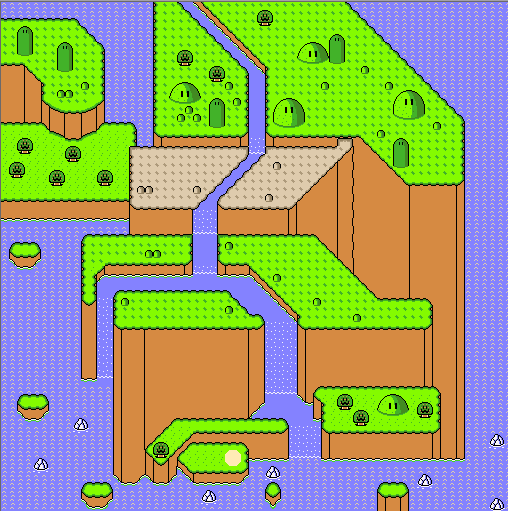 Originally posted by hotsos120
The graphics edits were purposely bad.
That may be so, but they're still bad.
If you want to go for the purposely bad, they still have to look good with the world. So if everything was blocky with no shading, it might fit. As it stands now, it looks like you didn't want to put effort into it. This may not be true, but that's the impression the graphics give. I don't mean to say you shouldn't do what you're doing, but you definitely should tighten your visuals up.
So when I play, I should not be thinking "What? Those look terrible," but "What? Those look silly/weird/etc." It's a minor difference but it will do a world of good for you.
Your overworld looks okay. My only suggestion is to work on perspective a bit more. You have a lot of areas where you did things correctly, but there are a lot of areas where you didn't.
Good luck!
thanks for the comment ill work on my edits more!
GvS @smwcentral.net ~ u:11380
The OW's perspective is indeed very wacky. You are also missing some corner tiles, which creates cutoff. I also think you should pick a different tint of green, as this one looks very chemical. The water palette is lovely though :3
can you show me where the perspective errors are? like circle where they are?
GvS @smwcentral.net ~ u:11380
Sure.
Purple = perspective error
Red = cutoff.
thanks. Ill try to fix these and the palette.
Ok i have fixed the palette and all (I think) the problems on the overworld such as cutoff and perspective.
Looks nice, I like the palettes in the second level.
thanks guys for the comments. Heres a pic of the fixed overworld...
used to have cut-off and perspective errors but I think I fixed all of them. It also had a bright palette. tell me if theres any more problems/errors please and it'd be nice if you could point them out.
that black line is from the valley of bowser.
Screen shots of lv3...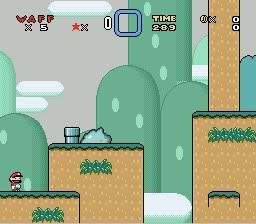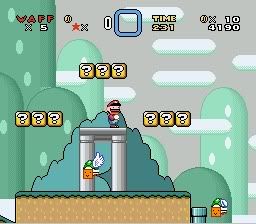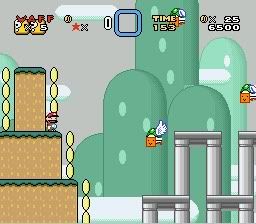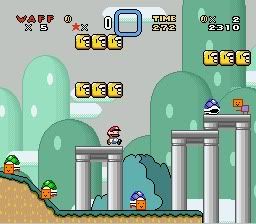 tell me what you think

GvS @smwcentral.net ~ u:11380
Hey that looks pretty good! It's a bit empty of sprites, and you use the Koopa's (with those ugly faces) a lot, making it a bit monotonous. The palette is very nice though.
thanks! got rid of some koopas and put in some goombas and such.
Forum Index - SMW Hacking - Works in Progress - T.H.T.S.B. Waff's Journey (IT'S BACK!)