NAME:
Hatless Mario
AUTHOR:
Jonchecker
DESCRIPTION:
Story: Bowser stole Mario´s Hat!! Mario is off to fight him for that worse crime.
Demo of my 1. Hack (yeah!)
Finished after World 1. But you can play on and play some concept levels.
---
REASONS FOR REMOVAL:
The zip folder and IPS patch were named "In Work". I take it that this is supposed to mean "Work in Progress", given how unfinished and untested the whole thing seems. Did you really mean to submit this?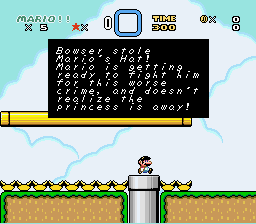 *hat
*bad
Also, Mario's name in the status bar looks pretty bad.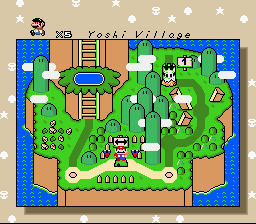 The castle appears to be using the wrong palette, and the Yoshi's House tile replacement just looks ugly.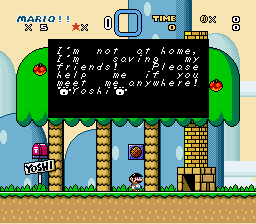 Most people seem to miss this, but the Yoshi pawprint actually consists of a two-by-two square of tiles. You are missing the top row.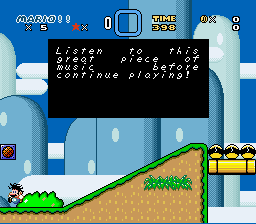 *continuing
And it's really not necessary to point out the custom music in the level. We get it, you know how to use Addmusic.
On another note, Mario's falling frame looks pretty bad.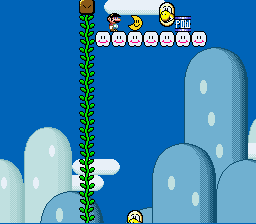 Giving three extra lives, a moon is quite a substantial reward. You should hide them better than this.
And even checking in Lunar Magic, there doesn't appear to be any use for that P-Switch at all.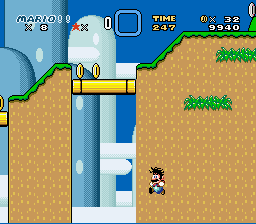 Seems like you forgot to give that piece of ground an edge.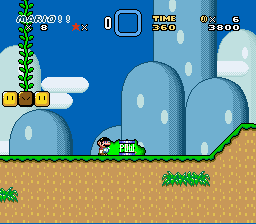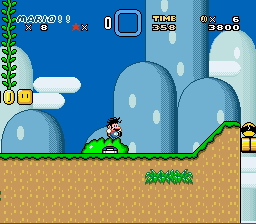 If you decide to change the graphics of something, make sure that you actually change all of the frames.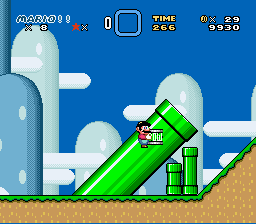 Since you didn't block off the right side of the pipe properly, I can get into it like this.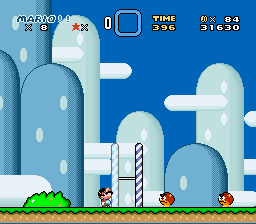 Seems like you placed the midway tape out of Direct Map16 Access instead of placing the object: it is missing its left tile, and it reappears when you reenter the level after dying.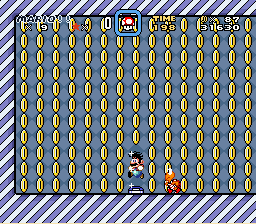 Generic obvious Yellow Switch Palace edit #814,523,901,385,284,680,174: check.
It's rather ironic how this piece of music crashes the sound engine fairly spectacularly in bsnes.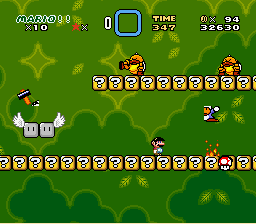 Sprite memory issues caused by an overload of Sumo Bro fire.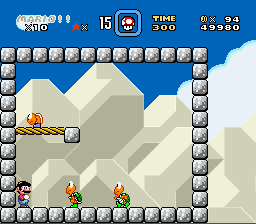 What you see here is the entirety of the Yoshi's Island 3 replacement: kill the Koopas on this one screen, and you win. Sorry, but you need a bit more substance to your levels than that.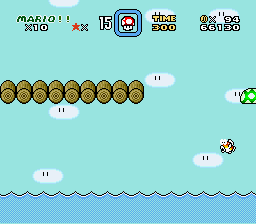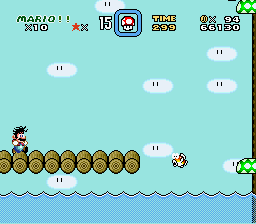 Bad initial position, both for Mario and the camera. And tides really don't agree with levels with vertical scrolling enabled.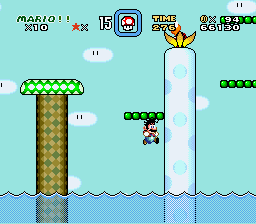 ...yeah, I really don't think those tides were supposed to be there. They don't serve any purpose other than prolonging Mario's death a while if he falls; since there is no way to get back up, he gets crushed by the autoscrolling.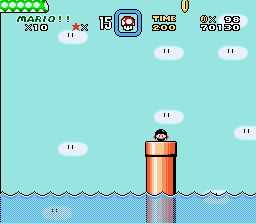 Going down this pipe...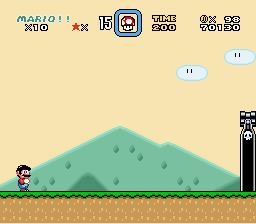 ...makes me appear here. Why don't you try having a bit more consistency in your level transitions? A pipe exit should lead to a pipe entrance.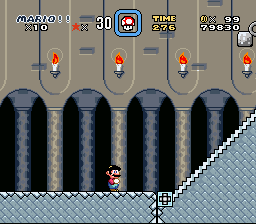 Is there any particular reason why after passing the first lava pool in this level, I can't jump for the remainder of it? And while the sound engine doesn't crash, the music cuts out entirely after the intro when played in bsnes.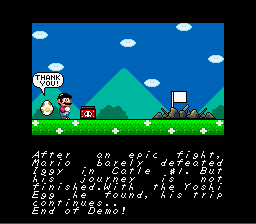 *castle
Also, the message says End of Demo, but there are more edited levels accessible, so I'm going to continue playing.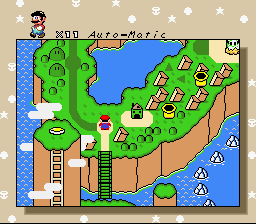 Again, what did you do to the overworld layer 1 tiles?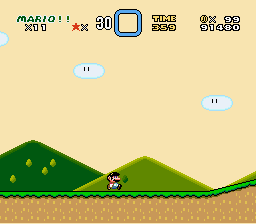 An automatic level that consists mostly of Mario walking forward on perfectly flat ground really isn't that interesting.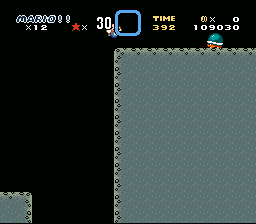 As with the castle gimmick, how come Mario can suddenly double jump here when he can't do so anywhere else?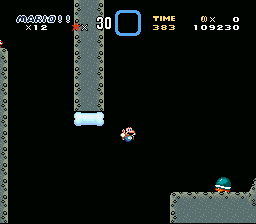 Cutoffness.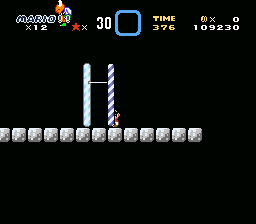 This midway point just flat out doesn't work. I think you forgot to place the midway entrance.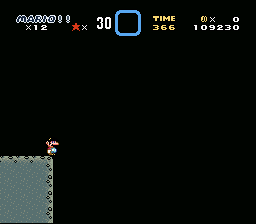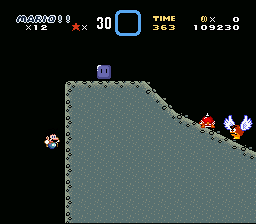 yay blind jumps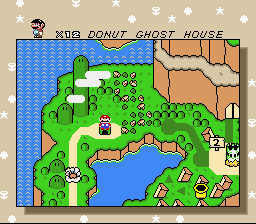 And the hack ends with access to the rest of the original Super Mario World.
---
To be honest, this seems more like a test ROM than anything else: the ratio of pointless custom stuff to good level design is way too high for my liking. Focus on making your hack fun and interesting to play, not on filling it with as much custom stuff as possible. And actually testing it before submitting is also quite a good idea.
--------------------
My YouTube channel
Get the official ASMT resource pack
here
!