NAME:
Adventure Land Legend of the Stars Demo v2
AUTHOR:
flareblade26
DESCRIPTION:
There are lots of bonus things in here, only the levels in world 1 are finished too, but I thought the hack has changed enough to warrant a new submission.
---
REASONS FOR REMOVAL:
A fun and well-made little hack, but it's still lacking that last bit of polish.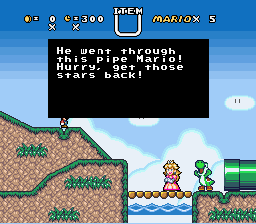 *pipe, Mario!
And I assume that the story is still a work in progress? Because otherwise it seems like I have missed out on some vital part of the plot.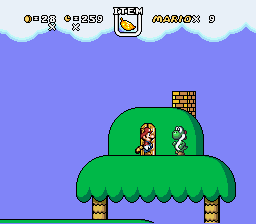 It's kind of strange how the music suddenly changes when you exit the Yoshi house.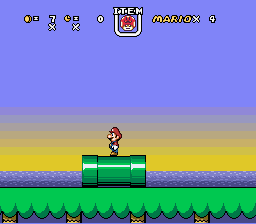 You might want to put the notice that these are bonus pipes leading to unfinished stuff here instead of in the last level; at first, I thought that they were testing pipes you had forgotten to remove :V
Also, even in ZSNES, something weird is going on with the music: around 15 seconds in, there's an odd-sounding sequence of notes that I'm fairly certain aren't supposed to be there.
Listen for yourself.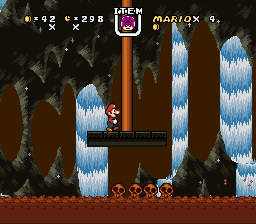 This thing really doesn't look solid, which caused me to miss my skull raft D: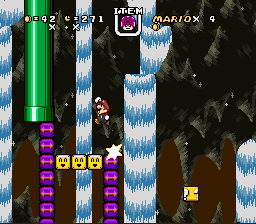 It seems kind of strange how I can walljump off the top of these blocks.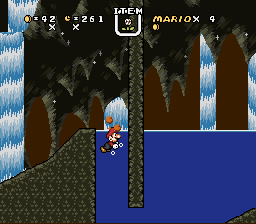 For some reason, the water splashes in this level are red.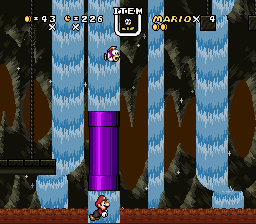 Not sure what to say about this, except that it looks pretty damn strange.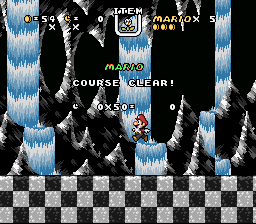 The "MARIO" text doesn't exactly have the prettiest of palettes.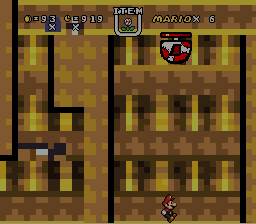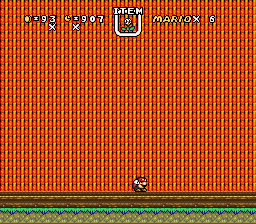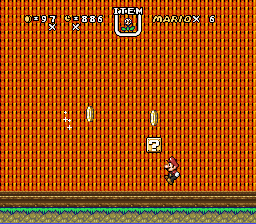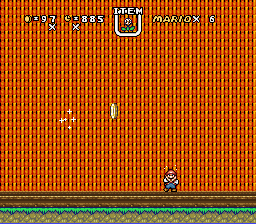 ...okay, I just plain out have no idea what's going on here. Falling into one particular pit in the switch palace teleports me to a strange room with a glitchy-looking background and rapidly scrolling invisible coin blocks, that eventually kills me for no discernible reason. :confused: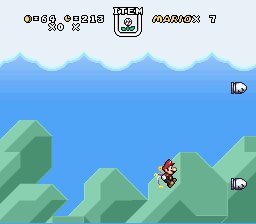 It would be nice if the screen stopped scrolling at the exit pipe; since it didn't, I continued to see if there was anything there, and now I'm for all intents and purposes dead.
And something else that would be nice would be if you actually explained FLUDD's controls at the start of the level. Not everyone has played Super Mario Sunshine or A Strange Mission.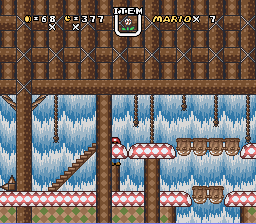 Slight layer priority messup here. Given how the level looks, I don't blame you. :V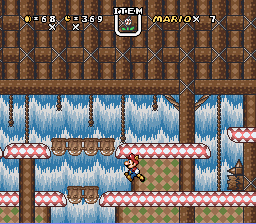 So why is this mushroom platform solid from below, when the others weren't?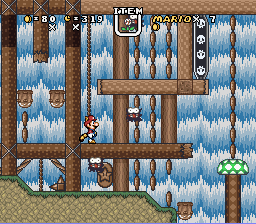 While the level certainly looks very nice, it is also kind of cluttered and visually confusing. Imagine never having played this hack; would you know what was solid and wasn't in this screenshot just by looking at it? There is such a thing as too much decorations, you know.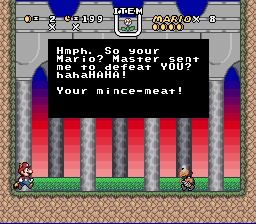 *you're
*You're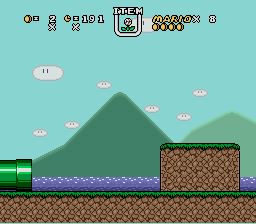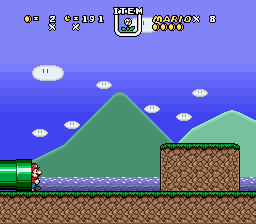 The HDMA gradient doesn't immediately appear when you enter the level. Do you have the gradient code placed in the init part of levelASM?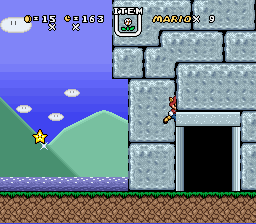 Another layer priority-related oddity.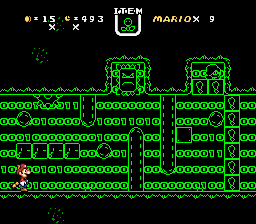 Again, while this looks neat, it is also rather confusing. Everything has the same green outline no matter if it is solid or not, and there really isn't any way to discern that the block on the right is an ON/OFF switch.
Oh, and would you please slow down the background scrolling a bit? Those rapidly flickering green numbers weren't kind to my eyes D: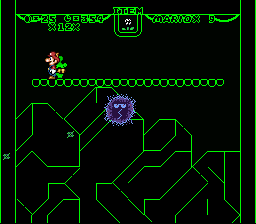 I swear, this guy is one of the most aggravating bosses I have ever fought. Trying to manoeuvre FLUDD so that you hit the boss without going too high and landing on the platform is way more annoying than it is fun, especially when factoring in the semi-random projectiles he fires. Oh, and would you think that stomping a spiky-looking electric ball thing would be safe?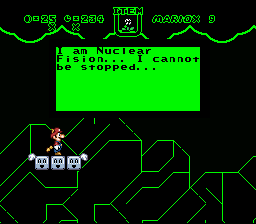 So I guess you could call that thing an Uncontainable Nuclear Reaction, then? *shot*
Anyway, *Fission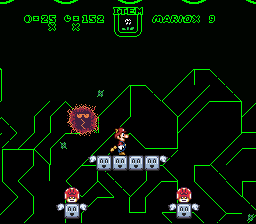 Just wanted to say that the second phase of this guy has way too much health. I must have hit him at least twenty times before he finally died, with no major changes to his pattern throughout.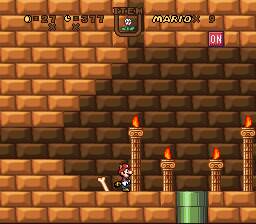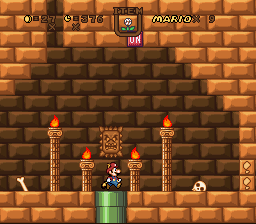 I have to say that I really am not a fan of this level's gimmick of hiding Thwomps behind the ceiling tiles where you can't see them.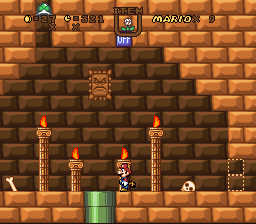 And this is just plain out unintuitive. What's the point of having the player hit the switch three times before the shell drops?
And finally, some criticism on the unfinished bonus stuff.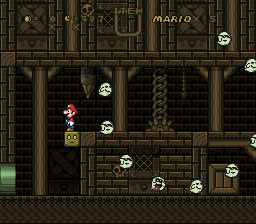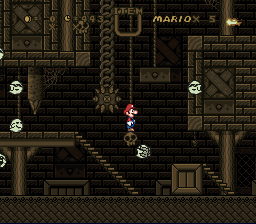 I was going to ask if you had gotten permission to use the A2MT boo, but then I checked and found out that you were the one who drew them :V However, it seems like forgot to apply a certain hex edit we used: one of the Boos in the Boo circle flickers between the newspaper frame and the glasses frame, which looks strange. Here:
Code
org $02FBBF			;Fix GFX for Boo rings and generators
db $88,$88,$A8,$8E,$AA,$AE,$88,$88
This will also fix the same flickering issue for the various Boo generators.
Also, just like that wooden fort level, this place is way too visually confusing for its own good. And it really doesn't help that just about everything has the same palette: distinguishing solid boxes from walkthrough ones isn't easy, and the spikes and mines blend pretty well with the rest of the graphics. Getting hit by something you didn't even notice is never fun.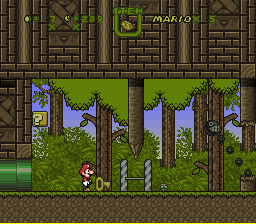 Case in point: it took me some time of trying to spinjump on the Boos and getting hit by the hanging mine to figure out that the skull wasn't just a decoration, but rather a platform.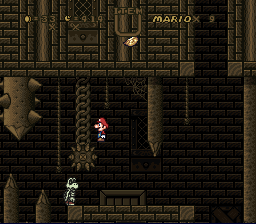 Like I keep saying: Munchers have square hitboxes, and thus really don't work well with round graphics.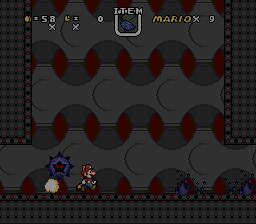 I would advice you to add a few more throw blocks to this battle; as it is now, missing with a single one renders me unable to win. And while we're on the topic, I wasn't able to dodge the final desperation attack of either phase without getting hit even with massive tool abuse, so I would suggest that you tone it down a bit.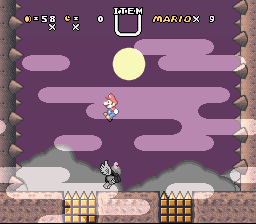 Just like S.N.N. mentioned in the judging of your winter contest level, this boss really could use having a few less hits.
And finally, you may or may not be surprised to hear that quite a big part of your soundtrack breaks horribly on bsnes. :V
---
Not bad, but you still have some things left to fix. If you haven't already, I would advice you to get some beta testers; since you are the creator of your own levels, you have a harder time noticing visually confusing stuff yourself since you already know what everything is.
--------------------
My YouTube channel
Get the official ASMT resource pack
here
!