Hack Name: Maxodex's World 1.7 [DEMO 2] Demo - 414.7 KB - 5 downloads.
Length: 39 exits
Author: Maxodex - Submitted by: Maxodex
Description: Yeah, finally after like 3 months of doing nothin'. This version features a totally new main overworld, and of course, brand new levels. The only level I eliminated is Bridge Passage (Not for long). Finally, FINALLY I learned how to use custom sprites! The only glitch I saw was a custom palette in the ow, when a new path is revealed, it turns black, if you know how to fix it, please tell me... Of course, a lot of new music and new bosses! Hope you like it!
EDIT: It took me a li'l bit to resubmit it because I didn't make a whole level, so I had to create it from scratch. Also, school is getting tough, so...
EDIT 2: Okay, looks like the mod didn't understand level "reach me" so, i'm saying the answer. NYou DON'T have to make ANY TYPE of glitch to complete! The second info box has a hidden clue on it! BREAK THE BRICKS. Run to the blue triangule, go to the top and then jump to the left. The cement blocks (they have some li'l broken tile) will start to break, and then you get to the goal sphere. The key is just to trick you...
Reasons for removal:
First off I'll admit I missed the hint, but you may want it to stick out a bit more, remember, its just a world 1 level.
Anyways, on to the pics.
Still a bit of non-visible ground here
Not really a glitch, but this would look much better with the correct corner tile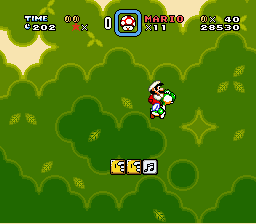 Might wanna fix the bounce block so it matched...
I see what your trying to do with the little hill tile, but if I didnt have Yoshi, I wouldn't have known that was a corner tile that would let you run up the wall. Change it back to the old gfx.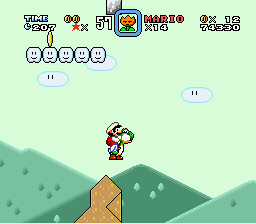 why is this invisible vine tile block still solid?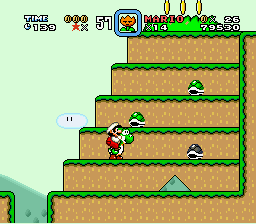 bit so slowdown here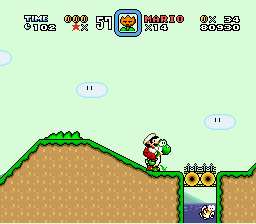 Bridge cut-off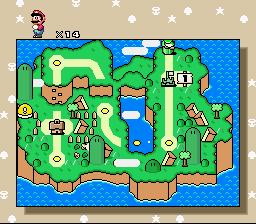 maybe move the pipe down one tile so Mario isn't cut off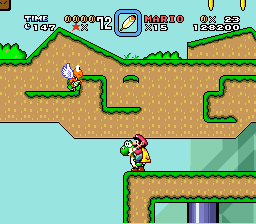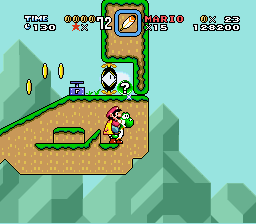 I see you created some no-fly zones to prevent cheating. However I can still get past this because of the walk-through dirt above me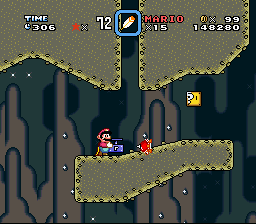 Don't put these guys on slopes. They don't like it.
Move up that lava off the bottom row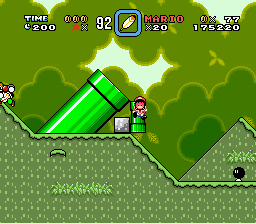 If I walk up to this part I die. Please move it.
more bridge cut-offness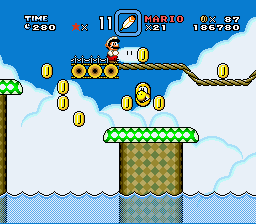 rope cut-offness
Goal cut-offness
Nothing really wrong here, but you may want to change the placement of a few things on this level since i was able to beat it by using the cape and just spin-jumping off of a few things
Remove the invisible blocks, it doesn't look right.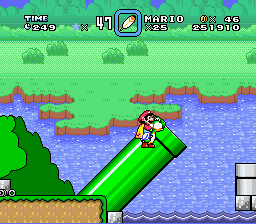 ...
There really isn't much of a warning about where these things come down. You should put something in these areas to give people a warning.
1. Not sure what the blue dots are on the pipes
2. Can't get past this part.
And don't just fix the areas that I have spotted out so far, but go through the entire hack and find any other issues like this and fix them.
Layout by LDA during C3.