Phew. Been going through a lot of levels at once now. And I didn't really memorize who made them nor what the level names where, so I'll just call them by their ips patches name.
127v1
: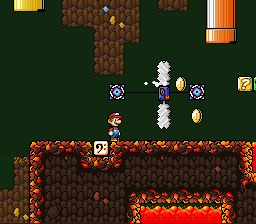 In this section it looks like you can duck below the saws, but you are hurt if you try that =/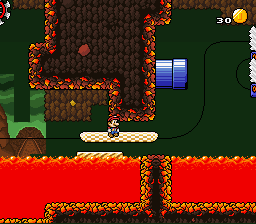 this part simply behaves very weirdly... often knocking you off the platform.
This plant can be a bit unfair. It fires at you pretty much as soon as you leave the pipe, and you can't hide from it standing beside the pipe.
If you hit the on/off switch while the platform is outside the cubic area, the platform goes the wrong way, disappears, and you're pretty much trapped =/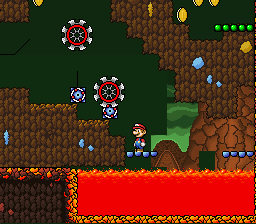 This part was annoying because I wanted to jump o the other side, but landed on the ground right below the two razors, which I didn't spot at first due to it looking a lot like regular dirt, and not having to look out for those kind of ledges as of yet.
I really don't get the point of this area...
err...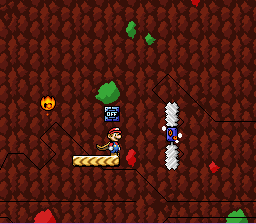 It's practically impossible to hit the switch here before the saw is already on the upper path, which renders it sort of useless...
It's kinda weird how you enter a blue pow door, but come out of a pipe... other then that though, this part was very fun to play; definitely the most enjoyable part of your level.
lvl139Demo
: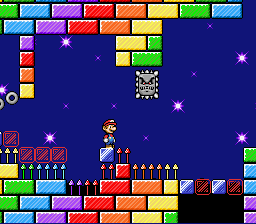 Very fun level, and also an interesting gimick. Although admitedly the spikes here are very hard to spot, and it's very easy to hit the one to mario's right in this picture.
This is probably the only part I directly loathed. not being able to use the swing jump, this right here can be
extremely
frustrating.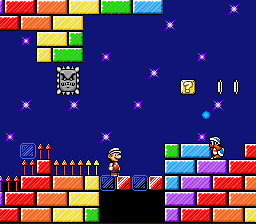 I noticed that you use the guy to the right only twice during the whole level. That kinda sounds like a waste to me =/
This part was also frustrating. getting up here was in itself very annoying. since you had to do the same precision jumping trice, and if you failed once you had to do it all over again. Also, I just couldn't manage the jump to the left...
smwcp2
: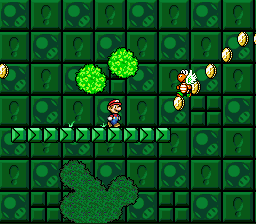 Sorry, but I really didn't like this level at all. It felt very very linear, and was generally very bland and boring, as well as having some quite annoying areas. The above for example, after having killed both the koopa and the paratroopa, I went to the left to get a running start, but when I ran to the other site a paratroopa appeared out of bloody nowhere. I had no time to react, so I was forced to take the hit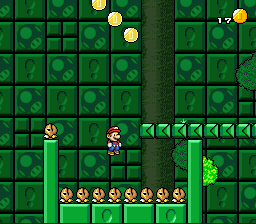 not to mention that the jump is pretty hard in itself >_>
version1.1
: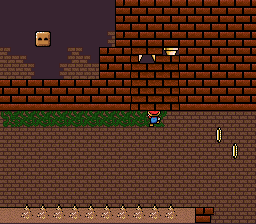 I don't really get the point of the above space. It's just a bunch of static spikes that hurt you if you for some reason decide to jump into them
I got quite annoyed by the sand physics a bunch of times, like here, but I guess that's more of a personal thing really.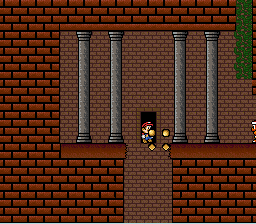 I don't get this part either...you just fall down anyways. Maybe if you give the player some time... like if you dropped him into the level one tile above the breaking ground(but instead made the player unable to jump when landing on it)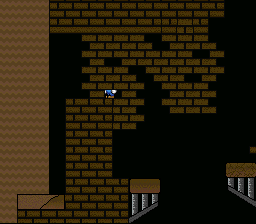 It's really hard to see the difference between what's solid and what isn't...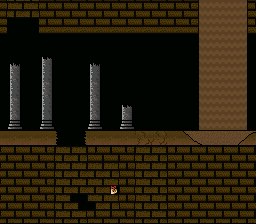 Getting this coin was perhaps too easy, while getting out is nearly impossible D=
This jump was very annoying to perform, and only when I managed it did I find out that you actually need a shell to break the wall =/
Also you might want to add corner-detection to these blocks :V
Descending upon this fire-bro from above hurts you for no good reason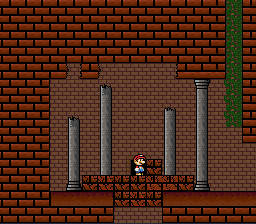 Also now random blocks appeared out of seemingly nowhere and are blocking the path from before.
As for notgoodwithusernames; hot damn that's a crazy level o.O
Even for 8.2 it's pretty freaking hard. I couldn't even get past the first screen...
I agree with SNN on both points. especially the later; they
really
need to be slower.
And I somehow managed to skip over SNNs level, so I guess I'll go play that one now.