Hack Name: Pay attention Mario! - 140.5 KB - 36 downloads.
Length: 5 levels
Author: PokefreakofBACON - Submitted by: PokefreakofBACON
Description: A hack I randomly made with lots of custom blocks and stuff

Reason for Removal:
Perspective error near the bottom of the island, all levels seem to be accessible, your paths are screwed up, yoshi smoke still visible with no yoshi house. etc
Don't use grey lava, its ugly, and whats up with the 20 stars?
Sprite limit issue. Mario doesn't even show up nor does half of the big boo's face.
what is that even suppose to be?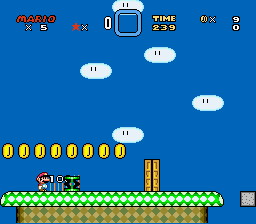 Poor block gfx selection. coins that are solid to Mario by passable by sprites? Not even sure what the 100 thing is suppose to be. And this level isn't even passable.
this is about as far as I can get with it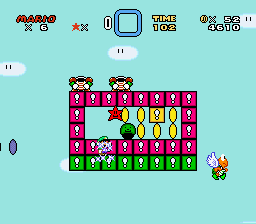 Sprite issue. Missing Chuck heads.
Ok, these type of coins wasn't passable with Mario before, but now they are?
This hack make no sense. Sorry.
Layout by LDA during C3.